Be Your Brand!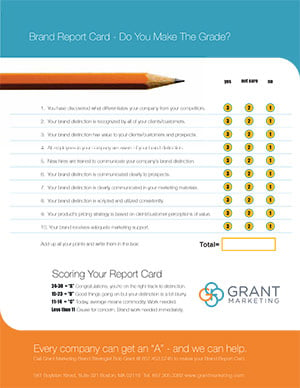 Wait, do you know what it is? If you aren't sure, neither are your prospects.
A customer's experience of your brand is what makes it distinct to them. This distinction is what drives them to choose you over the competitor. Without distinction, your company and products could be considered "Brand X," generic, or worse, a commodity.
Do you know what differentiates your company from your competitors?
Do your customers know what differentiates you from your competitors?
Do your employees deliver that distinction?
You have a marketing millisecond to make your mark with your brand. Make sure people get your message.
Instantly assess your company's brand strength by measuring your distinction. Download your Brand Report Card to see how you score.