Satellite Office of Our Boston-Based Marketing Agency Is Recognized
Branding has always been one of the most essential attributes that a company or business can cultivate and harness. This can literally make or break a company, which is why it is a vital foundational pillar of any business model. If you are not promoting your value as a company or organization, you are not differentiating yourself from your competition.
As written by the folks at Clutch, "Thankfully, there are companies like Grant Marketing to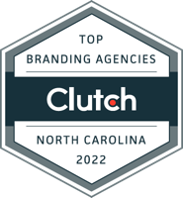 help you with your branding efforts." We've worked with countless manufacturing companies, as well as with not-for-profit organizations.
With a talented team that has helped many companies brand and rebrand, we have extensive experience and expertise to provide brand development and brand messaging for any B2B company. With that being said, we are very proud and honored to be featured on Clutch's platform as one of the best branding companies in North Carolina for 2022 (with our headquarters in Boston, MA). Curious about Clutch? Clutch is an established platform in the heart of Washington, D.C. that is committed to helping small, mid-market, and enterprise businesses identify and connect with the service providers that help them achieve their goals.
It is not every day that we get to be acknowledged for our dedication and passion in the industry, and we're thrilled to be recognized in a new report by Clutch. This time, they honored our hard work and dedication in the local branding market. It goes without saying, but we couldn't have done it without our amazing team. We thank them for always bringing their best for our clients.
And certainly, we would like to thank our clients and partners for their amazing support and collaborative partnerships with us. Thank you so much for trusting us with your business and for believing in our team to deliver amazing services and solutions.
Are you interested in learning more about our services? Connect with our team today!