Grant Marketing Gives a Warm Welcome to Madina Madraimova as an Inbound Marketing Strategist.
Boston, MA—April 2, 2019—Grant Marketing, a full-service Boston-based marketing agency, recently welcomed Madina Madraimova to its team. She focuses on executing inbound and content marketing activities and helping clients effectively manage their HubSpot accounts. Madraimova's addition to the team reflects Grant Marketing's ongoing effort to provide its diverse clientele with an array of full-service B2B marketing strategies.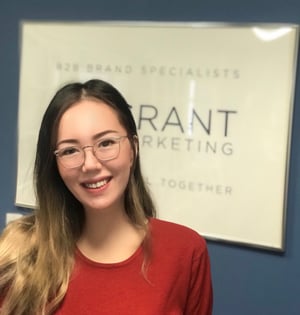 Earning a Bachelor of Arts in international business administration, Madraimova has taken on a number of marketing roles utilizing her skills in content creation, campaign management, lead generation, and social media marketing. Using her keen interest in technology and marketing, she helps clients create and maintain a marketing plan, increase website traffic and leads, while also utilizing the inbound methodology to build a diverse marketing mix that matches clients' business objectives. Bringing a high level of inbound marketing knowledge, Madraimova has attained certifications in inbound marketing, social media, and the HubSpot marketing software.
"Grant Marketing is a tight-knit group of marketing professionals who deeply care about building trust and delivering results through giving maximum attention to our clients' ultimate success. I am thrilled to be a part of this team and have an opportunity to help our clients build meaningful relationships with their audiences through inbound methods. After all, it's all about engaging with and understanding your customers that brings the ultimate marketing and business success," Madraimova commented about her new role.
Bob Grant, President and Founder of Grant Marketing, said, "Madina has diverse experience and a firm understanding of the inbound methodology. Her qualifications will help us develop and execute campaigns that work to identify competitive advantages and opportunities to grow visibility and sales. As a full-service industrial marketing agency, we are very excited to bring on board such a well-rounded marketer to our team."
For more information on Grant Marketing and its inbound marketing services, visit www.grantmarketing.com.
About Grant Marketing
Grant Marketing is a multi-disciplinary, integrated marketing communication agency serving the B2B market, which includes manufacturing, technology, and medical device manufacturers. Based in Boston, Grant Marketing applies its many years of experience to help clients grow their businesses. Grant Marketing provides the latest marketing technologies with a full spectrum of traditional, digital, and inbound marketing services. From brand development to marketing strategy and marketing implementation, Grant delivers client expectations shaped by thorough research and analysis of both the business and the marketplace.