Traditional Marketing Spend Is an Expense

A print ad is a commodity that expires. It has a shelf life. That's a concept we've come to understand in the internet age. Let's frame it in this perspective: traditional marketing spend, according to HubSpot co-founder and CTO, Dharmesh Shah, is an expense. Inbound marketing, on the other hand, is an investment in assets.
That's an important concept to understand in marketing today, becau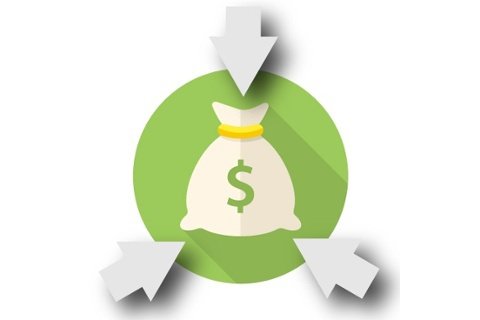 se it is integral to how and why B2B inbound marketing is so effective. HubSpot recently hosted a lunch & learn, titled, "Manufacturing Revenue for 2017 and Beyond." In Shah's presentation, he spoke of what doesn't work in marketing anymore, and what marketing strategies companies need to implement to remain viable in manufacturing. After Shah spoke, five panelists who are experts in industrial manufacturing and marketing, provided insider insights.
Our own Bob Grant was one of the guest panelists, along with Susan LaPlante-Dube, Co-founder of Precision Marketing Group; Jeff Mogensen, Principal of Utopia Sales Partners; Adam Chase, President and CEO of Chase Corporation; and John Routhier, Senior Partner at Derby Management. Jack Derby, Head Coach at Derby Management, moderated the panel.
Marketing's Huge Paradigm Shift
There was so much shared at this event, but there is one key takeaway I want to elaborate on here—inbound marketing is an investment in assets.
Think about it: online content is available with easy access, convenient retrieval, and into perpetuity. When used as part of your industrial marketing strategy, inbound marketing is largely based on making these timeless resources available to prospects and customers … forever. When you put your best inbound marketing content out there—whether it be on webpages, in blogs, white papers, case studies, eBooks, data sheets, etc.—it gets to keep working even when you're done for the day, or weekend. Shah likens it to the investment you make in your CNC machines to product the right components: investing in the inbound machine produces delighted customers. Through your content, prospects self-identify as a good fit for your company, which provides you more qualified leads, cutting down on your time spent chasing them down.
New Buying Habits in the Real World—that Includes B2B
I cruise online during my "free" time, whether that's on the train in or out of work, or while lounging with a cup of tea on a rainy Saturday morning, catching up on reading. And that might be a blog, an email (that links me to said blog), or articles I link incessantly to from those blogs. It might end with me signing up for something or buying a few "necessary" items. See how that works? So we're clear, that's not just for a pair of boots or a new washing machine, either. Here's where it gets interesting. You might think this applies to only B2C buying habits. You might want to think again.
I say this often enough these days, and it bears repeating (I even mentioned it at the lunch & learn when I raised my hand to add to the discussion): B2C buying habits have permeated B2B markets—even industrial manufacturing. Everyone from C-Suite to corporate buyers, business owners, design engineers, and procurement managers are researching and buying online. According to B2B data from Content Marketing Institute, 80% of business decision-makers prefer getting info from a series of article vs. ads, and nine out of 10 buyers say content effects purchasing decisions. This also, of course, means that selling tactics must change to meet the needs of customers—but that's another blog!
The ROI of Inbound Marketing
That brings us back to marketing as an investment in assets. All that content that gets me to keep linking to the next good article or review and gets the engineer to download your case study or white paper … and eventually become your customer … began as someone's hard work. We understand that for industrial manufacturers, setting up an inbound marketing program, implementing, and managing it (what we do for clients), can be labor intensive. The upside: with each new piece of content you create, you've acquired a new asset. An asset that works for you even after you turn out the lights for the day. Every day.
One of HubSpot's largest lead generators is a downloadable piece of content that was created 10 years ago. They repurpose it, "attach" it to relevant, contemporary blogs, and it still attracts website visitors who then fill out the form to download it, effectively becoming leads. That's impressive.
Own It!
As with any valuable asset, you own that content. You own that online real estate, too. The Google crawlers that index your website like that—a lot. "Owning" a subject matter makes your company an authority on it (think keywords), so you get rated higher by Google, and consequently, by website visitors (prospects), as well.
Because interactions with prospects, leads, and customers can be tracked on a marketing automation platform like HubSpot, one of the best consequences of inbound marketing is that all that information is readily available for tracking your ROI. The stats support it: Groove Digital Marketing tells us that 75% of companies that use a marketing automation platform see ROI within 12 months; 44% see it within six months. If you'd like more ROI numbers to look at, there are some compelling ones in this article by Impact.
There is so much more to consider when planning your industrial marketing strategy. We have a fantastic resource for you—an eBook written by a collaboration of 23 industry insiders who provide their expertise for successful B2B marketing. All of them are experienced marketers in the manufacturing sector. Download "Constructing a Winning Blueprint for 2017" and find out what else you should be doing to implement a successful industrial manufacturing marketing strategy.