How Your Photo Can Get the Cover for Your Trade Publication
You have a great story, now you need a great image to make the cover. Getting the cover of a trade magazine is never a guarantee, but without a superior image to provide to the publisher, you'll never even get close.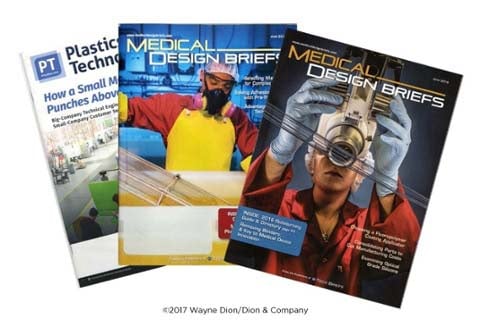 So how do you increase your chances of getting the cover? Hire a pro. A pro with the vision to see what you do, how you do it, and what the magazine editors are looking for on the cover of their next publication.
A seasoned professional commercial photographer who specializes in industrial photography will have done their due diligence before designing the image. Yes, images need to be designed. Some of us will actually sketch a drawing; others will write up a detailed description. Either way, this ensures everyone is on the same page—and in the end, hopefully that page is the cover!
Industry Research
Professional photographers will have researched your industry and the specific targeted magazine prior to submitting their concept. They will have looked back over the past year or so of magazine covers so they have a complete understanding of what appeals to the magazine editors. Although you're marketing your company to ultimately reach your customer base, this one needs to target the editor first. If he or she doesn't like it, it will never be on the cover.
The Complete Package
If you are trying to get the coveted cover slot, it generally means you have submitted an article. It may be a re-purposed white paper, case study, or other timely technical piece that has industry-specific appeal. Make this as good as you possibly can. Be sure you have had it edited and copy edited prior to submitting it. The editor may want to make changes, but if you do all the heavy lifting prior to it hitting the editor's desk, it not only makes the editor's job easier, but speaks volumes about your company's preparedness and professionalism. The combination of having a polished, well-composed image and a print-ready article will either put you on the cover, or help you be on the short list as one of the top contenders. Do this enough and there may be a point in time when the magazine will actually solicit your company for the cover story. Having fully developed articles primed and a library of professional photography ready for publishing will make a deadline-driven editor jump at the chance to work with you—repeatedly. Line up the resources on your side so you are prepared to act quickly and the editors will consider you a resource when they are in need.
Prior to each of these cover shoots—seen in the cover shots above—as the industrial photographer on the shoot (dion.com), I completed the research and prep work as previously discussed here to ensure the image had the best possible chance of making the cover. These companies did their share to provide the complete package. Looks like it worked!
Stimulating professional photography and videography are cornerstones of all industrial manufacturing marketing strategies. If you need to take another look at how you are—or are not—employing contemporary, inspiring visuals in your industrial marketing, contact us for an evaluation of your photography and video needs.