A Digital Designer Innovates in a Non-Digital Medium
Grant Marketing's art director, Grant Penny, is also a successful artist based in Asheville, North Carolina. He was recently featured in Carolina Home + Garden magazine in an article titled "Whimsy Is Hard Work."
We all enjoy seeing his non-digital pursuits and are very supportive that he remains dedicated to his deep passion, creative art.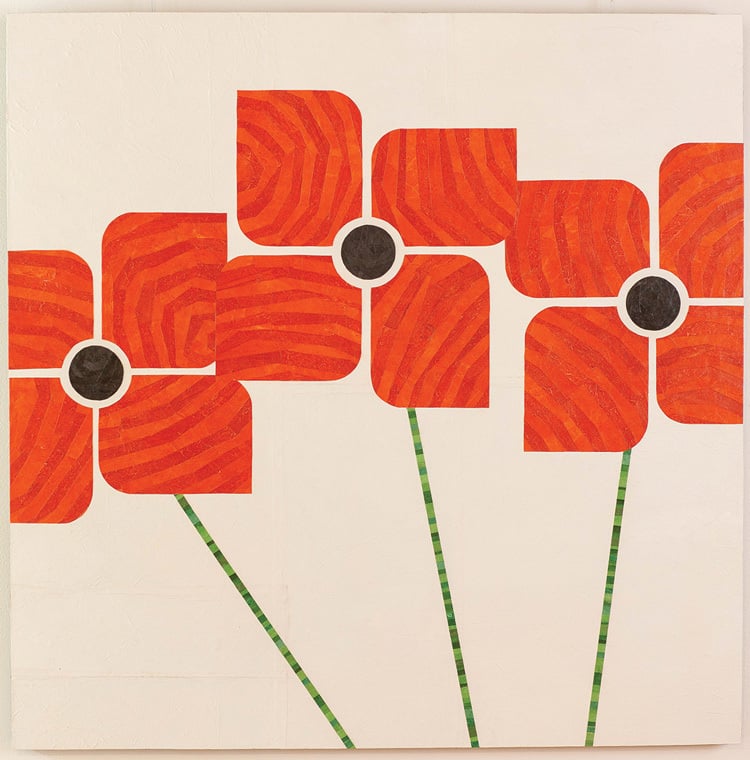 Grant's niche is in contemporary paper collage and his style and technique are sophisticated, innovative, and minimalist, with a vein of whimsy running through them—along with the names he gives each piece.
As the article states, Grant's works have "amusingly mysterious titles." They are generally inspired by life occurrences that may coincide with finishing a piece: Golden Three; We Might Just Laugh Forever; Delightful Like Yo-Yo Ma, as examples. Grant is a fan of comedy. He follows comedians like one might follow sports' happenings. Of his titles, he says, "I place a high value on humor in a lot of ways. My intention is not for my work to be 'funny,' but often there's a bit of a wink and a little smile in there somewhere." (That's the Grant we know!)
He uses special paper handmade in Nepal, and his sought-after "figurative designs are as much about negative space as the familiar shapes that appear against it: bicycles, traffic lights, electric fans, paper airplanes. More recent works center around house and home, but the subject matter is depicted in increasingly abstract ways—including his intricate Nests and Windows pieces and a series called Legs that emphasizes chair legs."
The magazine article provides information about Grant's inspirations and motivation—simplicity being at the forefront, with some life lessons and homage to his late mother, Marsha, also woven intrinsically into his "Soup" projects.
As he tells it, "When there wasn't enough food from a meal to constitute leftovers, my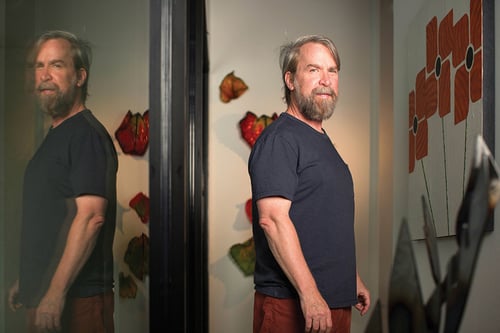 mother would put select remainders into a large Tupperware and stick it in the freezer. A cup of peas, some leftover potatoes, maybe cut up an extra piece of chicken. Once that Tupperware filled up, it was time to make soup. She would assess the ingredients and add if needed—maybe chop up a carrot, a little stew beef, a bay leaf or two—add stock and bring to a low boil." Grant notes that the meal was always delicious, never the same—as the exact combinations were never repeated—yet familiar because they came from meals they already enjoyed. He continues this tradition with his family and has embodied that spirit into his Soup series.
Carolina Home + Garden tells us that Grant's Soup collages are made from "leftover pieces of other works combine in unexpected ways." Grant has completed a half-dozen Soup series pieces to date and has plenty of leftover material to continue the series. He says, "It's great fun to let loose with those wildly abstract pieces in contrast to my more controlled, minimalist work."
Grant weaves his artist's sensibilities into his work at Grant Marketing, and does a fantastic job when branding, designing collateral or layouts for clients. We're thrilled for his success as an artist and are excited to see him getting the notoriety we know he deserves.
Read about his story in this link to Carolina Home + Garden. Find out more about his catalogue, exhibitions, process, and inspiration on his website, www.grantpenny.com, or follow him on Instagram: www.instagram.com/grant_penny.