The Lowdown on the Latest SEO SmackDown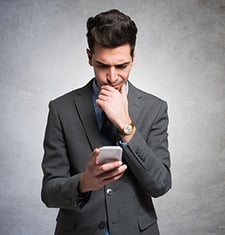 Let's put it on the table up front: small businesses are particularly vulnerable with the latest Google algorithm. Grant Marketing specializes in comprehensive B2B marketing for small to mid-size companies. The irony isn't lost on us that all the efforts and success people and businesses have made towards strengthing local economies, while trying to become global players, may rest in the hands (aka algorithm) of one of the biggest players of them all—Google. Keep reading, though. We're here to makes sense of it for you, and give you the tools to make the necessary adjustments to stay in Google's global game.
Grant Marketing's in-house web developer, Sean Robinson, speaks to the most vital reason not to ignore the Google mobile algorithm. He says, "Mobile-friendly, responsive design, like the early internet itself, was once thought to be a passing trend. Google's new algorithm makes official the must-have status of mobile-readiness for any website, from local to international in scope. It not only helps customers use your site with ease, but now it's a critical tool in attracting new customers as well."
It's been on the horizon for some time now, and with mobile usage continuing to rise, Google announced in February that they would be rolling out their mobile-friendly algorithm changes in April. About the update, Google says, "Users will find it easier to get relevant, high-quality search results that are optimized for their devices." These changes went into effect this week, though Google says you may not see an immediate drop in rankings if your site is not yet optimized for mobile devices—it may take a few days or a few weeks to notice a dip in rankings.
According to Google, the good news for your customers—as they search for you in their travels—is that they "can more easily find high-quality and relevant results where text is readable without tapping or zooming, tap targets are spaced appropriately, and the page avoids unplayable content or horizontal scrolling."
What You Need to Know
Great for them, now what about you? First thing to point out is that while mobile-friendly is the salient change here, it is only one of a variety of signals that Google is using to rank search results. Quality content still will help strengthen your overall SEO juice. The fine folks at Google assure us that the main points to understand about this update are that it:
Affects only search rankings on mobile devices
Affects search results in all languages globally
Applies to individual pages, not entire websites
There are some finer distinctions that may impact your SEO results. Search Engine Land provides a checklist of things to consider for figuring out what you need to figure out with this update, which has aptly been named, Mobilegeddon. These are a few of the details:
The algorithm will be applied in real-time, though the web page crawl may take longer and results may take time. Either way, you want to optimize your most important pages to be mobile-friendly as soon as possible.
A page is either mobile-friendly or not—there's no in between here.
Even Google is not sure how SEO rank will impact non-mobile-friendly sites. They anticipate it will be more significant than the previous two algorithms, which may represent more than an 11% search results shift.
Desktops and tablet searches are not subjected to this algorithm.
Large brands and global companies may not feel this pinch as severely, as their brand and "relevance" to the search can counter a non-mobile-friendly site.
You will not be delisted if you do not go mobile-friendly.
AdWords are not impacted; they have their own mobile factors, but they are not tied into this algorithm change.
What You Need to Do
Google graciously provides a few quick assessment tools to help you gauge where you are on the playing field with Mobilegeddon.
Take charge by putting some initiatives in place:
Simply put, you need a responsive website—another term for mobile-friendly. Neptune Web further reports that according to Cisco, by the end of 2014, mobile devices now account for 55% of all global internet traffic; mobile traffic grew by 69% in 2014 alone, and is expected to grow tenfold by 2019. You can do the numbers, but the message here is: go mobile, or you won't be going anywhere.
If you don't go mobile, then prospects might, literally, pass you by. And the competition, they'll be waving to you as they take the lead … and those prospects.
To ensure that you are moving forward at the right pace with everything in place, Grant Marketing can assess your website. Click here to get your free mobile-friendly website assessment.