Move Over 2016, New B2B Content Marketing Trends for 2017 Are Here!
As the significance of content marketing continues to grow in the B2B industry, marketers have loosened their purse strings to make more room for it in their budget for the new fiscal year. A report released by PulsePoint and Digiday found that by 2017, content marketing and native ad budgets will grow 59 percent and 46 percent respectively; potentially outpacing search and social budgets.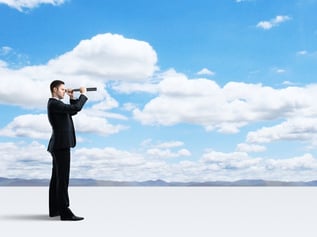 Performance metrics from the past year often determine the content marketing strategy for next year. Even if last year was a rousing success, it is important for B2B marketers to look beyond past performance metrics while setting new budgets. Incorporating the shifts in the competitive landscape and evaluating new and emerging trends—both of which happen at lightning speed with technological advances being what they are—in your new marketing plan ensures that your strategy remains relevant.
Whether you've just jumped onto the content marketing bandwagon or you're a seasoned inbound marketer like us, consider these top trends that are influencing the 2017 B2B content marketing budget:
Gear Up for Cross-Device Marketing … Now
The average consumer is now connected through five addressable devices, which means five-times more work for the marketer to make sure that the content being created is fit for consumption across all different platforms. It is a daunting task to market across multiple devices, especially now that mobile is a moving target. Smartphones are here to stay, but what does the rise of the wearable device mean for the marketer? An entirely new channel that you better have accounted for in the 2017 budget.
Invest First in Social Analytics, then on a Social Budget
There's a huge gap between the way B2C industries utilize social media compared to B2B industries. While B2C has been doubling down on social media, it is still in the infancy stages with the B2B industries. This gap continues to close in as social channels have been identified as a hotbed for opportunities—even for the B2B target audience. While you will, of course, set aside a budget for social, it is the smart marketer that invests first in social analytics. Listening and analyzing chatter will be crucial in the coming year to draft a social media budget based on the findings of the analytics tools. This process of gathering data from stakeholder conversations on digital media and processing into structured insights leads to a better content strategy—one that yields results.
Beware of Ad Blockers Thwarting Your Media Buying Efforts
Ad-blocking technology has flooded the market and continues to increase in adoption as consumers (B2C and B2B) want to intentionally consume valuable content, not ads. They are interested in knowing more about your business than just what it does. There is no point in allocating a huge portion of your marketing budget to media buying if you aren't able to supplement that ad with quality content. If the consumer is looking to find out more, why not give them access by spending more on specialized content rather than ads that are known to be perceived as intrusive.
Center SEO Budget to Focus on Creating Valuable Content
If you're still investing in link-building strategies, you are not only in need of a time-machine to get to the present, but also in need of an SEO budget that focuses on creating valuable content. Paid links are a thing of the past—Google has made it very clear with its policies that are structured to reward quality content. Targeting highly specific search phrases, also known as long-tail searches, is the key to unlocking high-qualifying traffic and sales for your business in the long run. Original content that is also very specific is the best way to differentiate yourself from your competitors and earn more visits, leads, and customers.
How much content you need to create and the monies you need to budget to reach your traffic and lead goals through for content marketing varies greatly from company to company. These trends are at the core of the 2017 content marketing playbook that the rest of the B2B industry is following, so consider this your game plan.
Is your content marketing strategy on track or do you need to switch things up before you budget for a new one? Content marketing is an integral part of the overall inbound marketing methodology. You may find that you need to brush up on both strategies.
Download our Inbound Marketing Campaign Checklist to organize all the must-haves that ensure a smooth and successful execution of your B2B content marketing strategies.