Lights, Camera, Action!
We all love a good story, and what better way to tell a story than through video. When it comes to video marketing, facts tell, but stories sell. Video is an integral tool in your industrial marketing arsenal, as it expands your reach and has a positive impact on your brand. With 75% of executives watching work-related videos at least once per week, it is no wonder that video is the preferred form of marketing content. Videos are quick and interactive ways to connect with leads and customers, so there is no reason to not use video marketing as a strategy. The bottom line: video marketing does have a place in industrial manufacturing.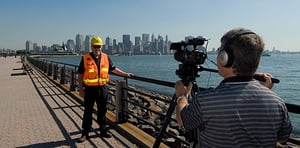 Wayne Dion, commercial photographer and videographer.
Why Implement Video Marketing?
Aside from the fact that videos give you an edge over your competitors (Only 24% of brands are using online video to market to consumers), there are many other reasons to get filming. LinkedIn provides some great insight on the benefits of video marketing that I will expand upon below.
Video is engaging—Video is more engaging than text or picture and is an easy way to get customers involved. According to researcher Dr. James McQuivey, one minute of video is worth 1.8 million words. With this remarkable statistic, video clearly trumps popular, more traditional forms of marketing.
Video increases brand visibility—When prospects and customers see your products and services in different mediums or platforms—perhaps an online blog or print ad in a trade mag one day, post on social media the next, and then through a professionally-produced video the following week—they begin to know and trust your brand more. By varying your brand strategy, you are able to tell your story through various methods. This lends credibility, professionalism, and relevance to your brand—again, building trust in your prospects and customers. Video, in particular, is an easily shared commodity for marketers. In an increasingly mobile world, an astounding 92% of mobile video viewers share videos with others! Get your videos in front of your product evangelists … and they will share. Besides, it's much easier to click and share a video (which does the talking for you!) than it is to type why you want a friend or colleague to check it out in the first place. Your videos will do the explaining for you (and your supporters) so you get to present your products, services, and company exactly how you want them to be represented, keeping your brand essence intact.
Video helps to increase sales conversion—Customers typically do a fair amount of research on a product before they actually purchase it. Let your videos be a part of their search process. Adelie Studios reports that 65% of executives have visited a vendor's site after watching a video. Similarly, Virtuets reports that shoppers who viewed a product video were 174% more likely to purchase the product than shoppers who did not. Videos have an unmatchable power to convert visitors into leads: 70% of marketing professionals report that video converts better than any other medium. In fact, Adelie Studios also tells us that using video on landing pages can increase conversions by 80% and homepage videos are shown to increase conversion rates by 20% or more.
YouTube is the 3rd largest search engine in the world—Your customers are looking for answers on YouTube. To make sure they get their information from your company, create engaging and informative videos and upload them to YouTube, among other popular platforms. It's essential that you speak to their needs—300 hours of video are uploaded to YouTube every minute. Make sure they can find you and your message cuts clearly through the din.
Send video inside an email—This is a very effective strategy, and according to Marketing Tech Blog, using the word "video" in an email subject line increases open rates by 19%, click-through rates by 65%, and reduces unsubscribe rates by 26%.
Video SEO is rising—Videos boost your SEO, as Google now gives links with videos more weight than those that don't. According to Virtuets, having a video on the landing page of your website makes it 53% more likely to show up on page 1 of Google results. Videos build quality backlinks to improve your SEO, so take advantage of that and create videos.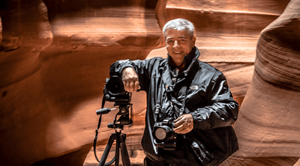 Wayne Dion, commercial photographer and videographer
Keep it Short and Sweet
You're probably wondering: how long should my video be? In today's world of distractions, it is important to keep the video relatively short. Animoto suggests keeping videos between 45 to 60 seconds, and make sure that your first 10 seconds are captivating to your viewer. If it's under one minute, 59% of viewers will watch a video to completion, and they will also give up on an online video if it doesn't load in two seconds. Needless to say, timing is everything when it comes to video marketing. Once you find that sweet spot, your company's videos will be oozing success!
Steps to Success
Luckily, there are some simple steps industrial marketers can take to create a strong video marketing strategy.
Your video should seek to solve problems and provide new information to viewers. Perhaps make a demonstration video on how to use your product.
Production value is important. Make sure that the camera is steady and the lighting is appropriate. Quality is crucial!
Use a CTA in your video. Motivate viewers to take the next step and learn more about your product.
Share, share, share! Share your videos everywhere … YouTube, email, social media sites. The more visibility the better!
At our Boston-based marketing company, Grant Marketing, we specialize in video content marketing. We understand just how important videos are to your industrial marketing strategy, and we'd be happy help you get in on the action. Talk to us about a Video Assessment.