What You Can Do About the Current Impacts on Your Business and Budget
Let's start by stating the obvious: life now looks nothing like it did two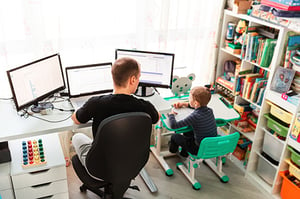 months ago. And two months from now … who knows? Every piece of our existence feels the impact—our lifestyle, our business, and our ability to adjust to change. In addition to learning the ins and outs of Zoom conferencing, setting up home offices, being a parent/teacher/spouse/employee/regular-everyday-human simultaneously, and adjusting to a possible long-term change in our way of life, the situation has also brought to light how able we are to adjust our strategies in order to stay afloat during a time where it's very difficult to maintain "business as usual."
Shifting Your Marketing Focus
Marketing strategies are unique in the sense that they can easily be adjusted, gauged on audience reactions or incoming data. You can shift focus on another aspect, whether it's paid ads on social media, producing better content, or making sure you're providing the best customer service possible. Some of these changes don't require any additional funding, and there are things you can do that can make a big impact at little or no cost—something that is incredibly valuable in today's economic upheaval.
If your business needs to pivot its strategy due to workforce changes, losing a big account that supplied a chunk of your income, or a pandemic coming along and turning your world upside down, there are a number of things to consider when thinking about marketing:
How has this change affected your long-term and short-term goals? Do they need to be re-evaluated and changed? (If so, do that!)
With which aspects of your marketing strategy will your dollar go farthest? Money previously spent on traveling and trade shows could now be more powerful if focused on customer service, social media, or content appropriation.
Have your abilities or the needs of your customers changed in light of current circumstances? Are you communicating this with them? Are you doing this in a manner that communicates that you're still available for them—or perhaps that your business needs to pause for a period of time, and will be there for them in the future?
When considering these questions, it's a good opportunity to sit with your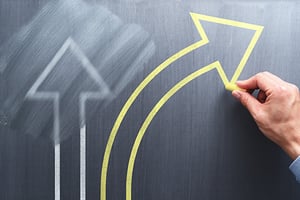 team and come up with a plan so that you move forward with a sense of stability and productivity, and so that you can be ready when things start to go back to normal. New routines may provide an opportunity to focus on things you previously didn't have time for, whether it's evaluating your content or learning more about marketing. Time, in addition to budget, is something you can reallocate after you assess your new needs.
Actions to Take
1. Re-think your audience
If your travel plans to events and trade shows have been cancelled, you still need to be able to reach the audience you were planning to engage in person. The same goes for your sales strategy that involved in-person contact. Have the scope or concerns of your audience changed in the face of the current situation—gotten bigger or smaller, more immediate or long-term, respectively? How can you best reach them?
If you focus on educating people about your business in person at trade shows, is there content you can create that can be distributed to achieve the same goal? Does the "About" section on your website need to be beefed up or updated? It's always a good idea to flesh out this section so that your customers and prospects can learn about you and trust you; take this opportunity to ensure you convey an authentic and trustworthy voice to them in whatever channel they find you.
This is also a fantastic time to update your FAQ, or create one if you don't have one. Be sure to include items that are pertinent to the current crisis situation (and revise them when circumstance change). Having updated information reassures people that you are still paying attention. The inverse—no information—opens the door for speculation and false narratives that can create fear and unease.
2. Reallocate money and effort
Money previously spent on traveling or print advertisements, such as billboards or hand-outs, can be better spent on social media and digital outlets. Make sure your content can reach people at home, since we are, after all, probably on our phones and computers a lot these days. Look to improve your customer service by making sure people can easily reach you and that they hear from you quickly. This is a time for personal connection, so provide that.
3. Evaluate your content
Now is the time to focus on quality, not quantity (it's really always the time to focus on that, but right now, we need to be more sensitive than ever, with extra care taken on the general tone of your messaging). Provide your audience with useful, thoughtful content that can help them with their business during this time. If you have helpful solutions, remind them of that. You don't want to disappear from all the feeds and searches, so it's important to stay active in a reasonable way. You will have less of an uphill climb when business returns to normal if you maintain these efforts now.
Are your business solutions relevant given the current situation and will they still be on the other side of this crisis? Sure, you can't (and won't) overhaul your entire business model—we get that it's too soon to know the vast unknown and ultimate consequences of this crisis. But … are there adjustments you can make that will meet particular needs now, and ones that will help you, your customers, and prospects when everyone is ramping up again? Will you be prepared if the ramp up is quick, or will it be more of a slow roll? Either way, now is the time to assess this, prepare, and—most importantly—communicate with everyone in a timely and transparent way.
You may also have the time to evaluate the content on your website, something that's always important but often overlooked because it can be time consuming. Surf around on your website and experience the process a prospect or customer goes through when they visit. Is the information they're looking for easily accessible? Does it walk them through the learning and buying process—meaning, is it easy for them to find next steps and landing pages that get them in touch with you? Find any content or process holes you have and fill them.
4. Spend some time on education and training
There is no shortage of webinars and training when it comes to marketing, whether it's through various media agencies or HubSpot. If you find yourself with some extra time working from home, consider attending these webinars or pushing yourself to learn more about what tactics would work best for you right now—and post pandemic.
Chances are, you are not alone in facing these challenges and there are other businesses you could learn from. If you have a team of people, bring them together (virtually, of course) and learn collectively; brainstorm on how to keep things going. Marketing allows for creativity; and nurturing your inspiration can lead to some great ideas—ideas that can fit any kind of budget—even if you have to do so in phases.
5. Focused on the Future
Uncertainty is no one's friend. And while we're all mindful of this historic moment we are all living through, one of our best coping mechanisms—personally and professionally—is to keep our sight on the future. All of these actions above help you stay organized and looking ahead. Take this time to re-evaluate and adjust your tactics, rather than hunkering down and riding out the storm under the radar. When things go back to normal—and we'll be so happy for that day!—you want to be ready to move at full speed, minimizing the negative impact stay-at-home mandates and business closures have had on your operations.
Dedicate a little time each day, perhaps dividing up some of the pieces of the deeper assessments you're doing among your teammates—make it a team-building exercise complete with a Friday Zoom happy hour to discuss your findings. Ultimately, your prospects and customers inherit a future that assures them you remain focused (on them) and ready to roll. Your ability to adjust to change will send a powerful message to them about your ability to deliver dependably for them in any circumstance.
We hope that these ideas spark those of you with time on your hands or help point you in a direction if you didn't know where to start. Everyone at Grant Marketing hopes you're staying well and safe and that brighter days are not too far ahead. If you think you'd like more help your marketing efforts these days, contact us to discuss your situation and needs. We'll explore what's most helpful to you to get you through this time … and beyond. Be well!