Top 5 Benefits of Marketing Automation for Manufacturers
Marketing software certainly isn't a new technology, but many industrial businesses are still pondering whether or not they should make the switch to an automation platform. According to EmailMonday, "On average 51% of companies are currently using Marketing automation. With more than half of B2B companies (58%) planning to adopt the technology in 2019." So, perhaps it's time to consider the upside of marketing automation for your manufacturing company?
What Is Automation, Anyway?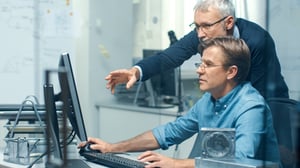 Before we dive into the benefits of marketing automation, lets first explain what it is and how it operates. "Marketing automation" is an umbrella term for any software program, digital platform, or tool that facilities streamlining, automating, and measuring marketing tasks and workflows. These programs bring an increase in operational efficiency and help companies increase their revenue quickly. The market for marketing automation is only expected to grow, and according to Grand View Research, the industry could be worth $7.63 billion by 2025. That's a lot of money—and as with any industry, money brings advancements, so expect automation tools to continue getting more robust.
Now that you understand what marketing automation software is, it's time to explore why these tools are a great fit for your company. Follow along below where we break down the top five benefits of adopting a marketing automation platform for industrial businesses.
Top 5 Automation Platform Benefits
Increase Productivity and Time Savings
Obviously, this is the first benefit we put on our list! The rationale being that this is the most commonly cited reason that leads companies to adopting automation tools. Wouldn't it be great if you could save time in your day by delegating your "busy work" to an automated process? Well you can. It looks like this:
Send personalized emails to your entire contact list with one click
Post to multiple social media platforms at once
Reap the benefits of having your blogs post instantly without having to mess around with coding
Get real-time reporting at a glance
Emails, blogs, and social media posts can all be scheduled to go out at later dates, so you can work on them when you have time, and schedule them at the time you'd like them to go out.
What once took days, now takes hours, and what one took hours, now takes minutes. At the end of it all, you will probably realize how much more important it is to spend your time producing engaging content for your business rather than struggling with the "nitty gritty" of formatting it and posting it to your site.
More Effective Lead Nurturing
At this point, everyone knows it … lead nurturing is a tedious and time-consuming task. Getting a lead from first contact all the way to a converted customer is the ultimate goal of every business, but effectively carrying out the process is daunting. This is where marketing software can be of great assistance. With marketing automation, you can keep a digital log of every lead that comes in and highlight all of their important interactions with your company—email opens, click-throughs, and conversions instantly recorded in your platform (and report dashboards can usually be customized to suit your viewing preferences).
By keeping track of and organizing all of these important elements of the customer journey, you can nail down the offers and demand-generation tactics that are working for your business. Another advantage is that you can spot any possible hiccups in the customer journey that may be causing leads to drop off or lose interest. By having this bird's-eye view of all visitor interactions with you company, you can optimize your content offers to achieve the highest possible conversion rates.
Strengthening the Sales and Marketing Partnership
A classic scenario: sales harasses marketing about getting more leads, marketing then provokes sales by saying they're not following up with the leads they've sent them. Aren't we all on the same team? As technology advances, the jobs of sales and marketing personnel only continue to grow closer—so it's imperative that everyone is on the same page.
Marketing automation puts sales and marketing on a level playing field because they can both utilize the tool for their own benefit. Marketing software can show the marketing personnel exactly which leads have been followed up on and which haven't. On the flip side, sales personnel can see each lead that marketing has produced and the exact lifecycle stage they're currently in—supplying them further information that will help them close the sale. A true win-win scenario.
Better Data for Smarter Decisions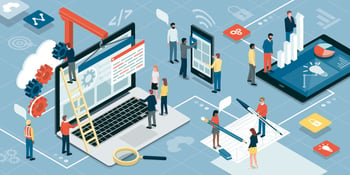 Data is quickly becoming the world's most valuable resource. Companies everywhere are devising new strategies that will help them collect more and reap the benefits of the insights it provides. Marketing software allows you to effortlessly embrace this trend, collecting valuable intelligence at scale and putting it to work for your business.
By providing a single platform for dashboarding, analytics, closed-loop reporting, and storing of marketing data, marketing automation platforms pave the way for measuring the effectiveness of campaigns and predicting consumer behavior. A great tactic to take advantage of the data that automation provides is to perform A/B testing. This allows you to track changes in customer behavior based on one simple change in your messaging or visuals­—giving you real-time information into the fine details of what's working and what's not on your various content offerings. Embrace data, let marketing automation do the heavy lifting for you, and use its insights to improve your marketing collateral.
Personalizing the Customer Journey
The importance of this last benefit cannot be understated—people love to feel important and are more likely to react to messaging that is personalized to them. According to Pardot, "77% of buyers want unique, targeted content at each stage of their research." Marketing automation makes it easier to serve the right content at the right time to the right buyer. It will also collect all the data relevant to those pieces of content—showing clearly who's opening emails, who's clicking the links, and who's viewing your educational blog pieces. Armed with this data, you can then segment customers into groups based on their actions, allowing you the freedom to personalize emails with specific customer data, including their name, preferences, and transaction history. This way you'll only be giving customers offers they're most likely to be interested in—which means they will be a lot more likely to respond.
How Grant Marketing Can Help
Onboarding onto a new marketing automation platform can prove a timely investment with all the expertise required to operate the robust tools they come equipped with. A great work-around for this issue is to hire an agency to manage it for you. They are experts in their field and will have an expansive working knowledge on all of the features the platforms provide. If you are looking to adopt a new marketing automation software for your businesses but have doubts about managing it yourself, Grant Marketing is here to help.
As a full-service marketing agency—with capabilities including content creation, account-based and inbound marketing for manufacturers, brand development, website design, and more—we can help guide you through the process of setting your company up on a new marketing automation platform. And don't worry, we can continue to help you manage it well after the initial onboarding if that's what you need. Contact us today to get the ball rolling on your new initiative.