4 Marketing Strategies That Help You Effectively Manage Your Sales Funnel
A common question we hear from our B2B clients is, "Do I really need a marketing plan if my sales pipeline is full?" First of all, congratulations—achieving a full sales pipeline is no easy task. But let's pump the breaks for a second: why is your sales pipeline full in the first place? Unless your company has a team full of cold-calling gurus, then your saturated pipeline is most likely a result of previous marketing efforts.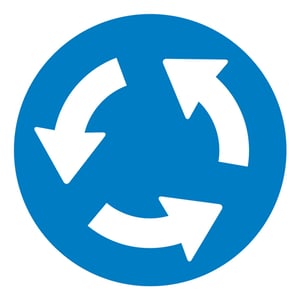 Think of your sales pipeline as a continuous cycle. You attract new leads, nurture them through the various stages of your funnel, and ideally, they convert into customers. Eventually though, all of your prospects will either convert or move on to another alternative. Which means your business will be left with an empty pipeline if you're not actively seeking out new prospects or properly nurturing the ones you already have.
Marketing is a necessary input to keep the cycle moving and is needed even if your current pipeline is full. Marketing can not only help you generate leads to fill the top level of your funnel, but it can also help you move prospects through its other stages until they are ready to purchase. So, if you want to keep your pipeline full for an extended, perpetual period of time, then you'd be wise not to quit your marketing efforts.
4 Top Tips to Keep Your Pipeline Full
The following are four top tips for utilizing marketing strategies to keep your sales pipeline flowing:
Research Your Customers and Prospects
The first step towards creating an effective marketing strategy is fully understanding your buyers. Knowing who they are, where they search for information, and why your product helps them solve a pain point or issue their experiencing should be a second nature for your company.
Put in the effort and start collecting relevant information about your customers and prospects.
For current customers:
Conduct surveys periodically to assess what customers think about your products or services.
Create an incentive program to bring customers in for one-on-one interviews. Interviews initiate in-depth conversations that can lead to more comprehensive insights than surveys allow for.
For prospects and new leads:
Research and visit their company website. Make note of its mission and core values. You should also acquire the following basic information:

Company size
Number of employees
Company size
Number of employees
Product/service offerings
Utilize their company LinkedIn page. Look at the about us and contact us pages. Typically, they will list their employees and their various roles—helping you figure out exactly who you're talking to.
Nail down the pain points that lead them to your business. Companies want to be good at what they do. Figuring out the vision of the business you're selling to will help you position your products as a means to helping them achieve it.
Use Your Research to Create Buyer Personas
Once you're finished conducting a thorough background check on your customers and leads, it's now appropriate to create buyer personas based on your findings. According to "Understanding B2B Buyers a 2016 Benchmark Study" over 70% of B2B organizations that exceed revenue and lead goals have documented personas.1
A buyer persona is a fictionalized representation of your ideal customer. Your business, depending upon its scope, could have as few as one buyer persona or as many as 20.
Building out a buyer persona involves isolating specific details about every aspect of the person's life—in a general way, if that makes sense. How old are they? Are they male or female? Where do they live? What is their job title? What are their hobbies? Where do they search for information? What are their biggest challenges?
All these questions will help you better target your marketing and sales initiatives later on. By gaining a superior understanding of who your selling to, it will allow you to generate more qualified leads and nurture them through your pipeline more effectively.
A broad outline of a buyer persona should include:
Personal demographics, including:

Age
Highest level of education
Social networks
Industry
Organization size

Physiographic Information, such as:

Hobbies
Interest
Behavioral tendencies

Preferred method of communication
Tools they need to do their job
Job responsibilities
How their job success is measured
Where they search for information
Goals or objectives
Biggest challenges
A story capturing their personal and professional qualities
For information on how to build more detailed buyer personas, check out our blog, "How to Create Buyer Personas for Your Industrial Company."
Ask for Referrals
Word-of-mouth marketing is stronger than ever! In fact, word-of-mouth marketing has arguably never been more important for B2B companies. Accorded to Implisit, they asked 500 of their US-based B2B clients which channel converted best, and found that customer and employee referrals got more than double the leads of any other channel.2
Don't be shy—ask your customers for referrals to other opportunities. Often, your current customers are your best source for finding new customers. They believe in your unique value proposition and are an exemplary image of the success your products or services can bring to other similar businesses. Just make sure your requests for referrals aren't too broad; you want to make sure you're being referred to opportunities that are relevant to your business rather than chasing dead ends.
Content Is Your Best Sales Person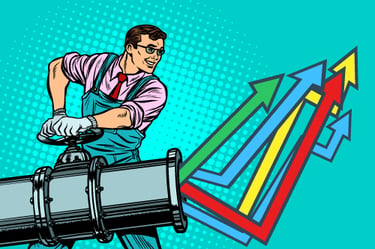 Even your best sales person can't be available to speak to prospects and answer their questions all the time. Fortunately, many companies are realizing that there is a measurable benefit to supporting sales people through content marketing efforts. In today's digital world, increasing sales is less about the hard sell, and more about developing meaningful relationships and educating your leads on why your product is the best fit for their needs.
So where is a person going to look for answers when your sales people are offline? Your website. A recent survey found that 71% of buyers had conducting online research before even contacting prospective suppliers.3
Building out highly personalized content on your website that provides helpful and applicable information to your prospects can make the difference between losing and earning a sale. It can be accessed at any time of the day and essentially functions as your 24/7 sales person. To best educate your audience, you need to know what content to deliver, when, and where. You must cater your content messaging to each buyer persona you've created, specifically addressing the lifecycle stage they are currently in. This means you need to have topics that cover the phases of the buyer's journey: awareness, evaluation, purchase.
Top of the Funnel: Awareness
At the point, buyers have recognized they have a problem or have an unmet need. They are looking for top-level educational content—blog posts, social content, and eBooks—that helps direct them towards a solution. Don't feel limited by written content; top-of-funnel content can also include videos, online courses, and questionnaires. At this point their lead value is low, but those who find your content helpful may venture down to the middle of your funnel.
Middle of the Funnel: Evaluation
Someone who resides in the middle of your funnel is a prospect you've already captured the attention of. Evaluation is debatably the most important stage of the buyer's journey. They're aware of their issue(s) and are now narrowing down the best alternatives to solve it. While the top of the funnel is designed to inform a prospect, the middle of the funnel is where you want to show why your unique solutions are their best option.
People in the middle of your sales funnel are going to be searching for content that shows that you are the experts in your industry. The most effective types of content in the evaluation stage are things like expert guides, webinars, live interactions, and white papers that favorably compare your features and benefits with those of your competitors.
Bottom of the Funnel: Purchase
The bottom of the funnel—as you well know—is where someone makes their final purchase decision. Just because they're ready to buy, doesn't mean they're ready to buy from you. Bottom-of-funnel prospects still usually need one final nudge with a compelling call to action to get them to convert. The most effective forms of content to drive conversions at this stage are case studies, trail offers, demos, and product literature.
By itself, bottom of the funnel offers aren't likely to close a lot of leads into customers. However, when you've appropriately guided a lead through the each of the buyer journey stages, you're combining that final effort with all the engagement you've created in nurturing the prospect up to that point—making you far more likely to close the sale and achieve that boost in conversions.
When you're developing marketing strategies to drive sales results, you need to consider every step mentioned above. Envision the pain point and needs of your ideal customer to better understand their perception of your company so that you can optimize your messaging and deliver it to them on their favorite digital channels. By focusing your pipeline strategies on your customers' needs and delivering value in a highly targeted manner, you can enhance sales and develop fruitful relationships that will endure.
Is your business ready to take on an inbound marketing plan to facilitate better sales pipeline management? We have created a quick, do-it-yourself assessment that will help you inventory and score the elements that combine to build a solid, successful B2B inbound marketing program that helps you build leads … and your business. Click here (or on the icon below) to find out how ready you are to implement inbound marketing to attract leads and grow your business.