Lead Generation Software Improves Efficiency and the Bottom Line
Lead generation is the key to success for any B2B company because it is the first step in building a sales pipeline. Once a business has identified and targeted ideal customers, the process of qualifying and nurturing those B2B leads and converting them into customers can begin.
The lead generation process involves gathering data from a wide variety of marketing activities, including email campaigns, social media outreach, CTA landing pages, and SEO and content marketing. That's where marketing automation can help. So, what exactly is marketing automation and how can it generate more leads for B2B companies? Let's take a closer look.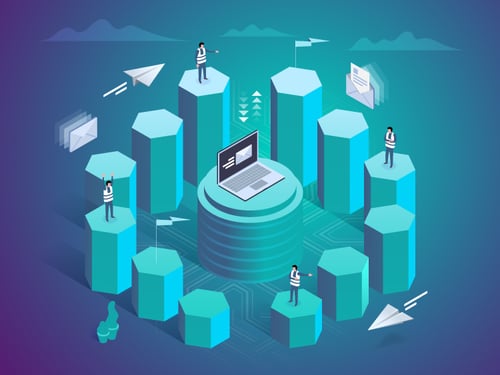 What is B2B marketing automation?
Marketing automation is also known as lead generation software. It centralizes the data coming in from a B2B company's marketing channels to simplify the lead generation process and provide advanced insights on quality prospects to sales teams. By relying on marketing automation to handle time-consuming, routine, and repetitive tasks, sales teams can spend more time moving those prospects through the sales funnel.
B2B marketing automation platforms, such as those available from HubSpot, can:
Produce a list of potential leads

Launch an automated marketing campaign

Monitor reactions of potential customers

Sort potential customers by their reactions

Forward quality leads to sales team

Track performance and direct qualified leads to sales team
Not only can B2B marketing automation software improve productivity and efficiency, but it can also help drive positive results and grow your business.
Using automation to generate more high-quality B2B leads
The key to attracting high-quality leads is to provide a personalized customer experience. Automated processes can deliver that personalization and promote long-lasting business relationships in several ways.
To increase the chances of engagement with prospective customers, B2B companies can use marketing automation tools to personalize email campaigns. Triggered emails, or autoresponders, are a way to keep website visitors engaged in further conversations with personalized content.
Automated chatbots can provide prospective B2B customers with prompt answers and reliable information 24x7, which promotes a positive customer experience while relieving companies of the need for a dedicated person to reply to every query.
Marketing automation also allows companies to personalize the experience of visitors to their website by mapping their behaviors, categorizing them, and developing customer personas. B2B companies can then target their visitors more effectively.
Using automated workflows allows B2B companies to personalize content for prospects, prioritize prospects, and provide detailed insights on the sales journey of every lead. All these options enhance the customer experience and increase the likelihood of generating higher-quality B2B leads.
Lead magnets for automated lead generation
A lead magnet is a specific type of call-to-action (CTA) that offers free content or services to website visitors in exchange for their contact information. Lead magnets allow B2B companies to showcase their industry expertise via guides, eBooks, free audits—any content that provides value to prospective customers and encourages them to buy from your company.
The contact details received in response to lead magnets become the foundation of a marketing automation list of quality B2B prospects. Additional content can be sent to these prospective customers via automated email follow-up as part of the lead nurturing process.
Automating lead management
Marketing automation software can streamline the process of lead management by helping sales teams segment, sort, and score leads, and by handling some of the routine tasks related to lead intake, lead nurturing, lead qualification, and transferring leads. Automating the lead management process can help B2B companies understand how best to move a lead along the sales funnel.
Lead segmentation: Data collected about prospective customers can be automatically segmented into email marketing lists based on their level of engagement, type of activity, location, product or service they are interested in, etc. Automating this process improves efficiency and supports lead nurturing by ensuring the correct, personalized content is delivered to the correct contact.
Lead nurturing: Once the segmentation process has identified which prospects to target with relevant content, newsletters, and email campaigns can nurture prospects with valuable information that establishes your B2B company's industry expertise, maximizing the chances of lead conversion.
Lead scoring: Marketing automation software can qualify leads based on the points assigned to a particular action. Once a certain score is reached, the lead can be transferred to an email list, or the information can be forwarded to a sales rep to follow up.
The advantages of marketing automation for B2B companies are clear. Lead generation software drives customer engagement, promotes lead nurturing, and increases sales revenue. It also provides data to manage spending and helps align marketing and sales teams. Consider implementing a B2B marketing automation strategy to generate more high-quality B2B leads for your business.
Grant Marketing is standing by to help you develop an effective B2B marketing automation strategy. Contact us today at (413) 259-0319 to learn how we can help you grow your business.