Leverage Existing Customers to Improve Your Bottom Line
Leveraging existing customer relationships—by creating a digital marketing strategy tailored to your customer's needs—can yield measurable ROI. You likely have a pretty substantial inbound marketing list …1,000, 5,000, 10,000+ contacts. Of that list, somewhere around 10-20% may be active customers.
Customer acquisition tends to be the primary focus of many industrial manufacturers' marketing efforts. But companies that use technology "to expand retention and loyalty marketing efforts can reclaim and strengthen the customer relationship—not to mention heavily monetize it."[i]
Help Customers Benefit from Your Expertise and Knowledge
Digital marketing—paid and organic search, email, and website—accounted for 25% of CMO's marketing budgets in 2018. Marketers invest in these channels because they are "relatively cost-effective, and organizations usually have no problem finding in-house skills to fuel these marketing initiatives within their organization."[ii]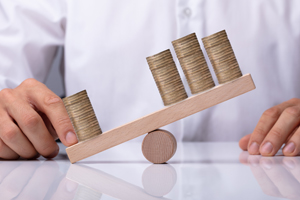 A successful digital marketing strategy requires leveraging customer data to create personalized, relevant content. A well-managed CRM provides all of the data you need—the products a customer buys, pain points, and opportunities on the horizon. A Gartner survey found that providing informative content helped customers "get more out of their existing investments" and "was the most valuable thing they could get from their existing providers."[iii]
Communicate Your Value
Staying in front of the customer is essential for solidifying the supplier-buyer relationship. Even if a customer is not currently in a position to purchase, your company will stay top-of-mind if you maintain contact with them—offering relevant and compelling ideas throughout their journey.
Keep in touch with customers. In conducting customer research for our clients, we are surprised how often clients' customers tell us about new sales opportunities that our clients are not aware of. Spend time with customers to learn more about their businesses, industry trends, new products or services they could offer, enhancements to existing products, etc. If you are able to, putting together webinars and special VIP events can also help you initiate further engagement from your consumer base.
Define and communicate value based upon your customer's perspective. While your newest coating capability may be exciting to you, how does it relate to your customer? Communicate and illustrate your company's value by tailoring your messaging around their pain points or future aspirations.
Obtain feedback and report back to customers. You likely already communicate metrics, on-time delivery, quality, etc., regularly to customers. But periodic check-ins—to learn what you are doing right, what can be improved, what future opportunities may exist—illustrate you care and help shape future content and marketing strategies.
A Happy Customer Is a Loyal Customer
Happy customers are the result of company-wide buy-in and enthusiasm around your brand and knowledge of the specific value you provide to each customer. CRM and inbound marketing are tools for everyone to use, not just the sales team. Leverage customer satisfaction by asking for testimonials and referrals.
Testimonials can be as simple as a quote on your website, or more in-depth, such as an online video or case study. If the company doesn't allow its name to be used, ask if they will let you use a quote with a generic description, e.g., "major U.S. green energy company."
Focusing on your existing customers—by communicating often and sharing personalized, meaningful content—will reinforce these relationships and create loyal customers who appreciate the value you provide. When you consider the cost of marketing to new prospects and that "increasing customer retention rates by 5% increases profits by 25% to 95%,"[iv] leveraging existing customer relationships is a pretty smart strategy.
How Grant Marketing Can Help
Need help boosting your rapport with existing customers? Grant Marketing is here to support you. As a full-service digital marketing and branding agency, we can help guide you through the process of creating a strategic account-based marketing program that will help you extract additional revenue from your existing accounts while also improving your customer relationships. Contact us today to get the conversation started.
[i] "The Most Under-Tapped Marketing Opportunity: Existing Customers", Forbes, December 2017
[ii] Gartner CMO Spend Survey 2018-2019
[iii] "Were all on the Hook to Demonstrate Value to Customers", Gartner, October 2014
[iv] "Don't Spend 5 Times More Attracting New Customers, Nurture the Existing Ones", Forbes, September 2018