Top 4 Tips on Website Design for Manufacturers
When was the last time you took a hard, critical look at your company's website? What was the general feeling it left you with? Keep in mind that you are intimately knowledgeable with your company—resources, capabilities, products, services, etc. Is all of that information readily accessible and understandable to visitors? Is it as updated as it can be—both in functionality and with substance?
As an industrial manufacturer, it can be easy to place all of your energy and resources into new product innovations and keeping production lines on schedule. With all the overhead required to keep a manufacturing facility firing on all cylinders, many companies simply overlook the importance of having a dynamic, updated, and user-friendly website.
They're Looking for You …
Let's take a step back for a second. Where do most of your prospects originally find your company? For many, the answer is online. According to a recent study done by Google, "71% of B2B researchers start their research with a generic online search." Okay, so hopefully we're starting to make our point apparent: a properly functioning website is imperative to your business's success. Your website is often your first point of contact with new prospects and—like it or not—it will also be the basis for their first impression of your business. (Do you need to re-think how your website makes you feel?)
Make Your Best First Impression
Think of it this way, your website is essentially your most valuable sales person. It engages prospects, nurtures them towards purchasing with valuable content and information, and in some cases, it can even close a deal with an action-invoking CTA (call to action) that leads to a qualified conversion. Think of it this way: would you send your most high-profile sales person (or any sales person) out into the action with an outdated t-shirt and ripped jeans? Hopefully not! If you're like most businesses, you'd want your sales people to represent themselves in the most professional manner possible—and your website should be no different.
With the digital world advancing at record pace, it has become a crucial issue for every company to perform routine website maintenance to keep up with new web designs and features. The emphasis should always be on the user experience (UX)—the more engaging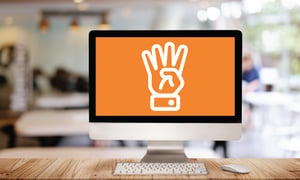 and user-friendly your design is, the more effective your website becomes. If you're looking to update your website—or perhaps even pondering creating a new one—then read along below where we hash out our top 4 tips on website design for industrial manufacturers.
4 Tips on Website Design for Industrial Manufacturers
Keep the Homepage Minimalistic and Free of Clutter
People are not going to read every word on a website. We live in a world of eight-second attention spans and skimmers. To combat this issue, it's best to recognize that people are going to scan your website for keywords and relevant sentences relating to their specific search parameters. The less effort someone who enters your site has to put into reading, clicking, or navigating, the better they'll be able to process what's going on in front of them. (And if they don't find what they are looking for with a simple skim—they're out of there … within seconds!)
If your website performs the heavy lifting for the user, they will be more likely to take the action you originally wanted them to take. As tempting as it can be to spill out all of your information on your homepage, it's simply not the place to be text-heavy. Instead, limit text to concise, information-dense paragraphs that get the necessary points across—and nothing more. Text is necessary of course, but make sure you break it up with larger subheadings and lists—bulleted or numbered—that present a logical order to your content. We also suggest using images and/or icons as alternative ways to deliver your messaging.
Utilize Simple and Intuitive Navigation Features
Have you ever gotten lost down the rabbit hole of a website you were visiting, while still not finding the information you went there for in the first place? We've all been there, and it can be extremely frustrating. Your developer and designer might want to amp it up with the latest technologies and design features, but website navigation is not the place to be experimental. Visitors shouldn't have to engage in a wild goose chase to find the information they are looking for. Stepping outside the scope of a user, a logical, consistent (throughout the site) navigation also helps search engines index your content, which is always good for SEO. The following are a few best practices to follow in relation to website navigation:
Link your logo to your homepage. This is a common practice implemented by most websites today, and your users will already be familiar with the concept.
The menu is about location, location, location. Your website's navigation menu should always be at the top (in the header) of your website and structured according to the importance level of each section (going left to right, from most important to least).
Use the three-click rule. One of the most basic rules of UX design is that all necessary information should be available in three clicks or less. Don't bury the information the user needs by adding unnecessary and excessive levels to your navigation.
Optimize your footer. The footer is likely the last thing to be seen on your website—so make sure you provide all the important links there. These may include a shortened version of your menu, social icons, and any other additional links (terms of use, FAQs, contact information, etc.) you feel are necessary to provide.
Go Mobile Friendly
We live in a mobile society where it can be hard to have a full conversation with someone before they reach for their smart device. According to Statista, "In 2018, 52.2 percent of all website traffic worldwide was generated through mobile phones." What this stat tells us is that you can account for about half of your web traffic to be facilitated through mobile devices. This means that having a mobile-friendly website is no longer an added luxury; instead, it has evolved into a complete necessity. If you do not present a mobile-optimized experience, you've already lost half of your visitors.
A website that uses a mobile-responsive design is programmed to resize and format content and screen elements to make them easily readable on all device types. This means users will avoid the dreaded side-to-side scrolling and incessant zooming needed to read copy on websites that aren't optimized for mobile. If you discover your site doesn't look or function well on mobile devices, it is time to plan a redesign.
And UX aside, Google hands out harsh penalties for sites that are not "responsive" or mobile friendly. This means, even if your "desktop" website is new, full of fantastic content, and easily navigable, your SEO will take a severe hit and you will have trouble landing on the top search engine results pages (SERPs). The bottom line here: mobile-ready, responsive web design is a must.
Present Logical Next Steps
The whole reason you drive traffic to your website is to facilitate a specific action from your visitors. Don't make it hard for them to figure out what it is you want them to do. Lay out your process and make their next steps an absolute no-brainer. And we hope this goes without saying, but if you have the relevant, helpful content they came looking for in the first place, your work is more than half-way done.
For example, once a prospect has read through your material and is ready to move forward with your company, their logical next step should be to contact a sales representative. Simplify the process by placing strategic CTAs on each page. Use action-evoking verbiage, such as "Request for Quote," "Contact Us," or "Order Now." If the prospect is still in the consideration stage, then it's a perfect time to present them with more information—utilizing premium content offers like whitepapers, eBooks, or data sheets are a great way to get them more engaged. For this type of offer, CTAs with the wording "Download Now," "Click to Download," or "Click Here for More Information" may work best. Depending on the offer, you can go for more personal language, such as "Yes—count me in!" or "Let's schedule an appointment." Regardless of the buyer's journey stage that your prospect is currently in, it's important to fully illustrate and communicate where they should go next.
How Grant Marketing Can Help
If you need help implementing any of the best practices outlined above or are looking to design an entirely new website, Grant Marketing is your resource. As a full-service marketing agency—with capabilities including content creation, account-based and inbound marketing for manufacturers, brand development, website design, and more—we can help redesign your website in a way that speaks to your target market and presents your company in the best possible light. Contact us today to get the ball rolling on your new initiative.