Nine Ways to Encourage Call-to-Action Clicks
Inbound marketing is an effective approach that provides useful, trustworthy content and personalized customer experiences to attract the interest of prospective clients. Offering valuable content is the key element in driving traffic to your website, which—in turn—is the key to lead generation.
Once a potential customer has reached your site, an offer of valuable content should encourage them to click on a call-to-action (CTA). The CTA brings the visitor to a landing page where they complete a form with their contact information in exchange for access to the content on the landing page. Once the form is completed, a sales lead has been generated.
Sounds simple, right? Not unless you have mastered the challenge of standing out among your competition and driving substantial traffic to your website. That's where inbound marketing makes a difference. Here are nine ways inbound marketing can generate leads for your B2B business.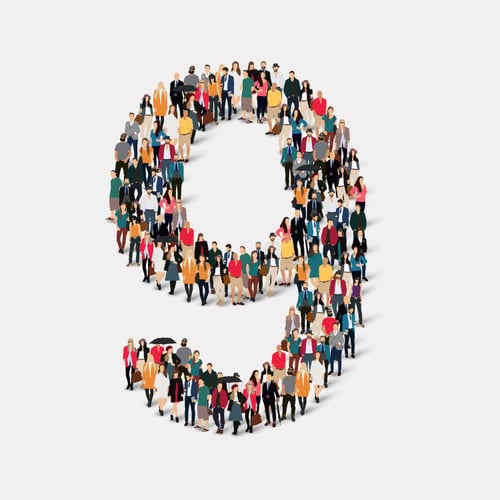 Nine Ways to Generate B2B Leads
1. Content marketing
Content marketing is a fundamental strategy in attracting visitors to your site and guiding them to a landing page through CTAs. The content you provide in exchange for their contact information must be of sufficient value to steer them further along the buyer journey. Successful content marketing provides worthwhile material—and CTAs—for prospects at all stages of the buying cycle. Informational items such as an eBook may be appropriate for customers who are investigating, but not yet ready to buy, and a prospective customer who is further down the purchasing path might want a product demo.
Your goal above all else: answer the questions they may have about your products, offerings, and services—but from THEIR perspective. How will you meet their needs? They don't want to hear all the features and platitudes about your company, they want to know how your company will help them specifically. If you answer their questions directly, honestly, and transparently, then they can click around your website to learn more about your company.
2. Social media marketing
Social media platforms offer easy and cost-effective methods of B2B lead generation. Businesses can add CTAs with landing page links in social media posts to encourage followers to click. Companies can use Facebook to capture leads by using Lead Ads, or by putting a CTA button at the top of their page. Twitter lets you generate leads directly within a tweet by using Lead Gen Cards that auto-populate a user's profile data when they click a CTA. And businesses that use HubSpot can connect Twitter Lead Gen cards to their HubSpot Forms. In addition to many advertising options to generate leads, LinkedIn has also created auto-populating Lead Gen Forms.
3. Product demos
B2B buyers prefer to test a product or service before they purchase it. If you offer a free demo or trial of your company's product, you are more likely to convert that prospective customer into an actual customer.
4. Paid advertising
Paid advertising helps target your specific audience to encourage them to take action to reach your website's landing page. Consider ad campaigns on LinkedIn, Facebook, and Google ads to generate leads. Pay-per-click (PPC) ads on search engine results pages (SERPs) have huge potential for lead generation success, depending on factors such as effective key words, and a seamless user experience on your landing page.
5. Email marketing
Existing subscribers to your email list are already familiar with your company, so using email to encourage them to take a specific action is easier. However, it is important that your email messages capture their attention with eye-catching design and appealing content with clear CTAs. A general rule of thumb for emails is less is more—quick, simple messaging, directing them to meatier, more valuable content to get them back onto your website to explore deeper.
6. Retargeting ads
Prospective customers do the bulk of their research and visit many websites before making a buying decision. Retargeting ads focus on previous visitors to your website and encourage them to return by showing relevant ads as they continue their online search. These ads keep your company visible and top of mind and help users navigate back to your site where you have more opportunities to get them to respond to a CTA.
7. Chatbots
Live chats help visitors to your site find the information they want (a fantastic way, in addition to blogs, to incorporate answers to those questions they may have) while providing a seamless and elevated customer experience. The key to maximizing lead generation capability is to integrate CTAs in your chatbot.
8. Referral marketing
Referral marketing is simply word-of-mouth advertising. Don't discount its usefulness as a method of lead generation, especially in the B2B world. Research shows that referrals are the number one source of lead generation for B2B companies. Leverage customer testimonials and social media reviews as key sources of referral marketing and find creative ways to help existing customers encourage new leads.
9. Blogs
Blog posts are tremendously valuable tools in promoting your company's brand. They highlight your expertise, product, or services, and become part of the library of valuable content on your website. Blogs can direct attention to particular content also found elsewhere on your site, increasing the chances that the reader will click on the CTA. (Added bonus: when you have crosslinks on your website, it notifies the Google bots that you have certain authority on subject matter(s), helping with SEO ranking.)
Additional Lead Generation Tools
Several CTA templates and visitor tracking tools are available for your website. For example, HubSpot has a free lead generation software tool that includes contact insight and lead capture features. The tool will collect form submissions from your website, no matter which form site visitors have submitted, and consolidate all leads in your contact database. HubSpot also allows you to create and embed forms that automatically populate your CMS.
HubSpot offers significant inbound marketing results for customers with multiple hubs. Consider the following statistics:
Customers with Marketing and CMS Hub see 183% greater growth in inbound leads than customers with only Marketing Hub.
Customers with Sales and Marketing Hub see 74% increase in deal close rate after 12 months.
Customers with Sales and Service Hub see a 124% increase in deals closed-won after 12 months.
Customers with Marketing, Sales, Service, and CMS Hub see at least a 51% greater increase in deals closed-won compared to customers with fewer hubs.
Finally, smart CTAs are another way increase your conversion rate through personalization. They can flag the status of visitors to your site—new prospect, confirmed lead, current customer—and display appropriate CTAs.
Grant Marketing can help you shape your B2B lead generation strategy and keep it fresh. Reach out to us today via phone at (413) 259-0319 or contact us to learn more about how inbound marketing can drive the success of your business.