Set Yourself Up for Industrial Marketing Success in 6 Steps!
What would you tell someone who wants to start a B2B business without first writing a business plan and establishing detailed goals, deadlines, and a budget? Bad idea, right?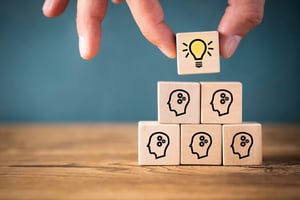 The likelihood of succeeding in business with a "just start" mentality would be very low. People who build successful companies take a lot of time to consider the "why" and "how" of everything. Yet, those same top-level industrial manufacturing professionals often take this spontaneous strategy approach toward their inbound marketing efforts. Just like with a business plan, you need to write a well-researched and detailed B2B marketing plan to ensure success.
Typically, the traditional (outbound) part of the marketing strategy—fliers, billboards, TV ads, and radio spots—is more thought out and given space in the budget, while inbound marketing—your website, company blog, video production and promotion, social media, and branded content—is more of an afterthought. But inbound marketing for industrial manufacturers is more cost effective and valuable to your audience when it is done correctly. Not only that, consider that you "own" this content into perpetuity; an eBook written five years ago can still bring in qualified leads. Owning that asset, fully paid for time over time, is a well-played investment. Businesses should be taking full advantage of creating and promoting their online content. Here are six steps to create a great inbound marketing plan.
Research Trends
You need to know who you are competing with and how the market is already being approached. Is there a niche in industrial manufacturing you can nab to get customers that are currently not being spoken to? Understanding the B2B marketing trends of the industry will help you understand the language, methods, and platforms that are working for other companies with the same target audience. As you research, you will have the chance to see what isn't working or what is missing from the industry.
Be sure to think like the customers you seek. What are the pain points they have? Are your competitors answering the customers' needs or are they simply talking about their product benefits? This is often where a big delta exists. Prospects feel this rift and it creates a disconnect, which translates to decreased interest and less leads.
Define Buyer Personas
Identifying your target audience is a huge part of building a successful marketing plan. Building buyer personas will give you a better understanding of specific examples of the people you want to reach with your inbound marketing strategies. In reference to their pain points, you need to know who they are, what makes them tick, and why they need your products or services to really reach them. These buyer personas are fictional representations of the customers who are the most loyal, qualified, or have a business pain you solve. Each of these example buyers are going to have different priorities, purchasing power, goals, and interests. Take the time to stop and write down several examples of your top buyers, noting:
Name
Role/job title
Age
Personality
Background
Goals
Challenges/business pain
Solutions offered by your company
Of course, all of these details are "made up," though do reflect real-life scenarios. You can use your real customers to help build these personas. Is the professional you do business with friendly and focused on value, or in a hurry and focused on convenience? Are they engineers? What kind of engineer: quality, mechanical, chemical? Do you generally work with the procurement arm of an organization? Their persona may be more focused on value as opposed to function, which may be the sweet spot when answering to an engineer's pain points. If you are focused on speaking directly to C-Suite individuals, your inbound marketing campaigns and messaging will reflect views they worry about and want answers to. You need to know who you are talking to in order to convince them of anything.
Want to see how inbound-ready your business is? Take this quick DIY assessment!
Select Your Keywords
How are people going to find your content? While a lot of your reach will likely happen on social media, you need to focus on your search engine optimization (SEO). There are (on average) 40,000 search queries processed by Google each second. Each blog post and page should be focused on answering a question that your buyer personas will be asking or searching for online.
Your keyword research should enable you to understand the estimated search volume by location, cost, and difficulty. You will find that vague or broad terms are going to be harder to rank for, while location-specific or function-specific terms may be easier. You want to use a tool like Google's Keyword Planner to find terms that have a high search volume with a medium or low competition level.
Marketing agencies that specialize in inbound marketing often use tools, such as the ones on Moz, to help build keyword strategies. Keep in mind that keywords function a bit differently than they used to. The massive shift in voice command search (think Siri, Alexa, and Cortana) has influenced how people search—generally with more complete sentences. One of the adjustments in Google's very complex algorithm is to accommodate this kind of searching. As such, keyword phrases, which should be written into your content with a very natural flow, are often more powerful to help contextualize what and how Google serves up the search engine results page (SERP).
Plan and Build Your Inbound Tools
Website pages. First and foremost, you need a website that is easy for your target audience (buyer personas) to understand and navigate. Pages should include descriptions that are full of relevant keywords and keyword phrases. You do not want to stuff keywords into your content, but you do want to consider how people are going to be searching for the products or services you offer. Above all: answer their questions and concerns.
Blog. Use your blog to create more pages that focus on relevant keywords—anticipate what people searching for your products and services might be typing into the browser search bar. Also, use your blog to support your team by offering valuable answers and content they can share in response to questions your leads might have. Create blog posts that are clear, accurate, and contain visual aids (not just content blocks).
Landing pages. For your top keywords, you can create PPC (pay per click) ads to land in the advertiser results at the very top of the search query. For each PPC ad, you want to use a landing page where your visitor will find exactly the information they searched for and have a specific CTA (call-to-action) to help them continue in their buyer journey. You can use forms on your landing pages to quickly help create contacts and log information about your visitors.
Blogs also progress to landing pages. A landing page is a dedicated page that has no distractions on it (no full-site navigation) and only provides information about the downloadable offer (case study, eBook, free engineering consultation, etc.), along with the form (or gate) where visitors fill out their contact information. You can ask for only an email address or more information, but unless it is a very valuable offer or request, keep the ask as simple as possible.
CTA (call-to-action) buttons. Build and utilize CTA buttons to provide your users with a clear path in their journey. Buttons might encourage users to Buy Now!, Click for More, Sign Up (for a newsletter), Call Today! (connected to a phone number) or Share (with social media buttons). Don't make all aspects of your page visually loud. Use your strategy and buyer personas to decide what CTA is the most important for them to see and follow.
Social media. Find out where your buyer personas are going to be spending their time and start with those platforms. Learn the platform posting style and create content that will encourage engagement and peak interest. Simply pushing product on social platforms is a bad strategy. Understand the "currency" of the platform and you'll be able to connect more authentically with the people on it. Investigate the ad programs, as some of them are reasonable in cost and effective in reach.
Create a Content Calendar
A calendar will help you define what content you want and when you want to post it. This may help you consider content that is seasonal or geared towards a specific holiday. Your content calendar should help you avoid writing rushed and poor-quality content. Keep a running list of ideas for your content and use various forms of content to increase your audience: blogs, guest blogs on industry-centric websites, infographics, case studies, eBooks, video, white papers, etc. Plan out goals for each project and how you will promote the content. You will want to use your content calendar to plan the writing, images, and video you will need for each project.
Marketing Tools and CRM Software
Choose tools that are going to help you succeed and stay organized. Utilizing customer data is going to help you improve your inbound marketing strategies moving forward. You will want to use a CRM (customer relationship management) software to help you store and track the customer information and interactions. You should also use marketing automation software such as HubSpot.
HubSpot offers a free and simple CRM tool that works within your current workflow to track customers across social media, email, calls, or on your website. HubSpot also has marketing software to track all inbound marketing activity through your website, which also sends leads to the HubSpot CRM.
As you begin to implement your strategy, set very specific goals and measure the results. Know what is working and where things are getting stuck. Find the bottlenecks in your marketing funnel so you can remediate where necessary and impact each visitor efficiently. Your marketing strategy will always be adjusting and changing according to your company goals, target audience, industry trends, among other factors.
Need help to boost your inbound marketing strategy? We can help you get things off the ground, track key metrics, adjust your tactics, and grow your business. Want to find out how inbound-ready your industrial manufacturing business is? We have a quick DIY assessment that will offer you insight. Find out now!