How Small Businesses Can Benefit from the Starter Growth Suite's Capabilities
Small businesses are often the ones that suffer most when enduring hard economic times. Whether it's constraints on budget or on workforce, smaller businesses often have a harder time bouncing back. Creating marketing assets, following up on a lead, or responding to an endless number of customer questions are vital tasks, but in crisis mode, are viewed as secondary. And they often suffer in an effort to remain afloat while tending to more imminent operational needs.
No matter the size or success of your business, creative ideas can be a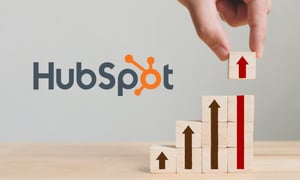 welcome change and new software can open up capabilities previously unpracticed. In light of the global COVID-19 pandemic that has affected businesses worldwide, HubSpot is reducing the cost of its Starter Growth Suite from $112.50 USD/month to $50 USD/month; and all new customers will have access to the software bundle at the reduced price for 12 months from the time of purchase.
Questions you're probably asking right now:
What could $50/month do for my business?
Do I you have the capabilities to implement change at this time?
Is this technology implementation really necessary, or will I come to regret it later?
Or, as importantly, will I regret not taking advantage of this opportunity now?
Grant Marketing would like to help answer some of those questions for you, or at least explain the software bundle in a way that helps you envision what it means for you and your business. Let's take a look at what is included in the Starter Growth Suite.
HubSpot CRM
Whether you have a team of two or 20, your business needs to operate from one source of information to ensure accurate contact lists, trustworthy customer relationships, real-time reporting, and efficiency.
The HubSpot CRM is the core of this software bundle. You can't quite benefit from the others without this as your base. It provides a contact management system, a way to store and track all the information you need about a customer or lead in one place, easily accessible by everyone. The software allows you to organize your contacts based on lifecycle stage, so that you can cater your efforts more efficiently based on your contact's stage in the buyer's journey.
You also have access to a daily dashboard and reporting dashboards, helping reveal where you're doing well, or areas that could use some extra attention. This feature helps you intelligently set goals for your business, ones that are realistic and straight-forward.
There are additional features that come with this CRM base, and even if you decide to not pursue the Starter Growth Suite (although I'm about to further explain why you should), the HubSpot CRM software is free to use, and Grant Marketing recommends that you take advantage of the free base package as a way to kickstart your business's contact management system.
Marketing Hub
The Marketing Hub at HubSpot is arguably the most popular one, and with reason. It helps get customers in the virtual door of your business. It opens up avenues for conversation, whether it's email marketing or the conversations inbox, which combines a live chat, conversational bots, and Facebook messenger in one location for you to address and grow from.
You can seamlessly create, optimize, and schedule emails through the Marketing Hub, giving your communications a professional demeanor that is responsive to all devices, ensuring that those who receive your email see it in the way that it was intended, and can easily extract the message intended.
The conversations inbox offers a number of new ways for potential customers to reach you through a live chat or conversational chatbots. Whether you're available in the moment or not to address an incoming request, the person visiting your website will be acknowledged immediately, already enhancing the experience they're having with your businesses. The conversations will never be lost because they all go to the conversations inbox, where you can easily address, respond, or create tasks based off of the communications received.
Marketing Hub also provides you with the ability to create forms and landing pages, one of the best ways to collect high-quality lead information. You can adjust the information on these pages so that you always have the information you need, not to mention it's automatically populated in the HubSpot CRM. The forms feature allows you to create eye-catching pop-ups, with customizable options for location, when it appears, and where it appears, allowing you to direct people to where they need to go (or what you'd like them to see next).
Sales Hub
The Sales Hub helps move leads through the pipeline to become customers. Some of the features offered in the Sales Hub include:
Calling (phone dialing and conversation tracking): a recording of a phone call and any associated notes are added to the contact profile in question, allowing any member of your team to see the status of this relationship or pick up where you left off with all the necessary information.
Email tracking and notifications: receive a notification when someone opens your email and how many times they opened it. While it may sound slightly creepy, it provides insight to whether they've received your information and if they need to be followed up with.
Meeting scheduling: include a link to your calendar within an email to allow someone to book time to speak with you without additional back and forth.
Deal pipeline: add deals to a dashboard that allows you to customize and track its progress, making sure no opportunities are missed by your team.
Goals: set goals with your team to monitor within HubSpot and keep everyone on track.
Quotes: create and distribute quotes directly from HubSpot to a customer. All the information is saved under the contact information allowing your entire team to track the status and progress of the quote.
Service Hub
The Service Hub allows for better tracking and reporting on customer inquiries, ensuring you remain a trustworthy business and encourages your customers to continue not only working with you, but endorsing you. With the ticketing tool, questions and inquiries that come in through your chatbots or Contact Us pages can be automatically placed in a pipeline customized by your team and the procedures you take. If a follow-up email is required or a call needs to be scheduled, these tasks can be automated based on the pipeline you place a ticket in.
Having access to the canned snippets feature allows for fast and efficient email responses, where you can create pre-written snippets for commonly asked questions that you and your team can easily access and drop into the body of your email when responding to a customer.
The Service Hub includes an additional set of reporting, such as time-to-close reports, ticket reports, and rep productivity reports, all of which allow you to dive deep into the functionality of your business and how your customers interact with you. This provides an opportunity for additional analysis and insights for setting goals when it comes to customer service.
Work with Grant Marketing
There are a number of features not listed above that are included in the Starter Growth Suite. We hope you take the time to get in touch with us at Grant Marketing to see exactly how beneficial this software package can be for you and your business.
And if you think it's time to completely update your systems and technology, including your website, Grant Marketing is offering a FREE website assessment for companies during this crisis. The website assessment includes:
Keyword phrase analysis of your website compared with 2 of your competitors
Hotjar tracking of your website for 2 weeks

Report of findings, a consultation and recommendations
We don't take the traditional web-design approach. Instead, we work with you through the redesign and development stage and structure your website to align with the inbound methodology to deliver a website that works as a 24/7 marketing funnel, driving conversions while you sleep.
Fill out this from to request a free website assessment: