How to Capture the Attention of Engineers
Engineers are an important target audience for marketers. Understanding the needs of technical buyers—how and where they get the information they need to make work-related decisions—can help you decide where to invest marketing resources for optimal results.
A recent report issued by GlobalSpec and TREW Marketing, "2022 State of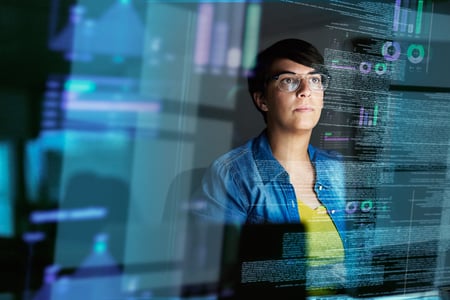 Marketing to Engineers: Reaching Technical Buyers in an Ever-changing Environment," aims to provide a better grasp on the trends, buying behaviors, and preferred channels of technical buyers and engineers. The survey gathered responses from more than 800 participants, 85% of which held engineering/R&D positions. The remaining 15% of respondents were in manufacturing staff or product management roles. Here is a summary of the report's key findings and areas of focus.
Key Takeaways
When engineers are conducting research to purchase a work-related product or service, they turn to online information sources first. By an overwhelming margin, they prefer supplier and vendor websites as their direct source of information. Because websites are such a vital source of information for technical buyers, site usability has never been more essential. If you are marketing to this target audience, make sure the usability of your site is up to par.
Technical credibility of the sales team
Not surprisingly, engineers find a lack of technical expertise as the most annoying sales behavior. Marketing and sales teams need to work together to develop high-value, consistent messaging that establishes technical credibility early in the sales process and maintains it throughout the purchase.
Engineers are willing to share their information to get access to content with a high perceived value. If you have developed content that took a significant level of technical effort to create, and your target audience cannot easily find it elsewhere, consider requesting the completion of a form to access it.
Where engineers are most inclined to find work-related information
Supplier/vendor websites – This was clearly the number one information source—chosen by 69% of engineers—when researching a product or service.
Online trade publications (46%)
Industry directory websites (41%)
Publication emails and e-newsletters (37%)
Of the survey respondents, 89% said they subscribe to at least one e-newsletter, and 55% said they receive at least three e-newsletters. E-newsletters that feature in-depth technical information were preferred by 70% of engineers, with 55% interested in the latest industry news and trends.
Industry and association groups (35%)
Videos, webinars, and podcasts
Videos – 96% of engineers refer to videos for work-related information, with 53% watching more than one hour each week, and 43% watching less than one hour per week.
Webinars – The survey asked about the ideal length for webinar content, and 42%
of respondents said 30 minutes. Twenty-four percent 60 minutes, and 19% said 15 minutes.
Podcasts – 73% of engineers said they listen to work-related podcasts each week, with 50% spending less than an hour on podcasts, with 23% listening for an hour or more. Of these, 54% subscribe to between one and five podcasts, and 36% are listening without subscribing. Younger engineers listened to more podcast content with 30% of engineers 35 years of age and under listening to one hour or more of work-related podcasts each week.
Social media has a place, but …
While social media are the least likely sources of work-related information for engineers, they do have a place. Engineers indicated they look to YouTube, LinkedIn, and GitHub to help them stay current on technology and the latest trends. In fact, 81% of engineers said they spend time reading and sharing information with their LinkedIn networks. More than 50% of engineers said they spend less than one hour on LinkedIn each week, so companies looking to grab their attention should consider posts with images or a video, which are more likely to be read or shared. Twitter, Reddit, Instagram, and Clubhouse were the least popular sources.
Content preferred by engineers
Most useful – Data sheets, CAD drawings, and product demo videos were considered most useful when making a purchase for work. White papers and how-to videos were also mentioned. Least useful? Corporate overview videos. There may be a negative business impact for companies that do not provide enough content, or enough variety, to potential technical buyers.
Gated content – One of the most popular and effective ways to garner leads through your company website is to provide gated content which requires the completion of a form. Eighty-three percent of engineers said they were willing to fill out a web form to receive technical content. White papers (37%) and CAD drawings (35%) ranked as the two most valued gated content assets, with webinars and in-depth case studies rounding out the top four at 30% and 29%, respectively.
How Engineers Prefer to Engage with Vendors
Online research


The survey showed 51% of engineers preferred to conduct online research when they knew a sales representative from the vendor company was available to help if necessary.
Once they have narrowed their product selections, 26% of engineers said they typically meet with a technical salesperson. Only 16% indicated they prefer to meet with a salesperson early in the buying process, and only 8% prefer a completely digital experience. Twenty-seven percent of engineers spend more than half of the buying process online, while 38% spend between 25%-50% of the buying process online.
The survey asked, "When you are ready to speak with a salesperson at a vendor company for the first time, which of the following is your preferred method of communication?" Email was the clearly preferred method of first contact with sales reps by 53% of engineers across the board. Of the 25% of engineers preferring a phone call, the majority of were engineers over the age of 55. Only 8% of engineers opt for face-to-face meetings, and only 7% prefer virtual meetings.
Engineers indicated the top three most irritating behaviors of vendors are lack of technical expertise, poor responsiveness, and contacting them too frequently.
Survey participants said the ability of a vendor to demonstrate technical expertise was the most important factor in their decision-making process, followed by responsiveness and customer service, and having innovative technology.
Develop a Strategy
Engineers and technical buyers require a specialized marketing approach to communicate your technical credibility and get their attention. Grant Marketing can work with you to develop an effective strategy for this important target audience. Give us a call at (617) 861-7412 today, or contact us to set up a time to talk!