How Tracking Revenue Attribution Helps Focus Your Marketing Strategies
Every industrial manufacturer's goal is to increase revenue, which is made even more challenging in the middle of a pandemic and economic uncertainty. Every bit of insight we can gain to measure our efforts and our prospect's and customer's responses to them is valuable, especially during dynamic, unpredictable shifts in the markets. That's where revenue attribution comes to our aid!
Let's take a closer look. How many marketers have implemented a strategy to match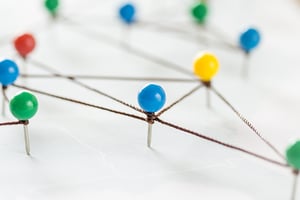 marketing efforts to revenue? In Ascend2's recent report on revenue attribution, which discusses marketing strategies, tactics, and trends, we get some insight about what marketers are doing.
Nearly half (46%) of marketers are operating with an implemented revenue attribution strategy.
Another 41% report that they are either in the planning stages or currently rolling out a strategy for marketing attribution.
What is revenue attribution?
Now let's take a step back, though, so we understand what and why revenue attribution is—or should be—a concern (or, at the very least, something you want to pay attention to). Revenue attribution is the amount of revenue generated by a specific event, traffic source, campaign, and any other source of customer engagement.
Why is revenue attribution important?
Revenue attribution is important because it gives the company management, including those responsible for marketing and sales, a measure of ROI success or failure based on the sales and marketing activities implemented by the company. Tracking revenue attribution gives management a better plan for future campaigns based on real data. In simple terms: you know what is working and what is not—where to spend your time, money, and resources and what to either work on to bring up to performance levels that generate returns, or what to dismiss entirely.
What are the questions marketing attribution answers?
As mentioned above, tracking your efforts allows you to focus in on where you are gaining the most ground in your diverse marketing strategies. You should also be mindful of where you see gaps or holes in the buyer's journey that you should plug up, and tracking revenue attribution can reveal those. Mining this intel also helps you better understand your prospects and customers and their behaviors and preferences—further allowing you insights into even more targeted approaches to helping them find solution to their needs. And every bit of information and understanding you have about your prospects and customers helps you to market more effectively and sell more successfully to them.
Here are some of the questions it answers for you:
What is my marketing ROI from marketing campaigns or channel?
If I invest in a certain program type, what do I expect the returns to be?
Where do customers find us online?
How do our customers engage with us prior to making a purchase?
How long does it take our customers to make a purchase decision?
Which content is most compelling to our customers?
How do you measure revenue attributions?
Companies need to generate reports that link marketing events to sales revenue. While this can be done manually (requiring substantial human resources and valuable time), software attribution tracking, such as that available from HubSpot, makes it easier and more accurate to capture data in revenue attribution dashboard reports—usually in real time.
Back before the internet, when print advertising was the main medium, marketing pioneer, John Wannamaker was quoted in 1922: "I know half my advertising money is wasted, but the trouble is I don't know which half." With a host of internet marketing and sales platforms, that is no longer the case. We can now attribute marketing programs to won opportunities by recording how customers interact with our business prior to making a purchase. This process is enabled by marketing automation platforms such as Marketo, Hubspot, or Eloqua. These platforms identify each contact as a lead who interacts with your marketing content. HubSpot, for example, records the interactions in several attribution models:
What internet traffic source drives the most revenue?
What content type drives the most revenue?
What campaigns drive the most revenue?
What do these attribution models tell us about where to place our marketing efforts? Revenue attribution models objectively look at how customers interacted with your content and tell you which programs had the highest impact. According to research by Ascend2, the benefits of revenue attribution are:
Ability to make better decisions
Marketing and sales alignment
Increased campaign effectiveness
Increased channel effectiveness
Increased marketing budget
Attribution of ROI to marketing
Effective buy-in support
It seems clear that every company can benefit from a revenue attribution model. Are you ready to find out where your time, money, and resources will be best spent? For a demo on how revenue attribution will work for your company, contact me here and let's find a time to talk.