How to Ensure Prospects Are Content with Your Content
Competition is only getting fiercer. The interwebs, more crowded. And people's attention spans, much shorter. In today's ever-changing marketing culture, it's crucial to be one step ahead of the competition. You want your business to be the one catering to your buyer personas' needs—not your competitors. If you are an industrial manufacturer, you need to structure your marketing content in the way that most effectively relays the message that your inbound marketing strategy delivers.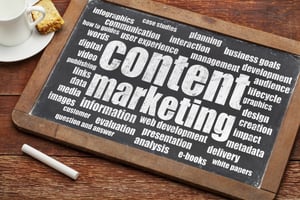 You need to connect with your customers and perspective customers in real and relevant ways. Position your company as a thought leader in your industry and your well-targeted industrial marketing strategy is what will turn strangers into customers. If you dismiss the impact that solid content creation can have with gaining the competitive edge, you are potentially passing up new leads and big bucks.
Core Concepts of Content
Many industrial manufacturers assume that the audience for industrial content marketing is limited—thinking their specialty is niche and their customers and potential customers know what they do. But that's far from the reality. Think about your purchasing habits these days—whether for business or personal means. The first step, more often than not, involves hopping online and doing some research. BINGO! Which brings us back to informative, quality content creation.
Content marketing plays the same key role in industrial marketing strategy, as it draws people to your business, gives them the answers to their questions, and can solve their problems (it's a safe bet to say that when people are looking, it means they are doing so because they need a solution to a problem). Well-written content attracts people to your products and services and keeps visitors coming back for more. In today's noisy, crowded market, effective content marketing must capture attention. Unlike marketing pre-internet, space is unlimited, meaning your content must be engaging and succinct to give your business the upper hand in the fight for attention between you and competitors. But how do you develop remarkable content? The answer is not as hard as you may think: plan, create, distribute, and analyze.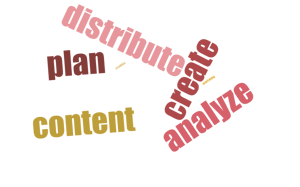 1. Planning Makes Perfect
Every successful piece of content was once a plan. Planning is the very important first step in effective industrial marketing strategy. To create outstanding content, you must determine these three aspects of your message:
The purpose of your message is to attract customers. You need to determine who that is—your messaging will be targeted directly towards that persona. There are multiple formats and platforms available for presenting your content. The persona you are hoping to attract will influence the format you choose to present your content on and how you target your buyer personas. Some effective formats for industrial marketing include videos and infographics. While it's the last point here, it should be in the forefront of your strategy. The topic of your content must appeal to the buyer personas (and their pain points: what answers are they searching for) and where visitors are in their buyer's journey. Once the perfect plan has been mapped out, it's time to create your content!
2. Content Creation
How you create your content is also an integral part of the success of your industrial content marketing. To create eye-catching content, make sure it is:
Relevant and applicable to the needs of your buyer personas
Easy to consume
Educational rather than promotional
Informational and succinct (Though for meatier subject matter, be sure to include all the information your prospects need to get what they came to learn. People will read quality content.)
By taking these steps, you will have some content to be proud of in no time!
3. Distribution of Content
Now that your content has been created, you need to market it. Distribution is immensely important in the industrial marketing world—people won't learn a thing about you if they don't know you prepared awesome content for them. It does you no good to create relevant content if you don't employ contemporary distribution channels. It helps lend more relevance to your content, which leads to more promotion and higher rankings. Some effective distribution platforms include website pages, blogs, and social media. Yes, that's right; Twitter and Facebook have now become essential to the workplace!
4. Keep Your Eye on the Prize: Analyze
Of course, we all want to know what the return is on our hard work! We need to know what works—and, more importantly, what doesn't. That's where analysis comes in. Analyzing your content allows you to get the most out of it. Through analysis, you can see how you compare to competitors and how well your content is received by customers. From this, you learn what works well for your business and what does not. No one wants to waste time and effort on campaigns that don't work. And we'll never know if poorly executed content scares away prospects that won't even consider returning because they don't want to waste their time on a company that doesn't represent its expertise and knowledge in the most helpful way possible. Be okay with changing things up if the analysis tells you to! Think of analysis as a two-step process: analyze and revise.
Results through Content Marketing
Content is integral to B2B marketing today. Our Boston-based B2B industrial marketing agency, Grant Marketing uses industrial content marketing to produce results. Keep your prospects and customers happy by meeting their needs when they look for guidance from you. And you, too, can be content with your content so long as you remember these simple steps: plan, create, distribute, and analyze. With this approach, remarkable content is born.
You might be interested in the State of Inbound Marketing 2014, a report that our marketing software partner, HubSpot, compiled. Talk about content that answers questions—this is a fantastic find!