Engage, Educate, Entice, Evangelize, and Evaluate
Sparked with innovation in emerging manufacturing technologies such as 3D printing and robotic manufacturing, along with a strong commitment from the government to bring back "Made in America," the manufacturing sector in the U.S. has entered an exciting new phase of opportunities.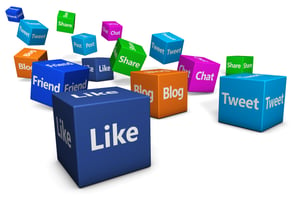 The statistics highlighted in our previous blog post, "Align Your Industrial Marketing with Promising 2015 Economic Reports," lend further credence to the prospering state of industrial manufacturing in the country. As an industrial marketing agency located in the heart of Massachusetts, we see first-hand that the current momentum has brought significant changes to the tried and true marketing strategies for industrial manufacturers.
Industrial manufacturers are no longer limiting their marketing efforts to jockeying for attention on trade show floors, industrial publications, and tender notices. Instead, they are breaking out of their comfort zone and embracing digital and social media channels to market their goods and services, and connecting with prospective buyers in new and effective ways. This is consistent with the findings of the recent IHS Global Spec report that indicates, industrial marketing budgets in 2014 continue to shift to digital channels. So if you're a marketer in the industrial space, you are indeed standing at an interesting juncture, where email campaigns, social media posts, blogging, search engine optimization, and about dozen other inbound marketing initiatives abound.
Social media is one arm of inbound marketing that has so effectively permeated our personal lives, that its dominance in the marketing space was just a matter of time and evolution. Over a very short time span, social media came, saw, and conquered. Now that the dust has settled on why industrial companies should join Facebook, Twitter, LinkedIn, Google+, among the most prominent ones, the priority is shifting for industrial companies to incorporate social media platforms with intent and precision: the right ones, the right way, to the right audience.
Crossing the Bridge: Social Media Buy-In
We've heard it all before:
"We make aerospace components; our audience isn't on social media."
"We don't have anything worthwhile to say."
"No one wants to read all this technical stuff."
"We have limited time and resources to tweet constantly."
But it is only recently that both the technology and the perception around social media have matured, and we are starting to notice an upswing in the social media presence of industrial companies. However, it's no secret that industrial manufacturers have not whole-heartedly utilized social media technology to its utmost potential. You might have a Facebook, Twitter, and LinkedIn company page (also known as the social media trifecta) just because everyone else does. But … your log-in information is lurking somewhere in your manufacturing facility, isn't it? Do you know who administers your feeds? Who in your organization is dedicated (yes, dedicated) to creating content, actively engaging with the industrial buyer and engineer communities, or initiating conversations on these platforms? Don't be embarrassed that you don't know, because the report for IHS Global Spec suggests that the majority of B2B marketers struggle to invest their time to publish posts, comments, and generally interact. This bridge is yet to be crossed.
Just Enough Isn't Good Enough Any More
Based on our previous blog post discussing SEO trends in marketing, it's very clear that in the same way that humans look for trends and recommendations in testimonials, online reviews, and other social interactions to guide their purchasing decisions, search engine behind-the-scenes bots are also looking for proof of social prominence (and dominance!) in the form of number of likes, followers, subscribers, re-tweets, and shares, to determine a company's website ranking in the organic search. This further signifies that just having a social media account is no longer good enough.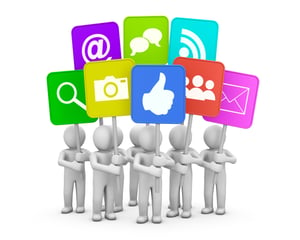 The 5 "Es" that Help Leverage Social Proof in Industrial Marketing
The time is ripe for industrial companies to crank their social media presence up a notch, with the help of the five Es described below.
Engage: Social media platforms are built on facilitating engagement, two-way conversation, and sharing of content. Engagement can look like—but is not limited to:
Holding contests and giveaways
Moderating question & answer (Q&A) sessions on Twitter, Google Hangouts, etc.
Pushing relevant content in the form of white papers, case studies, spec sheets, CAD drawings, interviews, webinars, etc.
Responding to comments
Sharing images, videos of company events, product launches, etc.
Participating in industry-specific LinkedIn group discussions and other forums
Creating and managing a LinkedIn group(s)
Posting YouTube videos on how-to, product demos, expert interviews, facility tour, etc.
Sharing and re-tweeting blogs and articles from industry leaders and other experts
Encouraging comments and feedback on posted blogs, articles, etc.
Joining industry-related conversations and connecting with influencers using popular hashtags (#) on Google+, Twitter, and Facebook
To engage effectively with the digital audience, it is important to know that your social media efforts should focus on and target to them—not you. Be sure you are answering these questions as you plan your plan:
What are your prospects searching for?
What solutions are they seeking for problems or goals they have?
What are they talking to each other about?
Is there a hot topic happening in your industry that people want timely answers on?
Which platforms do they visit the most?
As the IHS Global Spec report on Social Media Usage in the Industrial Sector tells us, LinkedIn is the most popular social media destination for engineers and other industrial professionals, followed by Twitter, Facebook, Google+, YouTube, and Slide Share. So get on it—start connecting and networking with people in your ecosystem that matter to your company.
Educate: Adding educational content to your social media channels is a great way to establish trust, credibility, and authority. Depending upon your industry, educating your target audience can take different forms. For instance, aluminum anodizing company, DCHN, posts blogs on its social media accounts that provide best practices for anodizing and other metal finishing services. This not only helps DCHN to define and demonstrate an area of expertise, impart knowledge, and position itself as a thought-leader within the anodizing industry, but also ties all the social networking back to its website. Hypothetically speaking, the next time purchasing manager, Mr. Bill, researches potential suppliers of metal stamping parts and his Google search leads him to your website, let him get dazzled by the wealth of information you post on your digital touch-points, and he will be more prone to taking the interim steps towards filling out that RFQ form on your website.
Entice: In the realm of the industrial and manufacturing sector, enticing customers and prospects online can feel like a tough proposition, but it is certainly feasible. To keep interactions alive and kicking on social media, B2B marketers can promote valuable and enticing offers to their followers. For instance, Cobra Products Inc., a Hudson-based cable tie company, offers a sample pack of cable ties on Facebook. Each response drives lead conversions. Here are some ideas to get your messages on social media pages and in front of your target audience:
Free demo
Engineering assessment
Infographic
Coupon code
Evangelize: This being the Holy Grail of any marketing campaign, turn your customers into your biggest fans and they'll sell for you, whether they know it or not. The September 2013 Nielson report on Global Trust on Advertising and Brand Messages divulges that in North America, 82% of people surveyed trust recommendations of people they know vs. 62% trust of branded websites. And 79% of those people take action on friends' recommendations vs. 56% of action taken based on the word of a branded website. Your task: make great impressions through engaging, educating, and enticing followers on social media, which will help build deeper relationships and ultimately, win brand ambassadors. There are several specific ways you can use social media to support and delight your followers and keep them coming back for more.
Some of these loyalty approaches are:
Monitor conversations on social media to watch out for brand mentions, general area of expertise, or product/service concerns
Promote your customers and share their success
Problem solve proactively
Respond timely to customer queries
Disseminate custom content such as training guides, how-to videos, and anything else that would empower your customers to do their jobs better
Own up to technical issues on social media and update regularly to minimize criticism
Solicit feedback on your products and services through surveys, Q&As, and Google Hangouts
It is all about going that extra mile for your evangelists because these miles can earn you free word-of-mouth advertising, which, as the numbers show, is much better than any paid form of advertising!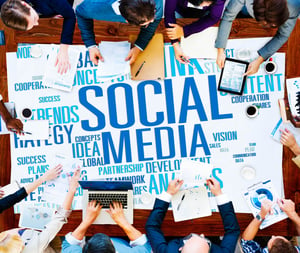 Evaluate: Even though there are no pause buttons in social media marketing, it's helpful to analyze what's working and what's not, across multiple social media platforms. Using analytical tools like HubSpot, SproutSocial, and HootSuite, it has become easier to measure the impact based on the key social media metrics mentioned below:
Measuring exposure: visits, views, followers, pluses, likes, subscribers, and brand mentions
Measuring influence: brand sentiments, behaviors, social trends, and popular hashtags
Measuring engagement: clicks, retweets, shares, comments, and direct messages
Measuring action and conversions: content downloads, webinar sign-ups, contact us and RFQ form fill ups, and sales-oriented phone calls
By quantifying these metrics, industrial companies can fine-tune and optimize their social media marketing strategies to maximize ROI.
Love it or Hate it, Social Media Influence Is Here to Stay!
We've witnessed the evolution of social media: from a fad to an afterthought to being an integral part of and integrative marketing mix. It's gone from a personal life-sharing platform to lifestyle evangelism and through that leap, social media is democratizing industrial marketing and all that it encompasses. There is a fundamental shift in the way engineers and industrial professionals are consuming information and content. Many are congregating on social media platforms—particularly LinkedIn—to research suppliers, ask questions, read industry news, and search company contacts. Have at it; put a face behind your company logo!
For industrial and B2B marketers, the time used to implement the above five factors is, in fact, not time wasted at all. According to HubSpot's State of Inbound 2014, the report on their survey of a diverse audience of thousands of marketers, social media lead sources have become increasingly important and on the rise. Download it now to take a read for yourself.