Building a Digital Powerhouse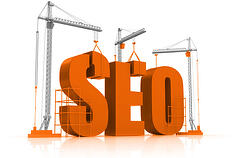 Since the turn of the 21st century, industrial marketing, or marketing for manufacturers had been in a continual state of evolution. The days of putting an ad in the Yellow Pages and picking up the phone to do cold-calling are far less in number, if not over. Industrial marketing has a new look, dynamic vibe, and gets real results.
In today's hyper-connected digital landscape, these tools have become a fundamental part of the overall industrial marketing strategy:
Email
Customer relationship management (CRM)
Marketing automation
Search engine optimization (SEO)
Marketing analytics
eCommerce
Mobile
With the omnipresent sophistication of the World Wide Web, almost every industrial and manufacturing business—small- to-medium-sized and large, multi-national corporations—can carry an equal voice online. But with a caveat: it is at the mercy of the major search engine giants like Google, Bing, and Yahoo, and the perpetual series of algorithm updates.
While it may seem that businesses are victims of SEO analytics shell games, they are in reality, intrinsically tied to each other. The shift in industrial buying patterns precipitates the latest search engine algorithm changes. The days of trying to trick the system and outthink computers is gone. Semantic search is now the algorithmic norm and the computer, as it turns out, is trying to outthink the humans. Instead of you stacking keywords to get the search engine (and customers) to find your site successfully, the search engine bots now contextualizes your customers' search words, phrases, and questions to get them to the most relevant site quicker and more efficiently. And with the right marketing strategies in place, let's hope that leads them to you. Think of it as having a conversation with a search engine. Daniel Newman, author of The Millennial CEO and The New Rules of Customer Engagement, writes in a blog series on Forbes, " … the web is changing directionally, from keyword to conversation and is being used to better understand what the buyer wants."
Let's take a look at how that plays out. Your prospective buyers and engineers are out there, searching for metal stamping parts and components or a custom computer-aided drafting (CAD) drawing via the internet. But the question remains: will their search inquiry lead them to your digital doorstep? The honest answer is: there are lots of factors in play when it comes to achieving digital dominance in this constantly changing search engine world, and catching the eyes of the most popular search engine crawlers and spiders requires leveraging a mix of inbound marketing elements along with technical SEO. Keeping up with current industrial SEO practices will impact your success with:
Visibility
Traffic
Ranking
Conversions
Make Current SEO Metrics the Benchmark of Your Industrial Website
For your industrial and manufacturing business to not just survive, but thrive in this digitally interactive economy, it is important to increase your familiarity with industrial SEO best practices. In early fall of this year, a global search analytics software provider, Searchmetrics, published the SEO Rank Correlations and Ranking Factors 2014 study—an extensive analysis of the latest and greatest trends in SEO. As an industrial marketing agency, we at Grant Marketing devour such consolidated form of hype-free, rich data; it gives us a benchmark to follow when crafting inbound marketing strategies for industrial websites, of which SEO is a vital component.
Key SEO Insights for Industrial Websites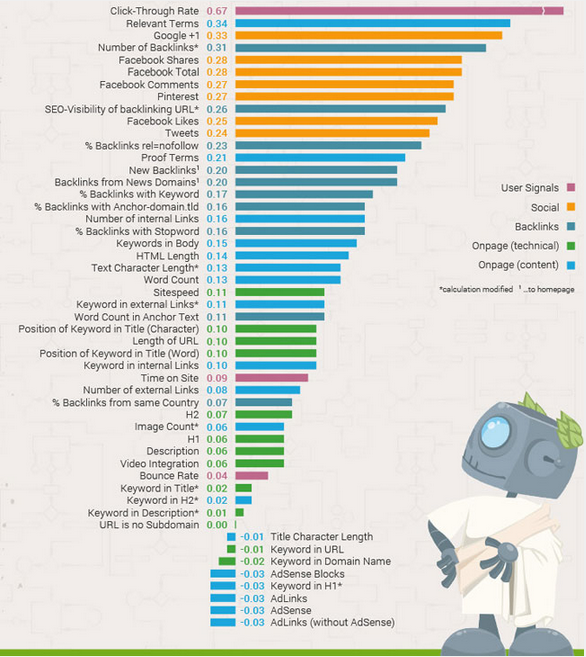 Searchmetrics Rank Correlations and Ranking Factors 2014
Increase User-Relevant Content
You've heard it time and time again that content is king. It stands tall and undefeated, even in the findings of this study. For optimal SEO results, industrial companies should not only produce more website content, but more relevant and useful content that speaks directly to their target audience in the form of blogs, white papers, case studies, articles, webinars, press releases, product specifications, and more. Remember: think "conversation." The study revealed that in order for search engines to evaluate and structure the content according to its quality and relevancy to the search inquiry, it no longer concentrates only on the number of keywords and links, but analyzes the content based on the following factors:
Media-enriched content with images and videos
Higher word count using relevant topic terms—average length of text (in characters) is 8,313, and length of word count is 975 of top 10 ranking URLs
Semantically comprehensive wording
Co-occurrence of several relevant and proof terms in the context of the copy; people are searching for entire topics instead of content optimized for single keywords
Easy-to-read content
Presence of less advertising on the page (AdLinks and Adsense both correlate negatively with good rankings)
Though keywords remain important on-page element, their appearance as exact terms decreases
Create Robust Site Architecture
While the focus on on-page content is undeterred, a strong technical site structure and performance also correlates to good ranking. Based on the study, below are some technical on-page factors that are simple and prerequisite for good ranking:
A well-balanced internal linking structure
The length of URL—average length in characters of top 10 ranking URLs is 36
Short loading times—average site-speed is 0.99 seconds
Contemporary, up-to-date site
Presence of all relevant meta information, including title and description
Position of keyword early in title for both characters and words
Presence of H1 and H2 headings
Earning Quality Backlinks
For off-page optimization, backlinks, with emphasis on their quality, are probably the most important SEO metrics of this year. Many industrial websites have untapped link-building gold mines from a high proportion of stakeholders' sites such as suppliers, distributors, customers, and industry-related publications. Below is the pool of factors used to analyze the quality of backlinks more than the quantity for better ranking:
Number of backlinks—average number of backlinks of top 10 ranking URLs is 1,352
Higher proportion of backlinks from same country
SEO visibility of the backlinking URL—average SEO visibility of top 10 ranking URLs is 2,080
Number of referring domains linking to the homepage—average top 10 ranking URLs have 1,718 referring domains linking to the homepage
Higher proportion of backlinks with anchor-domain.tld
Number of words in the anchor text
Number of backlinks from news domains
New backlinks
Share of nofollow backlinks—average top 10 ranking URLs have 6% nofollow backlinks
Maintaining a well-balanced homepage and deeplink ratio—average share of links to the homepage of domain is 29% for top 10 ranking URLs and the rest are deeplinks
Higher proportion of backlinks with keywords
Higher proportion of backlinks with stopword
Social Signals Are a Bonus
Even though the industrial and manufacturing sector was slow in jumping on the social media bandwagon, there is a giant leap of faith in that direction. From an SEO perspective, industrial websites with a high number of social cues have a positive correlation to better ranking. The study revealed that social signals definitely play a role in direct traffic, brand awareness, and the overall online performance of a domain, and summarized the factors as follows:
Number of shares, comments, likes, tweets, pins, and +1s are primary indicators of good, relevant on-page content—average top 10 ranking URLs have 143 Google+ ones, 36 pins on Pinterest, 1,690 Facebook signals, and 162 tweets on Twitter
Implement User Signals—They Are Crucial
With evolving user behavior, search is also changing … and humanizing. The most significant development in the search marketplace is the continuing evolution of contextual, semantic, and mobile search. Study findings correlate user traffic signal indicators of strong quality signals for higher ranking:
Higher click-through rate (CTR)—highest ranking URLs had a click-through rate of 33%
Longer time-on-site and lower bounce rate—important user signals of the top 10 ranking URLs had an average of 101 seconds time-on-site, and 37% bounce rate
Mobile-optimized sites climb higher in the ranking for mobile searches
The Conversation's Just Beginning
Implementing the above factors will help build the context that search engines need to help customers come to you. With each passing year, the rules of SEO change and there's no telling what changes and complications lay ahead. But if you build these tried-and-tested SEO tactics firmly into the foundation of your web framework and practices, you can create a digital powerhouse of original and engaging industrial content. Since industrial marketing has gone inbound for manufacturers, and Google remains a moving target, let us help you determine the current state of SEO of your industrial website. Create the connection a prospective buyer wants so they find you through organic search. Start the conversation off on the right foot—then get their other one in the door. Request a free inbound marketing assessment today!