Read Up ... The Rules of Industrial Marketing for Manufacturers Have Changed!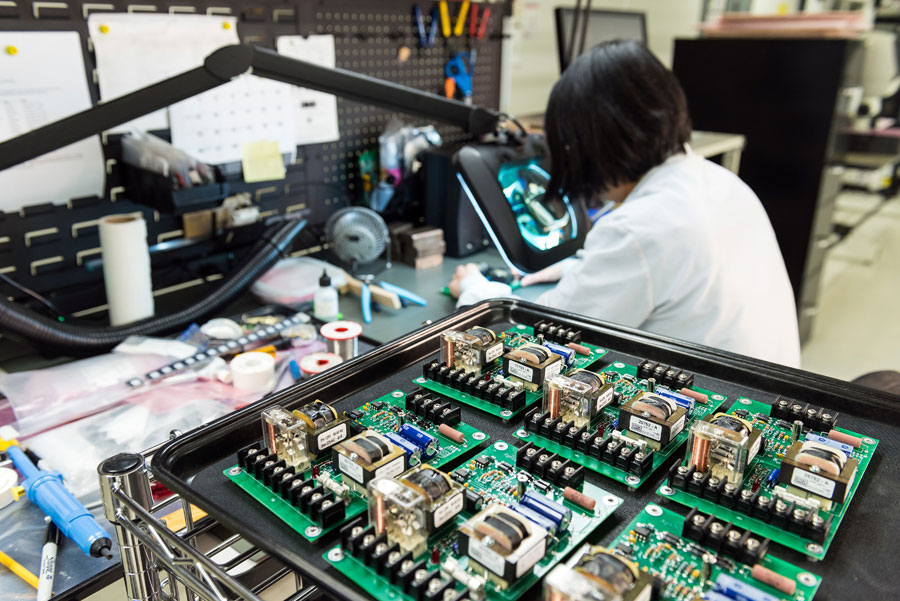 Nestled in a dingy grey industrial area, old cobblestone streets mapping the way for imposing brick buildings with smoke billowing out of high stack chimneys; laborers bustling about, operating heavy machinery—this is a clichéd, exaggerated, and very retro depiction of the industrial and manufacturing sector. In reality, this sector has undergone a period of drastic modernization within the past decades, accompanied by rapid innovation, growth, and boom.
According to an online Bloomberg article in January 2014, "Manufacturing grew in December at the second-fastest pace in more than two years, fueled by a gain in orders that will help propel the U.S. expansion." U.S. manufacturers need to dispel the perception that manufacturing has moved offshore. As an industrial marketing agency, we see first-hand how manufacturing companies in America have improved technology and also how they have adapted to new ways of marketing their services and products.
Industrial Manufacturers: Keep Your Brand Story Alive
There's such diversity in domestic manufacturing: from sensors for medical device applications that can improve patient's overall health and wellbeing, to ferrite-based circulators for space systems, and self-checking overfill prevention systems for terminals and gantries. If you're faced with the challenge of separating those who think your services are too technical, regulated, jargon-laden, dry and dull, from those who find it intriguing and exciting, then it's time for you to revisit your industrial marketing strategy. Here's the deal: manufacturers are producing all manner of life-changing, innovation-forward, jaw-droppingly inspiring products. Many are local and have global reach. If you're a manufacturer, you have lots to talk about, and often to a very defined and interested audience.
To that point, Dan Moyle, an inbound evangelist, said in a recent seminar, "Get over yourself; you are not boring, your industry is not boring, your brand story is not boring. There are people out there who want to know what problems you solve with your products or services—and that is not boring at all." To put things in perspective here, industrial and manufacturing companies might remain Greek to those outside of your realms, but then again, there are plenty of people out there who'll find your offerings interesting and they want to know more about your kingdom. They are your potential target audience, prospects, niche-market, buyers, warm leads, and sweet-spot evangelists for you to build your entire empire on. Then you can have dominion over their hearts, too.
Define Your Most Qualified Leads (MQL) through Inbound Marketing
Yes, marketing that brings people to you. Much like the antiquated dingy smokestacks huffing and puffing hot air, so too, are some of the industrial marketing practices of yesteryear. Yes, people still want connection, information, and service. But they want it on their terms and on their schedule. An integrated approach to marketing and selling—using some of the old tried-and-true methods—still holds value. We are an info-rich (if not saturated) culture; people like to do the research themselves.
Consumers, whether B2B or B2C, are educating themselves before they pick up the phone or send off an email to you. In today's buyer's market, they generally are much further down the funnel and closer to purchasing by the time they actually reach you. That's why it is vital that your company's voice is "heard" via blogs, social media, and other inbound methods much earlier in their buyer's journey. And that's why and where inbound marketing is today's high-tech marketing vehicle. But don't mistake that for assembly-line factory work content creation. The information you make available via blogs, social media posts, and eBlasts needs to be authentic and answer the real-world concerns of your consumers. The great news is that there are effective strategies to get your voice out there, your brand noticed, and leads converted into delighted customers.
Since its inception, Grant Marketing, a Boston-based industrial marketing agency, has been in the forefront of manufacturing marketing, being one of the first companies to design websites for industrial/manufacturing companies in the early 80s, and introducing marketing automation and inbound marketing to our clients to keep them connected to buyers and engineers. HubSpot has designed the next-generation of marketing software and we have partnered with them to, yet again, be ahead of the B2B marketing curve. According to Hubspot, "Inbound marketing is a holistic, data-driven approach to marketing that attracts individuals to your brand and converts them into lasting customers."
Um, What?
It's a lot to take in. Here's the skinny: the concept of inbound marketing is not a new one, but this approach sure provides a method to the madness like nothing else. The overarching theme of inbound marketing is to better position a company or business to become the solution its ideal customers are searching for online. By aligning content that directly speaks to them and their exact interests and needs, inbound marketing naturally attracts qualified leads to your website. With clearly defined conversion paths you get to create, it helps them begin the process of knowing and then trusting you and your brand, ultimately towards a purchase.
Top 5 Reasons to Go Inbound for Industrial Manufacturers:
This isn't just hopeful speculation, either—the facts help seal the deal.
Inbound marketing for industrial manufacturers demands a top-down commitment. There are no easy buttons. Successful implementation involves an active, integrated, and ongoing supply of educational content that will turn your industrial website into a lean, mean lead-generating machine over time. Make the company-wide commitment—start planning the inbound marketing strategy for your manufacturing business today with our free inbound marketing campaign checklist. Go get 'em! Or, actually, let them come to you