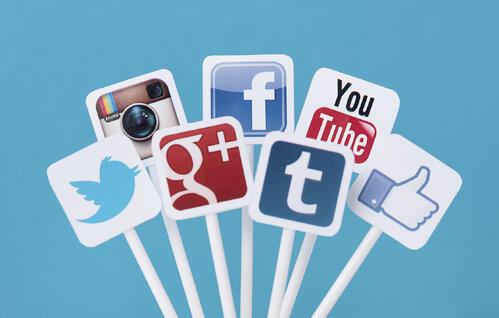 As a B2B marketing agency we know for sure that social media plays one of the largest roles in B2B marketing. If used properly, it can have a far-reaching, positive impact on your company's success. However, many B2B companies are not harnessing the of power social media, and in turn, these companies are losing traffic along with their much needed leads. If used properly, social media has the ability to effectively develop a new brand or aid in the rebranding of a failing company. Social media creates brand awareness: it encourages social sharing; it produces followers, promoting trust and reputation; and it drives inbound leads.
Which One Will Work for You?
With all of the different kinds of social media available, it is important to know the most effective ones for publicizing your company. Did you know … ?
LinkedIn has been found to be the most effective form of social media in B2B marketing, according to media bistro. LinkedIn makes it is easy for companies to build relationships with its target prospects—executives can also easily brand themselves, and companies can easily develop sales strategies for business development.
IBM reported a 400% increase in sales in one quarter after they tried a social selling pilot program (thanks, media bistro). Not only is this piece of information mind-blowing but, it also displays the criticality of social media to companies.
In today's cyber market, many B2B companies are joining social media sites and are connecting directly to their potential buyers. The B2B companies who properly utilize social media do connect directly with their potential buyers, giving these companies a competitive edge. This direct connection with customers is at the heart of why using the powers of social media correctly is so critical to companies who want to excel past their competition. Do it well and everybody's high-fiving; nose dive with poorly executed outreach and you're off the bonus list.
When Just Joining Is not Enough
It is not enough to "just join" a social media site. When a company joins a social media site, it is crucial that they make their presence known. B2B companies are able to increase their brand presence through social media a number of ways. Here's where you need to start:
Determine which social media site is best for your company.
Fit in with the general personality of that site: be sure you are surrounding and merging your brand message with relevant topics and content.
Showcase your expertise. Joining Twitter and LinkedIn chats have proven most effective for companies displaying their expertise.
Find where potential partnership businesses are strongest on social media and actively participate in discussions involving them. Active engagement not only puts you in front of perspective customers as a reliable source, but you can perpetuate your brand message as a friendly voice.
Social media can't do all the work for you, but it's a handy gerbil on the wheel to keep your touch-point contacts spinning into lead gens—and hopefully—sales.
If you are serious about bolstering your social media presence but don't know how to get started. Let Grant Marketing help you in strategizing your social media marketing efforts. Get your free assessment with our in-house inbound marketing specialist today!