Find Your Unicorns and Share Them!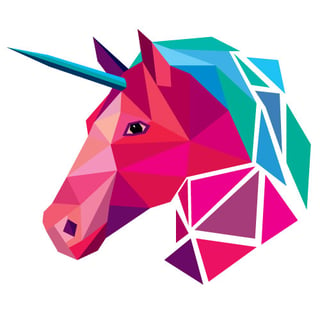 One of the fastest ways to drain company marketing resources, particularly in the B2B industrial manufacturing sector, is to chase after every lead, platform, and format in an effort to "strike gold" through diversification. Unfortunately, if and when you do stumble across the perfect combination, it's highly unlikely any benefit will be worth all that discovery cost. What's a company eager for an audience, then, to do? Tap into the powerful Pareto Principle, also called the 80:20 rule—a concept that indicates that 80% of results will come from 20% of efforts at any given time or setting.
How Can I Make the Pareto Principle Work for My B2B Marketing?
Industry thought leader Larry Kim, CEO of MobileMonkey, has a unique take on making the Pareto Principle a part of your marketing strategy. He advises that you identify your "unicorns"—those existing articles, landing pages, or posts that are receiving more attention or engagement than the others. This could be measured in likes, reposts or retweets, comments, incoming traffic—any type of engagement that's quantifiable on a given platform. Rather than labor endlessly to create new, entirely different content, Kim advises that you "repackage" this high-performing content by reworking it into forms suitable for other platforms. For example, a high-performing Facebook page can be linked to through a few Twitter tweets, or vice versa. By taking this route, rather than a scattershot approach, you'll be harnessing the momentum that's already been proven to exist for that piece of content.
Advanced Techniques: Audience Definition
The Pareto Principle can also be used to stack the deck in your favor in terms of your audience. This approach integrates perfectly with the B2B inbound marketing methodology. According to inbound marketing strategy, creating buyer personas provides tremendous structure and insight for your company's marketing and sales efforts. A detailed buyer persona will help you determine where to focus your time, guide product development, and allow for alignment across the organization. As a result, you will be able to attract the most valuable visitors, leads, and customers to your website, helping to grow your business.
For instance, if design engineers make up 20% of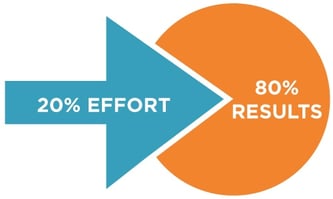 your database, but drive 80% of your sales, double down on the design engineers. Rather than trying to reach everyone in your database, pursue the individuals most likely to purchase your product or service ardently.
A persona-focused approach will take less time and resources than a wide-band approach, and you'll be increasing your conversion rate by metaphorically fishing in a stocked pond. Your 20% might be defined by businesses currently in the market for your product, or it may be a list of users who have purchased previously and are due for an upgrade. If you aren't sure where to start filtering, look through recent sales for commonalities: origin of motivating ads, email opens, page views, geographic location of the customer, and so on. You might be surprised at how much information you already have at your fingertips. Also keep in mind strategies such as using current news items that your ideal personas will deem relevant, and create touch points and content placement that will reach them—attracting them to your website.
The Pareto Principle is waiting to make your company a leaner, stronger force to be reckoned with in your market sphere. At Grant Marketing, we advise our manufacturing clients to not waste another dollar or hour chasing after leads that aren't likely to manifest. We define marketing sweet spots for industrial manufacturers so you can get a better return on interest for the efforts you are already making.
Solid Structure
We spoke of structure earlier. Structure provide the foundation for solid, successful marketing strategies. Here at Grant Marketing, we practice B2B inbound marketing, which is a comprehensive approach to marketing that—when done well— ultimately delivers qualified leads to your digital door.
Inbound marketing is how business is being done today, both in B2C and B2B markets. Even if you are not using it to attract leads for your industrial manufacturing business, you are "using" it in other aspects of your life. With its power and prevalence, there is virtually no way you are avoiding inbound marketing in your personal or business life. Which leads us to a few questions:
If you aren't practicing inbound marketing for your business, why not?
If not, what will it take to put an B2B inbound marketing strategy in place?
If you are implementing inbound marketing in some capacity, how robust and effective is it?
How do you assess how ready your company is to implement a full inbound marketing strategy?
A lot, right? We have created a quick, do-it-yourself assessment that will help you inventory and score the elements that combine to build a solid, successful B2B inbound marketing program that helps you build leads … and your business. Click here to find out how ready you are to implement inbound marketing to attract leads and grow your business.