Understanding the Unique Approach to Industrial Marketing
Industrial marketing, or B2B marketing, is very different from consumer marketing. It deals with factor markets for highly specialized products, while consumer marketing deals with product markets for finished goods. Industrial marketing requires a strategy that accounts for these specialized products and markets, and for the typically protracted buying process, as well as the need to establish beneficial relationships with buyers and partners. While industrial marketing and consumer marketing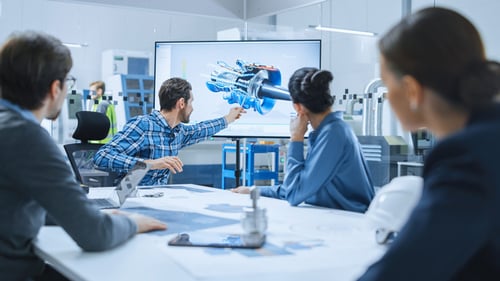 both have the same goal of obtaining high-quality leads that can transition first to sales prospects and then to paying customers, how to meet that goal differs. So, what is the best way to market your industrial products? Let's take a look.
Cover the Basics
The first step for any industrial marketing plan is to ensure your company's business objectives are aligned with your marketing objectives. Also, make sure your sales team, product team, and marketing team are on the same page so that everyone understands their responsibilities when your industrial marketing campaign gets underway.
Next, you need to know the target audiences for your industrial product, including what information they want and how they consume it, as part of your overall marketing strategy. Segmenting each of your audiences into ideal customer profiles, or buyer personas, will help you develop specific marketing tactics for each. For a detailed guide, read our blog on creating buyer personas.
You also need a clear perspective on what differentiates your industrial product from the competition.
How is it unique?

Will it help potential customers save money?

Be more efficient?

Ensure quality and safety?
Your value proposition helps potential customers understand what their return on investment will be if they choose your product.
Leverage a Strong Online Presence
Your website presents your company to the world. It defines your brand, reinforces your reputation, establishes credibility, and most of all, attracts potential customers. On top of that, it is open and available to educate prospects and customers—and can process sales via eCommerce (if you are set up for it)—around the clock, 24/7. No wonder your website is your number one industrial marketing tool!
Industrial buyers do extensive online research before making a purchasing decision. In fact, surveys have shown they have typically progressed 70% of the way through their buying process before they contact a supplier directly. Therefore, your website must offer information that is factual, reliable—and therefore, valuable—to prospective customers during their critical research and analysis stage. This is where a robust content marketing strategy is crucial. Your website should educate your target audiences with material about your industrial products in a variety of formats, including case studies, white papers, demo videos, webinars, blog posts, industry reports, and testimonials. The better you can demonstrate how your industrial product can solve the buyer's problem and help them reach their goals, the more you will differentiate your company from competitors.
However, all this high-quality digital content won't be effective unless your prospective customers can find you. Make sure your website is optimized for search engines so it appears near the top of search engine results pages (SERP). It's all about raising the visibility of your website, because increased traffic means increased opportunities to generate sales leads.
Build Relationships and Strategic Partnerships
One of the unique aspects of marketing industrial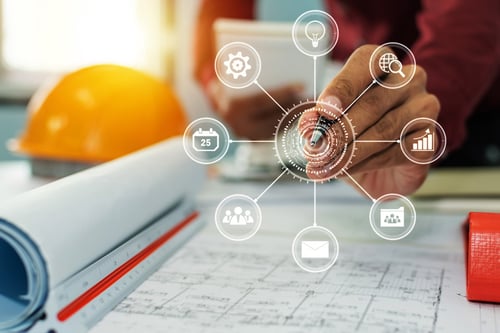 products is the longer buying process. It may take months, or even years, to develop relationships with prospective buyers. But the time you invest in building your credibility and demonstrating your expertise is worth it. Once industrial buyers have found a company they can trust, they will purchase from that company repeatedly. Industrial products are highly specialized, so you share common ground with your prospective customers in that you both are knowledgeable in a specific area. When you become a trusted partner whose products can solve your customers' problems, this mutually beneficial relationship builds your reputation and creates additional opportunities through peer recommendations, testimonials, and industry association contacts.
Promote Your Industrial Products
The methods you use to publicize your company and your industrial products will vary depending on the needs of your target audiences, and your marketing budget. Here are some options to consider.
Keep your brand top of mind with your contact list by sending regular email newsletters. Offer useful high-quality information, such as industry news and events, or practical tips, but make sure the number of emails you send is not overwhelming. If you have a piece of new content, such as your latest blog, case study, or white paper, promote it by creating a customized email to your target audience(s). Segment your contact lists, when possible, to ensure the content is of interest to the people who need it. Make sure to monitor your email analytics for the effectiveness of your email marketing campaigns.
Keep your social media presence fresh with your latest news, or interesting video content. Encourage your followers to visit your website and sign up for your email newsletter. If you can get their contact information, they become part of your conversion sales funnel. Consider paid advertisements on social media to further your reach and promote your brand.
Product demo webinars have been increasing in popularity. They offer buyers an opportunity to get on-demand info, including product details and FAQs to inform their purchasing decision. Added benefit? The audio portion of your webinar can easily be leveraged as a podcast.
Contacting B2B companies who may have an interest in your industrial product by phone or email can be an effective approach, if done respectfully. Production managers or operations managers are the best contacts, as they may be better able see the value of your product. Be concise and explain the key benefits and potential ROI, or the ways your product can improve safety or increase efficiency.
Trade Shows and Conferences
Trade shows and conferences are making a comeback since the early days of the pandemic. They allow you to connect directly with customers and demonstrate the features of your product with live demonstrations or videos, as well, to gather sales leads. Trade shows and conferences help you reinforce your brand and your reputation as an industry expert, especially if you can be a conference presenter. Encourage visitors to your booth to sign up for your newsletter and to leave their business cards.
Trade Magazine Advertising
Traditional print advertising in trade magazines is another marketing strategy for industrial products. The goal is for your advertisement to inspire readers to visit your website; from there, engage them with your high-quality content.
Pay-per-click advertisements, such as banner ads or pop-up ads on an industry website, are another strategy to evoke interest and drive traffic to your site. Google Ads are a way to create campaigns targeted to specific subsets of users.
Industry Websites and Publications
Consider publishing high-level content on industry websites or publications, perhaps some of the ones you go to for industry content. Leverage the audience of these publishers and drive more traffic to your own site.
Successful Marketing of Industrial Products
An effective industrial marketing strategy will position your company as a source of valuable information that helps industrial buyers make a purchasing decision. It will drive traffic to your website and increase the number of quality—and qualified—sales leads. Further, it will establish you as a trusted partner with a strong brand reputation that companies will seek out.
Grant Marketing is ready to help you develop a successful industrial marketing strategy. Give us a call at (617) 861-7412 today or contact us to set up a time to talk!