Branding the Past for the Future—A Family Affair
Does your company have a distinct brand, based upon a thoughtful brand development process? Or is your company's brand more of an extension of the founder's personality?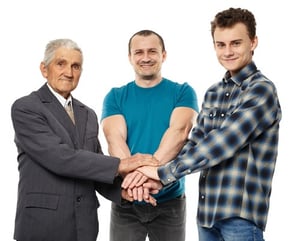 Many modern-day entrepreneurs' names are synonymous with their brands. When you think of Wal-Mart, Sam Walton likely comes to mind. Koch Industries and the Koch brothers are nearly indistinguishable, and even Apple, with its iconic logo and strong brand reputation, is often associated with Steve Jobs.
Citroën founder André Citroën built an extraordinary brand by capitalizing upon opportunities to market his unique cars. In 1925, his 250,000-light "advertisement" on the Eiffel Tower was recorded in the Guinness World Records as the world's largest advertisement. He always found ways to stay in the public eye, sponsoring expeditions in Asia, North America, and Africa to feature his latest innovations.
Many American manufacturing companies got their start when a family member from a previous generation had a vision for a great new product or service. Over the years, these businesses have grown, and customer relationships are often based upon an appreciation for the founder's ingenuity and personal attention they receive. The founder and the brand have become one and the same.
Advantages … and Opposition
Being a family-owned business has its advantages, and in many cases this fact can, and should, be a part of the brand image. Here are some statistics and details that may surprise you:
Family-owned businesses in the U.S. contribute 57% of the GDP and employ 63% of the workforce.1
People trust family businesses more, believe their employees are more committed, are respectful of local customs and traditions, and create value in the communities where they do business.2
These positive attributes, however, aren't without some opposing dynamics. In helping dozens of manufacturers revamp their brands, we have found that external perceptions tied to the founder and his or her original vision may be hindering future growth. In conducting external research with customers, we have received feedback ranging from "the company is old-fashioned," to "hard to put a shiny spin on something that has been around a while."
Passing the Brand Perception Baton
Brand perceptions become even more important when it comes time to pass the baton. Trust Barometer respondents say they view the next generation as being less capable, with 63% stating they believe successors will mismanage the companies they inherit.
Continuing to earn the trust of customers—and attract new customers—requires building a dynamic brand based upon sound research, thoughtful creative, and tactical strategy execution. Undergoing a brand refresh and blending the old—a history of innovation and significant accomplishment—with new and exciting branding and marketing strategies yields measurable return.
Sully Signal Company, a pioneer innovator in overflow protection equipment, was facing growing competition, and wanted to reconnect with the family's legacy of innovation to re-engage customers, partners, and employees. After working with Grant Marketing and completing a revitalization of the company's corporate brand, messaging, and visual identity, Scully experienced a 280% increase in website visits and a 1,251% increase in sales leads.
Remaining Relevant
Every great company is based upon the vision and ingenuity of a founder who had the foresight to know what products and services future markets would demand. Building upon that foundation and creating a great brand that will continue to be relevant, innovative, and inspirational is up to the next generation. And possible.
The art of B2B branding requires being honest about who and what your company is and stands for, truly knowing your audience, and also takes a touch of finesse to bring it all together. Is your branding what and where it should be? Is it on target? Is your company? Does your audience know that? Download our Brand Report Card to see how distinct your brand is.
1 Family Enterprise USA, 2011.
2 Edelman HR, 2017