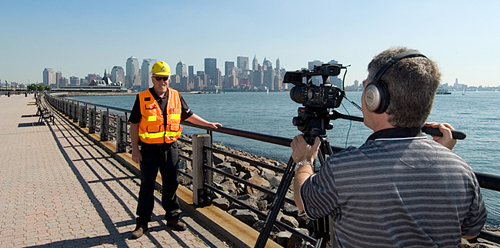 There is an old expression, "Use a picture, it's worth a thousand words", first expressed by Arthur Brisbane to the Syracuse Advertising Men's club, in March 1911. Numerous studies have backed that visual content holds superiority over verbal content when it comes to conveying a lot of information quickly and succinctly. It stimulates a perceptual and emotional response among viewers that ultimately influence their purchase behavior. We are now surrounded by visual images – from smart phones, web pages, TV screens, tablets, and other mobile devices. As ProfessorPaul Martin Lester points out in "Syntactic Theory of Visual Communication", "we are becoming a visually mediated society… For many, understanding of the world is being accomplished, not through reading words, but by reading images". In this high-tech era where visual imagery is not just confined to images; social networking sites, info graphics, blogs/vlogs, online videos, games, 3D movies and so forth take visual stimulation to another level. Over the past few years, content marketing has developed into part of the marketing strategy of B2B companies. Business to Business marketers are using blog post with images and video, or webinars containing audio and images. There is an upward trend in content marketing toward all things visual. Relevant findings from industry reports and trends have supported this claim –
Does your content marketing provide any kind of visual stimulation? Have you embraced the new way of visually telling your brand story?

Content Marketing + Visual Media = ROI!
When content marketing and visual elements are closely entwined, we create something magical! This magical potion provides killer benefits which includes –
1) With Social Sharing buttons for Google Plus, Pinterest, Instagram, Facebook, Twitter, LinkedIn and like, sharing of content with images/videos/info-graphics is much is more effective than tons of text. To put things in perspective, below are some ideal scenarios for B2B to look at -
New product/service launch, hold a webinar.
At a trade show event, take picture and video to share it on social networking sites.
Explain the product installation process through video.
Customer testimonials capture it through video.
Launch an e-mail campaign with an embedded video link in the e-mail content.
2) Leverage your brand story with entertaining and engaging YouTube videos that would capture the attention of the target audience much quicker than text. Some compelling statistics that reinforces the use of YouTube as a hub for B2B marketing -
If YouTube were a country, it would be the third largest after China and India.
More than 1 Billion unique users visit YouTube each month.
It is the second largest search engine (bigger than Bing, Yahoo, and ASK all combined).
Over 6 billion hours of video are watched each month on YouTube.
3) More sharing/subscribes/comments/re-tweets/likes/click-through-rates results in better visibility of the brand, thus boosts your online SEO (search engine optimization) ranking.
4) Improved SEO results mean increased website traffic, which further opens opportunities in terms of building trust/relationships and driving lead generation effectiveness and beyond, among customers and prospects.
With so many powerful visual tools at your disposal, the road to finding your happily ever after is not going to be that tough, or in better words capitalize on the power of visual content marketing to attract, engage and persuade customers. Let Grant Marketing help you create visual content for your business that can increase brand recognition and help you reach more customers.
Take Away – Start creating, sharing and exploring great visual content today!
Written by Vidushi Bhardwaj
Vidushi Bhardwaj is the Content Marketing Strategist at Grant Marketing. She possess a strong background in content marketing and integrated marketing communications. Passionate about innovation in the digital marketing and social media space has driven her to the marketing world. You can connect with her by sharing your thoughts on her blog.