What You Need to Know about the Difference between Outbound and B2B Inbound Marketing
For manufacturers today, it can be difficult to stand out in a crowded industry. There are two separate marketing paths for them to try to reach their target prospects: inbound and outbound. Most manufacturers still prefer to use outbound marketing, which involves reaching out to other businesses. It may seem like this traditional way of marketing works; after all, most companies have been using it for decades. However, you may be missing out on attracting a lot of potential business through a process known as inbound marketing. So, you may want to consider using B2B inbound marketing in your industrial marketing strategy.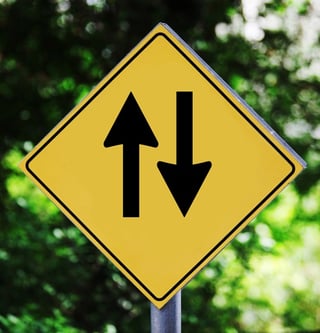 What Is the Difference between Inbound and Outbound Marketing?
As a manufacturer, you depend on supplying a constant stream of businesses that require your products, whether they are cable assemblies or screws. Through a more traditional approach, a manufacturing company might place advertisements in trade magazines in hopes of getting the attention of potential clients. This is just one element of outbound marketing. Inbound marketing, now a formidable marketing methodology, continues to rise in popularity and efficacy, focusing on producing relevant content that attracts targeted prospects to your messaging, ultimately driving them to your products and services.
Many manufacturing companies still use traditional outbound marketing today—using print media in the form of ads in trade publications or directories, direct mail, or by telemarketing and stand-alone emailing (not part of a larger marketing campaign) in hopes of landing a client. However, these are outdated methods that are completely outclassed by a growing information system—the internet. In cases of B2B interactions, over 90% of B2B buyers start with Google.
Inbound marketing isn't just one "thing." It encompasses a methodology and strategies that impact your business in a number of ways. It helps you optimize your website so that Google can easily refer visitors to you when they search with targeted keywords. This happens as you create relevant content in blogs that attract other businesses. You'll extend that reach by also promoting it on social media. You create the content prospects (and customers) are looking for by answering their questions and needs; other businesses are seeking it (you!) out.
Not Just Beneficial—Necessary!
It is understandable that after many years of outbound marketing, many manufacturers are hesitant to transition their B2B marketing strategy. Here are three main reasons why the transition isn't just beneficial, but necessary.
Inbound marketing is cost effective
Outbound marketing requires you to reach out using expensive advertisements, salespeople, and phone calls. Even after all that, there is very little traceability and no guarantee that it actually creates any new clients for your manufacturing company.
Inbound marketing does require initial ramp-up costs and resources. The main resource resides inside the heads of your staff. There's a ton of untapped knowledge that's trapped in the heads of your sales people, account reps, floor supervisors—everyone. Your staff or employees have the solutions to the problems and challenges of your customers and prospects. Once you can put this valuable information into content form, you'll have an evergreen library of resources at the ready to answer the many questions of prospects and customers. A company using this strategy can publish this informative content to drive website views, and driving conversions to leads, assisting the salespeople in continuing to nurture a potential client down the sales funnel.
The end tally, as a HubSpot study found, is that gaining a new lead is 61% cheaper when using inbound instead of outbound.
Inbound marketing is better at reaching potential clients
One argument proponents of outbound marketing make is that they can reach more people by purchasing mailing lists or advertising in trade publications (but keep in mind that they get thrown away, or simply are not read). It is not necessarily true that outbound can potentially get in front of more people. Compare an expensive mailing list to the universe of potential buyers on the internet. And "reaching" them is a different story. It's more common for people to simply ignore this disruptive marketing. The reality is that many prospects will already feel brand loyalty to some manufacturers; any new competitors will have to gain their trust through an adaptive marketing technique.
In contrast, inbound marketing begins with a smaller prospect base, but reaches out to a vast universe of prospects on the internet. If the content on the website is remarkable, it will actually retain more prospects and customers who will continue to return time and again and with more opportunity to convert them to new customers. It's all in the targeted content actually reaching (or attracting) the intended audience. In fact, because the people asked to receive the information in the first place (found it through searching for the content they are looking for), they are 750% more likely to convert into a lead. This adds up to a total of 54% more leads, according to the State of Inbound report conducted by HubSpot.
This means that although outbound marketing gets your product or service out in front of more people, the chance that you gain a lead as a direct effect of your marketing is extremely small. On the other hand, the targeted content of your inbound marketing attracts your leads to you, and so is a much more efficient method.
Inbound marketing helps protect and enhance your company's image
Aside from costs and success rates, your public image—branding—is the most important piece of your B2B marketing strategy. It almost goes without saying that a positive brand identity, and an easily identifiable brand, can act as your company's superpower—sometimes intangibly immeasurable, though always potent. Once you've established your brand identity and voice through the many content channels of inbound marketing, you can build upon that image and attract prospects to the attributes of your brand—helping them to self-identify with you.
Inbound marketing allows you to help prospective clients navigate the crowded water in their own time and comfort and is much less intrusive. The main strategy to attract people to your company is content-based, meaning you must develop and create information people find valuable. Through this, you become a valuable resource on the internet, and can attract many more leads, as well as good publicity through other websites. In fact, using interactive content both educates the user more, while also differentiating from competitors. If you're new to the whole idea of inbound marketing, here's a helpful list of 25 tips by Imaginasium that will give you a place to start and get your creative juices flowing.
The Final Word
A comprehensive B2B Inbound marketing strategy is what will bring your business to the next level. To help set your manufacturing apart from the other companies in the market, you can use inbound to produce informative and valuable content that will drive customers to you as a knowledgeable and respected company in the field. In addition, it helps you build brand awareness and brand loyalty—something of immense importance to retain your customers while adding new ones.
Click here now to get an introductory assessment on where your company needs inbound optimization. Find out how it can benefit you!