Your Logo Represents Your Company Brand
Nike's swoosh, McDonald's golden arches, and Apple's semi-eaten apple. What do these three have in common? They are all widely recognized logos. When you see the swoosh, you know what it symbolizes. You might think that industrial brand strategy for your company doesn't need to include a logo. But just how important is a logo for your industrial manufacturing company? The short answer is: a logo is very important.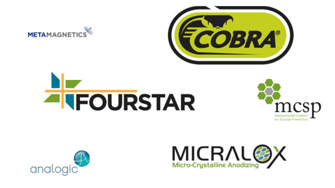 Your logo is the face of your company and provides your unique identity in a shorthand way. It also relays your brand identity and solidifies loyal customers. Still not convinced? According to allbusiness.com, it is critical for small companies to have a logo, or they appear unstable, amateurish, and unfocused. So, a little logo can go a long way for your company credibility.
The Design Process
Creating a logo is harder than it sounds. You want a logo that is simple, memorable, timeless, versatile, and appropriate … a lot of thought goes into this process! And it is a process. It is imperative to understand your brand strategy and value before creating your logo so you can successfully convey what your brand stands for to consumers. Once you have grasped that, it is time to design your logo. HubSpot has a great article outlining the steps of designing a logo. Let's take a look.
Research your industry – Learn the appropriate look for a logo in industrial marketing. Look at logos of competitors and take note of what consistencies occur in the industry. You want a logo that attracts consumers within your target markets, so make it relatable and appealing.
Get to know your company – As mentioned above, familiarize yourself with your brand before creating your logo. You want your logo to capture the essence of your company in a straightforward way. Show consumers what you are all about.
Sketch potential ideas – You want options while picking your logo. Create a few good ones and narrow them down until you have the most meaningful and representative one. Share them with other group members and get feedback.
Revise – Once you pick your logo, look for any possible revisions that could make it even better.
Organize the final deliverable – Your logo is ready to go! Spread the love—be sure to get that logo on your brochures, business cards, company apparel, social media sites—it's meant to be shared.
Because you've kept these 5 steps as part of your industrial branding strategy, you will be on the path to logo greatness. Remember: recognizable and memorable are key.
Color War
Does it really make a difference if your logo is blue as opposed to red? The answer may surprise you. Different colors evoke different feelings in people. You want your logo color to reflect the feelings your customers experience while using your product. Picking a color for your logo is a big decision, so let me walk you through some facts about colors:
Blue evokes feelings of comfort, trust, and clarity. For instance, Ford's blue logo reflects the safety and comfort customers feel behind the wheel of their cars.
Red is associated with intensity, passion, and activity. Despite its company having the color red in its name, Red Bull's red logo of dueling bulls relates to the energy that the consumer gains from their drink.
Yellow is associated with joy, and Ikea got it right—because what's more joyous than buying an awesome new living room set, kitchen, or bedroom ensemble?
Black evokes feelings of formality and luxury. Chanel is a designer brand that uses black for its logo to convey its luxuriousness.
Brown logos offer a nurturing, dependable feel. Just look at UPS—you depend on them to deliver your packages all boxed up in brown cardboard.
According to designbuddy.com, 33% of the top brands use the color blue, 29% use red, and 28% use black.
95% of tops brands' logos use only one or two colors.
Blue is the favorite color across genders.
In a world where we can consistently recall logos around age 7-8, color matters. We remember these logos, in part, due to their colors, so choose wisely!
Logo Lowdown

Ultimately, you just want to keep your logo simple. Don't go overboard on the colors and intricacies. Simple logos are more versatile and identifiable. People recognize the Apple logo over a more detailed one due to its simplicity. Keep it simple and consistent, and you will have a successful logo.
At our Boston-based B2B brand strategy company, Grant Marketing, we specialize in logo design. Grant Marketing's Art Director, Grant Penny, has designed many logos for industrial manufacturers through the years. He offers guidance and reminds clients that a logo's "job" is to identify a company or brand, and is not intended to define it. By adhering to a brand development process, we know how to create logos that do their job—and let others know you know how to do yours, too. A strong, identifiable logo is part of a successful industrial brand strategy. Does yours pass the test? Take a look at our Brand Report Card and see how you are doing.