Accountability = Higher Return
HubSpot's State of Inbound 2018 found that 46% of executives[i] cited "proving the ROI of our marketing activities" as a top challenge.
While challenging, holding your marketing accountable goes a long way towards proving ROI. A recent Forbes analysis found that marketers who invested in higher levels of marketing accountability are achieving "5% better returns on marketing investments and more than 7% higher levels of growth performance."[ii]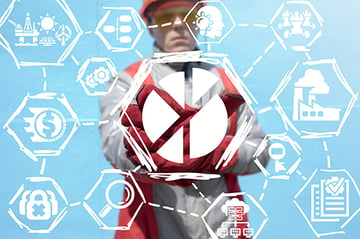 Optimizing performance is more easily achieved once a clearly defined, and agreed upon, set of metrics has been established. Tracking metrics doesn't just provide performance data, it provides the opportunity to rapidly respond to changing market conditions and customer demands. A well-managed CRM provides insight into what is working and what is not, and the ability to adjust messaging and strategy accordingly.
Metrics to Watch
Customer acquisition cost (CAC) and conversion rates are two key metrics to watch. CAC is easily calculated by the cost of marketing over a period of time divided by the number of new customers acquired. Lowering this cost can be achieved by boosting conversion rates, using marketing automation software, and nurturing existing customer relationships.
Another measure is customer lifetime value (CLV), which measures revenues generated by a single customer, or set of customers, over the lifetime of their relationship with your company. According to HubSpot, it should take approximately one year to "recoup the cost of customer acquisition" and "the value of your customers should be three times the cost of acquiring them."[iii]
Optimizing Conversion Rates
Conversion rates are an important metric and a clear indicator of how effective your marketing efforts are. A simple calculation—the number of leads gained, divided by total traffic, multiplied by 100—conversion rates provide key feedback on prospects' response to campaign messaging, landing pages, CTAs, etc. The higher your conversion rates, the higher your ROI.
Boosting conversion rates can be achieved by optimizing landing pages, customer journey analysis, and ensuring sales and marketing are aligned. For example:
Customer journey analysis is a great tool for better understanding your prospects and their interactions with your company. McKinsey & Company found that measuring satisfaction on customer journeys is "30% more predictive of overall customer satisfaction than measuring happiness for individual interactions."
In addition, "maximizing satisfaction with customer journeys has the potential to lift revenue by up to 15% while lowering the cost of serving customers by as much as 20%."[viii]
The ROI of Marketing Accountability
Measuring marketing ROI provides valuable information that is useful in determining where to spend marketing dollars and justifying the marketing budget to higher-ups. It also instills discipline into the marketing planning process, so that decisions are made strategically—based upon real data—rather than flash-in-the-pan creative concepts.
Investing in marketing accountability will result in productive campaigns, higher returns, faster growth, and lower customer acquisition costs. Grant Marketing can help you assess your marketing ROI, explore various tools for optimizing performance, and develop a strategy for long-term success. Contact us today to get the conversation started.
[i] 46% of North American respondents. State of Inbound 2018. HubSpot.
[ii] "Marketers Need to Measure Twice and Cut Once." Forbes. (April 5, 2108.)
[iii] "The Ultimate Guide to Calculating, Understanding, and Improving CAC in 2019." HubSpot.
[iv] "The Ultimate List of Marketing Statistics for 2018." HubSpot.
[v] "The Key to More Leads? Create More Targeted Conversion Opportunities! [Data]." HubSpot.
[vi] "Personalized Calls to Action Perform 202% Better Than Basic CTAs [New Data]." HubSpot.
[vii] State of Inbound 2018. HubSpot.
[viii] "The three Cs of customer satisfaction: Consistency, consistency, consistency." McKinsey & Company. (March 2014.)