Implementing Industrial Marketing on the World's Only Professional Platform—LinkedIn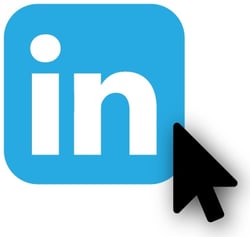 LinkedIn's mission is to connect the world's professionals to help them be more productive and successful. According to LinkedIn's company page, the site now boasts over 810 million registered members in more than 200 countries and territories and 58 million company pages—collectively delivering nine billion content impressions per week in its newsfeed. The breakneck speed at which it continues to grow further solidifies LinkedIn's reputation as the world's largest professional social networking site.

According to a report by IEE Engineering 360 (formerly known as Global Spec), 65 percent of engineers and technical professionals maintain an account on LinkedIn and use it as their preferred platform for researching a work-related purchase. These professionals congregate on LinkedIn to:
Search for contact information
Follow companies and groups
Seek recommendations on products and suppliers
Consume content that provides business-related thought leadership
Expand professional networking
Find job opportunities
This wide scope presents unique opportunities for manufacturing companies across multiple industries and businesses to reach their coveted audiences in a professional context.
Connecting the Dots … Through Conversations, Content, and Connections
Social media among industrial brands has evolved from a fad to an afterthought to being an integrated part of their overall marketing efforts. Reflecting on more than two decades of partnering with manufacturing companies, at Grant Marketing, we've had the privilege of guiding our clients through this paradigm shift from the ground up. Like most leaps forward, the adoption of sophisticated marketing strategies—enabled by new tools and technologies and scaled by platforms like LinkedIn—is a three-pronged process. First, it requires a strong desire and willingness to adapt to change; second, significant know-how (learning curve to expertise), and third, the implementation, which requires well-leveraged time and resources.
The Manufacturing Content Marketing 2022 report found that 93 percent of industrial marketers rely on LinkedIn as part of their overall content distribution strategy. According to the data, LinkedIn is the organic social media platform that manufacturing content marketers used the most, and it is the platform they said produced the best results.
Whatever your industrial marketing goals are—from raising brand awareness or generating traffic to the site to driving high-quality lead conversions—LinkedIn can help. Grant Marketing can help you connect all the dots to develop a strategic, fine-tuned LinkedIn marketing strategy for success.
Ready to dive in? Let's get started with the basics.
Get Familiar with the Company Page
Your LinkedIn marketing journey starts with your Company Page. This is where people will get to know about your brand, get an overview of your products and services, interact with your brand, and take action. If you have not yet created a company profile on LinkedIn, create one. Follow this link to set up your Company Page. Rather than having a haphazard approach, it is important you dedicate some time and effort in completing your profile—because it is only as valuable as you make it. Here are a few Company Page best practices that will help your company stand out to prospects and customers on LinkedIn.
Your company logo is the first visual representation of your brand on LinkedIn.

According to

LinkedIn Company Page Best Practices

, companies with logo images get six times more traffic to their pages. Make sure you add your logo to your profile so people can easily recognize your brand when you post company updates or when they're viewing your Company Page. The recommended logo image size is 300 (w) x 300 (h) pixels.

The cover (or background) image is an extension of your brand—make it compelling, eye-catching, and rotate it every six months (at least).

Since you cater to a different audience on LinkedIn from your other social media networks, keep certain graphic elements that define your brand such as colors, fonts, and design, while adding visual variety. For instance, you can use it to highlight different teams in your company, promote upcoming events, or announce campaigns. The recommended cover image size is 1536 (w) x 768 (h) pixels.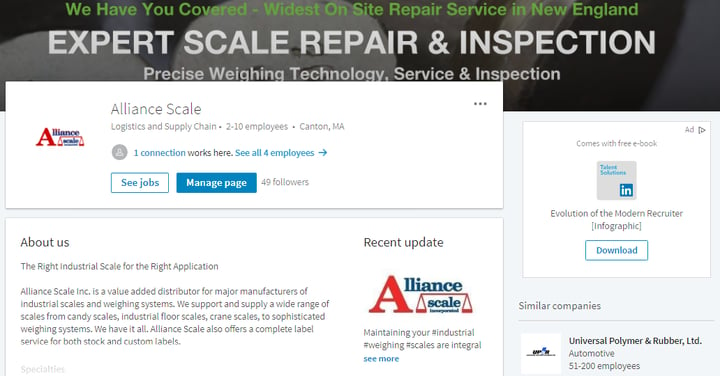 A screenshot of our client, Alliance Scale's LinkedIn Company Page.
LinkedIn Company Page Best Practices

affirms, Company Pages are SEO-friendly.

Google previews up to 156 characters of your page text, so be sure to include your company description with relevant and descriptive keyword-rich copy that you want your company to be associated with. To complete your profile, you must include a company description (maximum 250-2000 characters, including spaces) that offers an informative and interesting snapshot of the company: your company's history, core mission, what differentiates you from your competitors, list of awards, recognitions, or certifications, blog URL, etc. Keep it up to date with relevant information to maintain your page's credibility.

Remember to provide a higher-level summary of your company

, along with basic information such as specialties, company size and type, industry, year found, website URL, and address. This information will further your searchability and credibility.

You can add industry-specific LinkedIn groups as featured groups to your Company Page.

To add featured group(s), you must be a Company Page administrator and member of the group.
Get Creative with Company Page Updates
One of the better-known truths about industrial marketing is that relationship-based marketing is far more effective than transactional-based marketing. Industrial marketers can leverage LinkedIn as their online content distribution platform to foster relationships with the world's largest professional community. Once you have established a company presence on LinkedIn, you can begin cultivating thought-leadership and long-term relationships by engaging, educating, and informing your target audience using company updates. For manufacturing companies, this is a great opportunity to share company news, product announcements, blog posts, gated content offers, etc. Anyone that follows your company already will see your company updates in their news feed; your "recent updates" section on your Company Page is the timeline where all your company updates will live.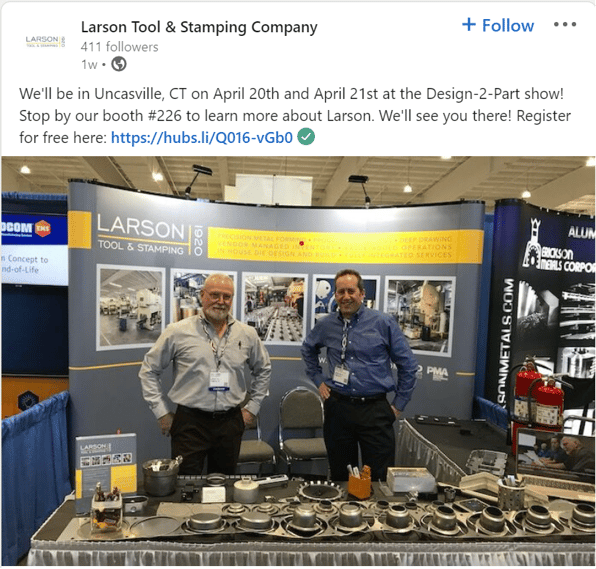 An example of a LinkedIn Company Update from our client, Larson Tool & Stamping.
So, What Does a Great Company Update Look Like?
Keep your updates short and sweet.

LinkedIn recommends using 150 characters or less, including the landing page URL, to avoid truncation across most devices. Use the introductory text in the company update to ask a thought-provoking question, share a compelling statistics or quote, or offer a solution to an industry-specific problem—all within 150-character limit.

Add clear and engaging calls-to-action (CTAs) to your updates.

The CTA can be a text, a visual, or a combination of the two that drives your readers to perform a desired action after reading your update—whether that's downloading an eBook, watching a video, signing up for a free demo, requesting a quote, or reading a blog post—and move them further along the conversion funnel.

Embed rich media into your updates.

LinkedIn supports images, videos, GIFs, PPTs, among other rich media formats. Follow this

link

to check the list of rich media content providers that LinkedIn currently supports. The recommended image size is 1200 (w) x 627 (h) pixels for both organic updates and Sponsored Content (discussed in-depth in the next part of our guide-series).

Use trackable links in your updates.

The cardinal rule of inbound marketing is to redirect traffic from LinkedIn using inbound links. Typically, this is to a landing page, but it could be to any pertinent page on your website. With the help of a

URL builder

, you can insert a trackable code on the end of your link. That way, you can properly attribute the traffic to your website that originates from your company updates.

Curate company updates with your target audience in mind.

With LinkedIn's

targeted updates

, you can easily tailor your content to a specific audience. When you create an update, you can decide whether to share it with "all followers" or a "targeted audience." Choose the second option to send your update to a subset of followers based on geography, job function, industry, company size, or seniority. In order to send targeted updates, you're required to have a minimum of 300 Company Page followers.

Promote your company updates on relevant LinkedIn groups to expand reach and engagement.

Or even better, create and manage your own LinkedIn group that focus on your industry. It requires a lot of upkeep but it is well worth the time and resources to help you build an influential brand on LinkedIn.

Consistency in posting updates encourages engagement and fosters brand familiarity.

LinkedIn recommends one update per day at a minimum—averaging 20-30 organic updates per month. Use your Company Page analytics as a guide, pick the best performing updates, and sponsor those. This is an ideal LinkedIn marketing strategy to start with. The key is to post relevant content and not just any content.
Get Started with LinkedIn Marketing!
The shift in industrial marketing strategy now focuses on a more interactive experience, for both customers and manufacturers. Industrial manufacturers drive engagement, loyalty, and revenue through fostering conversations, content, and connections—rather than through the cacophony of competing messages in trade publications and industrial directories. The LinkedIn platform allows you to amplify your customer experience by using the Company Page to start conversations using a dynamic, visually compelling collection of highly valuable content that cultivates real connections for your business.
Use our LinkedIn Marketing Checklist for B2B Companies to guide you as you get started!
This blog was updated on May 2, 2022. It was originally posted on June 29, 2017.