Preserving the Brand Perception and Preparing for the Transition
We've been talking a lot about branding lately, especially as it relates to family-owned industrial manufacturing businesses. Multi-generational companies, built over decades, possess brands that are the result of thoughtful planning—or by default, simply a reflection of their founders' personalities.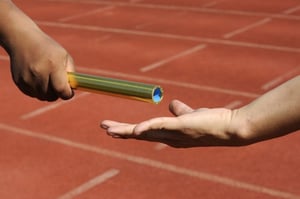 No matter how a company's brand has evolved, the question moving forward is: what will it become?
Unique Challenges
Family-owned businesses face a unique set of challenges, from communication issues to conflicting management roles to a lack of succession planning. Passing the baton, assuming there are family members who wish to accept it, requires extensive planning and preparation.
Transitioning a business from one generation to the next is not easy:
43% of family business owners have no succession plan in place.

1

70% of family business owners would like to pass their business on to the next generation; only 30% will be successful at transitioning to the next generation.

2
Brand Perception and Trust
Brand perceptions become even more important when it comes time to transition to new ownership. A 2017 Trust Barometer study found that 82% of people surveyed trusted family businesses more than general businesses. Next generation leaders are seen as less capable, however, with a full 63% of respondents stating they believe successors will mismanage the companies they inherit.3
Because of this, before a new generation assumes ownership, they must be fully trained and have the skills necessary to run a business. To communicate that the next generation is prepared and competent, it's helpful (necessary) to tell this new part of the story—through videos, blogs, newsletters, and programs such as live events—where and whenever possible.
Letting customers peek behind the curtain assures them that it's business as usual (or even better than usual!). A transition is also a good time to assess the company brand. Is it still fresh, still relevant? Does it convey the value of current offerings or is it tied to an older image from an earlier chapter? A brand refresh may be in order to let customers know how much you value them, that you will remain loyal to them, and to ensure they remain loyal to your brand.
Does your brand make the grade? Take our short Brand Report Card quiz!
This all requires that personal and family issues or conflicts that could cause the business to fail be resolved. As well, some of the administrative considerations regarding legal and tax matters, such as corporate governance must be decided and documented.
Passing the Baton to Employees
In cases where passing a business to the next generation is not a viable option, employee ownership may be a good alternative. According to the National Center for Employee Ownership, in 2015 there were 6,669 ESOPs in the United States, holding total assets of nearly $1.3 trillion.4
Transitioning a company to employee ownership allows the owner to control the timing and extent of his or her exit. Benefits to the company and workers may include greater job security, higher productivity, and increased profitability.
Employee Ownership Can Positively Impact Your Brand
Employee ownership can also have a positive impact on a company's brand. Certified EO surveyed job seekers and consumers and discovered that:
38% of job seekers said they were more likely to apply for a job at a 100% employee-owned company.
42% of consumers said they were more likely to buy a product from a 100% employee-owned company.
In increasingly complex and competitive markets where buyers are looking for solid companies with great track records, employee ownership—like family ownership—can be an advantageous brand differentiator.
How a company chooses to transition ownership and management responsibilities—to the next generation or to its employees—should include consideration of the role brand reputation plays. As part of a well-executed succession plan, a thoughtfully-crafted brand can help to ensure a business is well positioned for many generations to come.
Rating Your Brand
Of course, the first step in all of this is having a clear awareness of what your brand is, what it (you) stands for, and how your prospects and customers perceive it. What differentiates you from your competitors? What brand promise(s) do your customers depend on you to fulfill? Do you know? Take a look at our Brand Report Card and see how you are doing.
We work with many family-owned industrial manufacturers and have years of experience helping them navigate through our brand development process for brand "maintenance" and refreshing, along with full rebranding programs. Take our Brand Report Card quiz to uncover what's behind your own curtain.
1 http://www.familybusinesscenter.com/resources/family-business-facts/
2 http://www.familybusinesscenter.com/resources/family-business-facts/
3 https://www.slideshare.net/EdelmanInsights/2017-edelman-trust-barometer-special-report-family-business
4 https://www.nceo.org/articles/esops-by-the-numbers