Last Updated on April 9th, 2020
How to Optimize LinkedIn Features for Industrial Marketing
Now that you know what LinkedIn is and why having a company page on LinkedIn is important (and if you don't—see this blog), it's time to focus on how to use its features as part of an integrated industrial marketing strategy.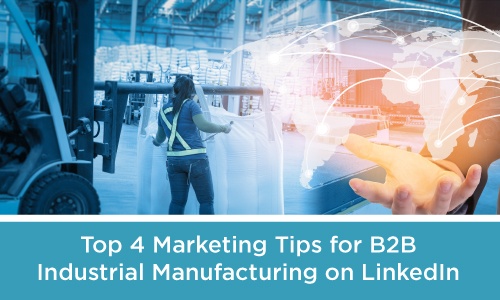 Regardless of your industry vertical, these the top 4 pointers will help you drive real results from your LinkedIn marketing efforts.
1. Start by defining a real, integrated LinkedIn marketing strategy.
This point cannot be overly stressed. LinkedIn is no different from other marketing initiatives. As a result, you need to approach it with an established purpose and stated goals that are specific, measurable, attainable, realistic, and time-bound (S.M.A.R.T)—and align it with your broader marketing and business objectives. Goals may include growing followers, boosting engagement, lead generation, and brand evangelism.
For example: Grow high-quality, targeted follower-base on LinkedIn from 250 (as of May, 2020) to 500, using LinkedIn best practices by the end of August, 2020.
Once you have established and documented what you hope to achieve on LinkedIn within the S.M.A.R.T goal framework, put in place specific metrics and activities to support it.
2. Create a compelling LinkedIn company page.
Whether it's your culture, mission, employees, or products and services you offer, your Company Page is an owned-media resource that allows you to put a human face to your brand. As such, your LinkedIn Company Page can help you establish your brand as an industry thought leader and attract top talent. According to LinkedIn, pages with complete information get 30% more weekly views.
We recommend the following tips to optimize your business page and improve your presence:
Claim your page's vanity URL.
Once you've created the Company Page, it'll get a randomly assigned number in the URL, like this: linkedin.com/company/12345678. To make your page more shareable, memorable, and easier to find, you'll want to create a recognizable vanity URL (e.g., http://www.linkedin.com/company/grant-marketing). Follow this link: updating the URL of your company page. Then, click contact us and request a change of URL directly from LinkedIn.
Write an effective About Us section and include keywords.
A well-optimized "About us" section on your company page is a tightly worded paragraph (2,000 characters or less) telling visitors everything they need to know about your company. This includes who you are as a company, your most noteworthy products and services, and a little bit of your background story. Optimizing for keyword searches in this section is also important for a better page visibility when crawled by search engines.
Add relevant specialities by picking your top skills that describe your business to make it easier for LinkedIn users to find you in searches. You can add up to 20 different specialties but make sure they are specific to your business.
Add images that exemplify your company brand.

You'll want to pick your company logo as your profile image, as it is placed on the top left-hand corner of your Company Page and is also the thumbnail image that gets placed next to all your company updates. Being recognizable is important for getting found and followed, especially in LinkedIn search. The new experience design lets you feature an overview tab image and cover image (top of the page). You'll want to pick images that capture the attention of visitors, encourage them to explore and learn more about your company, and provide an effective mobile experience—all the while ensuring you're following

LinkedIn's image specifications

to fit the given space.
Fill out other key fields


Tagline
Company Address
Industry
Company size
Company Type
Hashtags
Here are examples of company pages to get your creative juices flowing.
Strengthen your brand as a prospective employer with a career page. Your company's prosperity and growth rests on your ability to recruit and retain the right kind of talent. LinkedIn lets you tap into the largest pool of professionals with its LinkedIn Talent Solutions. Depending on the Career Pages package you purchase, it offers a full suite of features for promoting jobs on your Company Page, including a customizable job board based on the viewer's LinkedIn profile, a dynamic content module (such as employee testimonial videos), clickable banner, and analytics of who viewed the page, and more. In the new experience design, the career page consists of the "life and jobs" tab on your Company Page.
Add a "follow us" icon on your company website. LinkedIn's Developers Plugin Generator makes it quite easy to create and add a "follow us" icon of your Company Page to your website. Simply type your company name in the appropriate field, choose your icon type, and copy the code on to your website.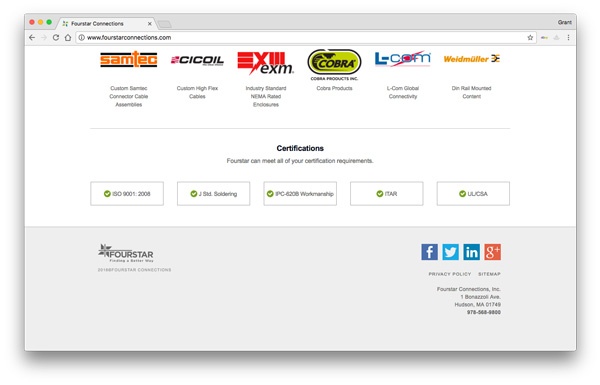 LinkedIn "follow us" icon on our client, Fourstar Connections, website.
Highlight your sub-brands with Showcase Pages. According to LinkedIn's help center, you should use the Showcase Page to extend the presence of your Company Page—helping you to spotlight a brand, business unit, or initiative. As with a Company Page, you can use your Showcase Page to customize your messaging to different audiences based on their interests. First, identify a business aspect that would benefit from a dedicated Showcase Page and then follow this link to create one. You can create up to 10 Showcase Pages through your Company Page.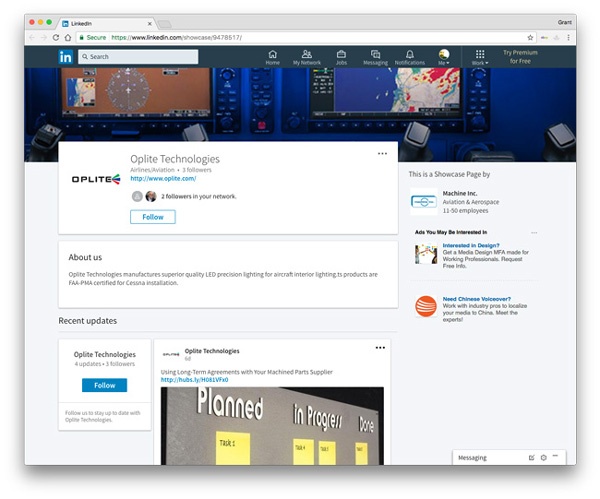 An example of a Showcase Page for Oplite Technologies on LinkedIn
3. Post company updates that encourage click-through.
On LinkedIn, the simplest way to communicate for free with employees, customers, and prospects is through company updates. You can share relevant content to serve several purposes, including brand awareness, thought leadership, community building, recruitment, content distribution, and lead generation. In the context of industrial and manufacturing brands, white papers, case studies, eBooks, blog posts, press release, articles, webinars, how-to videos, and infographics, are the type of content that drive real engagement. The integration of company updates into your followers' newsfeed allows them to like, share, and comment directly. According to LinkedIn's help center, "Company updates support a variety of formats, including text and a link to a website, image, SlideShare presentation, or YouTube and Wistia video." The rule of thumb is to keep the content within the character count limit, and include SEO-friendly keywords in the copy, a meta-description, a thumbnail image, and a compelling call-to-action that leads to a landing page where the visitor can fill out a form to download the offer.
Here are real-world examples of company updates that can serve as a concise compass for your company updates best practices.
4. Increase the reach of your content through Sponsored Content and Sponsored InMail.
The manufacturing buying process is not a linear one, with product specifications, time to market, and the number of decision-makers involved just some of the considerations that determine the length of the sales cycle. The actual sale is an outcome of a relationship, not the end goal. In a similar vein, your Company Page should be built around engagement through authentic conversations and valuable content that help your target audience overcome their biggest pain points, gain technical know-how, or just be better at their day-to-day job—not just lead generation. By leveraging LinkedIn's Marketing Solutions, your company can reach a broader audience that isn't attainable via traditional means.
With LinkedIn's self-service advertising products, Sponsored Content and Direct Sponsored Content, you'll have the ability to target your content to specific audiences. This can be achieved either from your Company Page or directly through your campaign manager tool within LinkedIn, based on geographic location, company name, size, industry, job title, seniority, and other profile data. These updates will show up natively in users' newsfeeds, making them more visible than other forms of advertising.
The content can be delivered on a cost-per-click (CPC) or cost-per-thousand impressions (CPM) basis. CPC charges are based on when a user clicks on the update. CPM charges are based on "impressions," or the number of times your update appears on a user's newsfeed. With both options, you can allocate a set budget (the maximum amount you want to spend per day) and bid (the maximum amount you want to pay for each click or every 1,000 impressions) from the suggested bid range, which represents an estimate of the current competing bids by other advertisers who are targeting the same audience.
With Sponsored InMail, you have the ability to deliver highly relevant messages to targeted audience segments by every facet of their profile data, right to their LinkedIn inbox. From invitations to events and conferences and thought leadership content to product or service promotions—you can create a personalized and timely message, which will include extensive body copy on a co-branded landing page, one ad unit, and a call-to-action. In the case of Sponsored InMail, your content is delivered on a cost-per-send (CPS) basis, where you'll pay for every Sponsored InMail sent to a member's inbox. Follow this link for exact Sponsored InMail specifications.
Using Conversion Tracking, you'll have the ability to easily track how many leads, sign-ups, content downloads, and other specific results you're getting from your Sponsored Content, Sponsored InMail, and Text Ads efforts within your campaign manager dashboard. By adding LinkedIn Insight Tag on your website, you can start tracking the impact of your sponsored campaigns and optimize your return on ad spend accordingly.
Utilize the new suite of custom targeting capabilities on LinkedIn.
In addition to rich demographic targeting based on experience, company, education, interests, and identity, you can now re-target visitors from your website or upload lists of contacts and companies from your own databases or marketing automation platforms, and reach key accounts, customers and prospects that matter most to your business. LinkedIn's Matched Audiences combines custom targeting capabilities to reach people using its self-service advertising products. You can create matched audience targeting segments with Website Retargeting, Account Targeting, or Contact Targeting and deliver content to people that are most relevant to your company goals.
Fish Where the Fish Are—LinkedIn!
Industrial buyers continue to use an increasing multitude of digital channels, touchpoints, and tools and devices to interact with brands and companies. This has created a vital need to connect the dots between marketing, sales, and post-purchase services to improve the overall digital experience for the customer. LinkedIn positions its marketing and talent solutions to empower companies and help them deliver a meaningful experience on every stage of the buyers' journey. With all of these great tools available, it couldn't be easier for industrial and manufacturing companies to implement a robust LinkedIn marketing strategy and reap the benefits of building a more engaged and targeted audience base.
To get you started, we've created a quick resource, our LinkedIn Marketing Checklist for B2B Companies. Run through these basics to get your LinkedIn Company Page going, and begin attracting and engaging with your followers, extending and scaling reach, and targeting your ideal audience. This checklist will help you utilize LinkedIn's rapidly growing professional publishing platform to its full potential.