Explaining Inbound Methodology for B2B Strategies
Inbound marketing has become an essential term for many companies in the last decade, enabling them grow revenues by providing buyers with valuable content and actively engaging them throughout the buying process. This transformative shift in the way people consume information and make purchasing decisions continues to evolve into a larger overall inbound movement.
Today, B2B and B2C companies implement overall inbound methodologies in their business models. What started as an alternative marketing philosophy has evolved into a way of doing business to provide value and build trust with customers. The term once pioneering the 21st century marketing landscape provided the foundation to an all-inclusive business philosophy, with the customer being at the center of business growth.
The Way it Is
This is the current reality: with the increasing prevalence of the internet, buying habits have changed dramatically, especially for B2B companies. Customers are more educated—and in more control of the buying process than ever before. It is vital that businesses cater to prospects' and customers' needs in this digital model. This means that companies must supply (via their website and social media platforms) information that prospects and customers are looking for … and at their convenience. This requires you to have an active and updated inbound marketing strategy. Elements include (but are not limited to) an updated website that is optimized for SEO, and full complement of content: blogs, video, downloadable content such as eBooks, case studies, white papers, etc. To clarify, an inbound marketing strategy "lives" within the larger "inbound" approach. The way HubSpot puts it, "Inbound marketing is just one part of a larger movement in the business world. That movement is inbound."
What Is Inbound in Business, Exactly?
Inbound is a holistic approach to business that focuses on attracting, engaging, and delighting people through providing value and building trust with them (through offering content that provides answers to their pain points), which ultimately leads to business growth. Both inbound methodology in marketing and the overall inbound movement are dynamic in nature. And they need to be. As mentioned in the beginning of this article, the customer is the variable that drives all interactions, so the focus and approach of inbound needs to be able to flex with customer needs.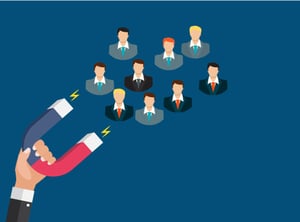 What used to be thought of as a linear buyer's journey, moving prospects down the sales funnel, now looks and acts differently—more of a flywheel approach. In practice, each touch point between internal teams and prospects and customers can create added value to each other and momentum to the next stage. Every business initiative, whether in marketing, sales, or customer service, should nurture helpful relationships with people and add value at every stage of their customer journey with your business.
Taking a closer look at the flywheel, the three stages of inbound methodology—attract, engage, and delight—circle around the customer in a flywheel motion. Unlike the funnel process with the end-goal of turning a lead into a customer, the flywheel accounts for customers being accelerants of your business, recognizing the important of continuing to delight customers to drive future growth. By applying forces at each stage of the customer process, and not just at the top, your business continues to delight customers and turn them into promoters creating additional opportunities. The flywheel is the model an inbound business uses to guide the inbound methodology.
Marketing + Sales + Customer Service = Inbound Methodology
When all of your teams align using the flywheel model to attract, engage, and delight customers, your flywheel spins and uses the momentum to keep spinning. That is when your customers turn into promoters and bring more sales to your business. Your business grows as your flywheel spins: the more you increase speed and decrease friction, the bigger your sales grow.
It also means that it's important to eliminate anything that might prevent the flywheel from spinning. Clumsy handoffs between the teams and shuffling from marketing to sales to customer service can lead to an unpleasant customer experience. What has a negative impact on one customer might affect more people and discourage them from interacting with your business without even giving you an opportunity to prove yourself to them. As well, if you are spending lots of time and resources attending to a customer whose needs you have not satisfactorily met, you are taking time away from other prospect and customers, creating friction and losing momentum with the flywheel. The result? The slowdown of your business and all because of friction points not eliminated from the customer journey process.
With the inbound methodology, the responsibility is on every customer-facing team to attract, engage, and delight customers. The role of marketing isn't just to attract. The sales' role isn't just to engage. And your customer-service team isn't the only one that should delight the acquired customer. It's all about aligning together around the inbound methodology to provide an all-inclusive delightful experience to anyone interacting with your business.
How Can Each Team Use Inbound to Grow Business?
Marketers, salespeople, and customer service professionals can each find their own ways to contextually use the inbound methodology to attract, engage, and delight people interacting with your business. Inbound indicates that we can no longer rely on interruption-based techniques, whether it's an irrelevant pop-up ad, an unrelated-to-the-needs sales call, or an after-sales customer support email for a purchase never made. (We've all received one of these, an impersonal disconnect from the company sending it—leaving us with the feeling that they aren't really paying attention.) Instead, business professionals today need to focus on adding value at every stage of the customer's journey.
For marketers, that means building memorable, helpful content; personalizing the website experience; and using email and marketing automation; as well as conversations (chatbots), to deliver the right information to the right person at the right time, every time. You can do so by building the right marketing toolbox. Here's more on what inbound marketing for industrial manufacturers means.
For salespeople, examples of an inbound approach to sales include: monitoring who's visiting your website and following up with interested visitors, making it easy for website visitors to book time on your calendar to discuss their needs, automating pieces of your sales process with workflows so you can respond to people faster, and using playbooks to guide your interactions with people.
For customer service, inbound is about focusing on customer health by providing them easy ways to looks for answers and get in touch with you. Use the knowledge base tool and build a strong knowledge strategy to deliver the right information at the right time. Tools like chatbots, team email addresses, and tickets allow customers to request help and advice in real time, receiving expert-level assistance across multiple channels. Collect feedback through various surveys to find how you can do better and show your customers that you care about their experience working with you.
The HubSpot Platform's Integrative Approach
The inbound tools described above will alone help your business adapt to changing customer needs. But when used together with the right software that is built to unite all your teams around a single suite, the customer experience throughout will flourish with the efficiency and effectiveness of the inbound methodology. By combining the inbound methodology with the HubSpot all-in-one platform, you'll grow your business and get customers who buy more, refer your business to their colleagues, and become your biggest promoters.
As a HubSpot Agency Partner, Grant Marketing has successfully grown clients' businesses through powerful inbound strategies. We deliver a robust inbound program—brand development, content creation, search engine optimization, lead nurturing, email marketing and workflow automation—with proven results.
We can help you engage your target audience to:
Increase website traffic
Convert visitors into leads
Nurture leads into sales
Turn customers into promoters of your business
Contact us now to get the conversation started.