Are You a Sales Enabler or Are You the Sales Disabler?
Being an enabler—in most circumstance—has gotten a bad rap. As an inbound marketing consultant, it's right where I want to be. It is, in fact, my purpose for being (at least professionally), my Holy Grail. Yup, through the evergreen and helpfully informative content I've helped you create on your website, "I'll" sit there all night helping you to get the hits you yearn for. And that's just a small piece of the inbound marketing action I can provide for you (because I can also be a faithful and indefatigable brand ambassador for you). Strung out metaphors aside, this is serious stuff, and your business depends on me doing mine.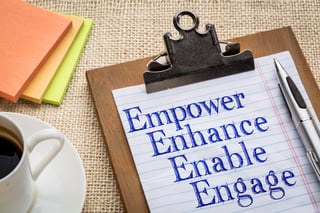 How do I and my inbound marketing consultant team function as a sales enablement tool for you? We, quite literally, bring the business to you: your prospects, your leads, your potential product evangelists. We employ the marketing model that taps the pulse of how business is being done now. People want to shop (whether B2B or B2C) on their terms, their time, and their dime. Think of the last thing you did that involved an internet search. Looked for a part number recently? Instructional manual? New vendor? Maybe you went to the movies recently and reserved your reclining assigned seats and purchased your tickets online. Try any good restaurants lately? Inbound marketing, also known as content marketing, probably got you there.
I know, some technological advances stink, and we like to resist and rebel against them. I love to think I'm somehow outsmarting those annoying phone menus by hitting zero to bypass the selection menus to get right to a live customer service rep. Then again, there are as many times that I am relieved to have my menu choices, get the recorded info I want, and hang up. So sometimes, it's good to have it both ways, but closing the sales loop has rounded an irreversible bend—and we ain't going back to the old-school way of closing business.
The ABCs Aren't so Fundamental Anymore!
Yes, sales people need skills—it's just that those skills have shifted. And like it or not, Glengarry Glen Ross' Blake can always be closing all he wants, but if he's using the ABC tactics in today's business climate, his leads will be weak, and he'll talk himself blue in the face. And he'd probably be a loser instead of a closer. (I'd love to see a remake of that movie using today's marriage of marketing and sales!)
As I've written about in many articles, customers have done about 60% of their due diligence before contacting a sales rep, and they are about 70% down the sales funnel (a less linear journey than in the past), which means there is only 30% of that journey available to you (and your competitors) to practice your ABCs. It means that, most often now, content marketing brings (guides) them most of the way through the funnel. It means the marketing team using a solid content marketing strategy is the real sales enabler here.
The point is, it's not a closing rate game anymore. At Grant Marketing, we're fans of Marcus Sheridan. He sums up a discussion of closing rates in an interestingly simple way. Sheridan says, "Look at it like this: If your company has an 80% lead to customer closing rate, but you're only generating 1% of the leads you could and should be generating (because your marketing is so poor), do you have any reason to celebrate an 80% closing rate? … Truth be told, there are thousands and thousands of businesses out there with extremely high closing rates that are going out of business."
Solid Inbound Strategy + Sales Enablement Tools = Qualified Leads
A good inbound marketing strategy should function as your best sales enablement tool. And generating qualified leads is the first best assurance that you'll have solid deals to close on an inbound marketing methodology—robust, relevant content being at the heart of it—is what will bring those leads to you. Educate prospects during that 70% portion of their buyer's journey and help them self-identify as your customer, so that you can maximize your time with them while they are in that 30% of it spent considering their options and offers with you and your competitors.
Your sales team is not doomed to endure endless "pep talk" rants or fruitless cold calls with content marketing. Read more to get a broader sense of inbound marketing—and importantly, that it works—by reading the State of Inbound 2015.
In this comprehensive overview, you'll get important takeaways on the evolution and shift that is happening in B2B marketing … and what that means to your bottom line. This survey uncovers how companies use inbound strategies to convert strangers visiting their website into leads. Click here to download the State of Inbound 2015.