Why Team Alignment Is Crucial and How You Can Achieve It and Long-Term Revenue Growth
By now you've probably heard that marketing and sales alignment is core to any business's success. New data reveals that integrating customer service teams into this alignment increases revenue by 2.8 times on average, among many other benefits. So, what is so great about alignment of the teams, and how can you make it work for your industrial manufacturing company?
According to the research done by Aberdeen, companies that have their customer-facing teams in sync towards the common goal of an ever-improving customer experience, achieve: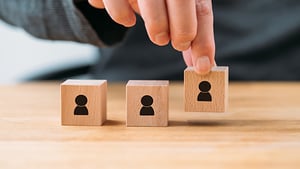 55% greater annual increase in customer satisfaction rates than companies that have a silo mentality (11.9% vs. 7.7%)

6 times greater annual increase in customer retention rates (11.4% vs. 1.5%) compared to all others

41% greater annual growth in their attainment of quotas (51.2% vs. 36.3%)
While these numbers may astonish you, the truth is, in today's world where the customer is fully in control, this is the reality. A seamless experience across all the stages of a customer's lifecycle is essential to building long-term relationships, which easily translate to new profits when happy customers refer more business to you.
This is especially true for companies in industrial manufacturing with sales cycles that tend to be longer and most of the revenue coming from existing customers. The quality of the customer experience you provide is critical, and improving collaboration between the teams is what will ensure that teams work together with consistency and congruency so that promises are delivered and customer expectations are met.
In the end, informing prospects about your business (Marketing), turning them into customers (Sales), and retaining them to keep on adding revenue (Customer Service) is what drives the revenue and business growth. This integrative approach to business is also known as inbound methodology, which refers to aligning your teams using the flywheel model to attract, engage, and delight customers. Read about inbound methodology in business here.
How to Align Your Marketing, Sales, and Customer Service Teams
At first, aligning your customer-facing teams might feel daunting, but there are steps you can take to facilitate collaboration between the teams. Here are four ways to align your teams towards the common goal of improving a positive customer experience:
Encourage regular communication
Customers are delighted when their expectations are being met. To ensure this, consider integrating your teams so that the same information and narrative is delivered. Teams can be integrated into one unit if your organization's size and structure allows. At the minimum, make sure that the customer-facing teams communicate often through regular meetings.
Have your sales team record which leads are more likely to convert and turn into high-paying deals—demographics, company size, buyer persona type are all important qualifications to pass on to the marketing team.
In regard to customer service, your sales team should share what kind of product features and service (if you provide one) were promised to the client. Often, companies have uniquely structured deals and programs with customers—having these details spelled out and readily available to all internal team members is vital.
Based on the information provided by sales, your marketing team can focus their efforts on attracting similar quality leads and optimizing their buyer persona targeting more effectively. The feedback gathered by sales will help improve content assets, messaging, landing pages, case studies, and other marketing materials.
In terms of customer service, your marketing team can create documentation that answers repetitively asked questions. Better yet, have your marketing team create a knowledge base with the help of the customer service team. Your knowledge base can house whitepapers, infographics, videos, eBooks, FAQs, and other resources for your customers in one easy-to-navigate location. Building a robust knowledge base answering your customers' most common questions is another way to save your team's time and resources while satisfying the need for immediate customer queries.
Your customer service team can help upsell and cross-sell products to existing
customers. By collecting feedback through surveys such as Net Promoter Score (NPS), Customer Satisfaction (CSAT), and Customer Effort Score (CES), your service team will receive valuable feedback that can be shared with sales and marketing to determine the pinpoints of your customers and improve their overall happiness.
Use integrated software
To facilitate cross-departmental communication, your teams should be able to gain access easily to customer records, including their whole journey since becoming your organization's prospect. Today's advanced customer relationship management (CRM) and business automation software allow you to capture important details, such as:
Visits to specific pages on your website
Downloads of content assets
Emails that were delivered (and opened!)
Deal information
Customer satisfaction data
Survey responses
Past purchases
This meaningful information is combined in one single system of record, so everyone in touch with the contact has access to the same level of detail and can communicate more effectively over time.
Even better if your software integrates with other apps important for your business, thus creating your organization's technological ecosystem. A growth-platform such as HubSpot is designed for you to customize with an entire ecosystem of education, apps, and service providers.
Work towards a unified brand voice
Alignment around a common language and tone is essential when it comes to consistently communicating your brand's values to your customers. When a customer reaches out with a request, they should see your company as a single entity and receive the same brand messaging—and your brand promise in action—as was communicated via the marketing that got them to you in the first place. If you use social media marketing, the comments from your team under your company's social media posts should match the tone in the original post. If there is no alignment in your brand voice, messaging, and offers, there's a high chance your organization will be perceived as disjointed and unreliable, decreasing trust in you and your company and turning customers away, wasting all the efforts put in into acquiring them in the first place.
Rachel Aldighieri, MD at the DMA, notes:
"Ensuring that the brand's values are being consistently represented applied across all channels is also integral to a seamless customer experience. For example, a customer interaction on social media needs to apply the same principles as one that takes place face-to-face."
Stop the Silos!
Becoming a more collaborative organization requires time and effort—and the benefits are certainly worth it: customers stay longer, increase revenue, and refer new business. For small- and medium-sized businesses (SMBs), the journey towards alignment of marketing, sales, and service will probably be more natural. For large organizations with customer-facing teams existing in silos, you might need to tackle one aspect at a time. When all three teams work towards ensuring the customer has the same great experience across all the customer touchpoints and channels, customer satisfaction increases and revenues grow.
As a full-service marketing agency—with capabilities including content creation, account-based and inbound marketing for manufacturers, brand development, website design, HubSpot integrated software management, and more—Grant Marketing can help guide you through the process of creating an industrial marketing strategy for your company that aligns with your goals. By collaborating with your sales and customer service teams, we put our marketing efforts in the most efficient manner, generating high-quality leads and satisfying the needs of your existing customers. Contact us today to get the ball rolling on your new initiatives.