Creating Out-of-this-World Brands
As a Boston-based brand consulting firm, we like to think we are delivering out-of-this-world branding advice. Little did we know that we would see our efforts actually blast into space. We recently had an opportunity to work with Scientific Solutions in a rebranding and web design project that really took off, literally.

From its office in North Chelmsford, MA, Scientific Solutions develops next-generation electro-optic systems and products such as Fabry-Perot Interferometers (FPI), remote sensing filters, sensors, and spectrometers that actually orbit in outer space for use in space surveillance and weather monitoring satellites, telecommunication, imaging, scientific research, and defense applications.
In alignment with Scientific Solutions' refocus on their scientific engineering, solutions-driven identity, Grant Marketing designed the new logo and website that represents its capabilities in space weather instrumentation. Graphically, the new logo, comprised of a ring pattern, displays representative features pertaining to their FPI electro-optic technology.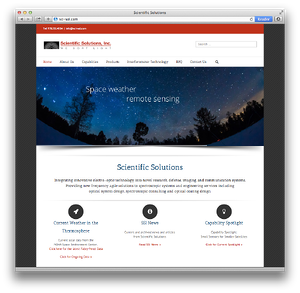 John Noto, President of Scientific Solutions contacted us just after we wrapped up the initial logo development, asking if we would send him a print-ready version of their new logo to place on an instrument that was scheduled to go into orbit shortly. Art director, Grant Penny, quickly formatted the file to the required specs and sent it off to John.
Okay, so your company's brand may not be viewed in space, but it may be out-of-this-world awesome, so it is important that your customers here on earth understand what makes your company so extraordinary. Check on your own brand with a quick evaluation of your company brand by downloading your Brand Report Card.