Manufacturing in Massachusetts is alive and well at 150 year old company!
As an industrial marketing agency for more than 25 years, I have the privilege of working with some of the finest manufacturing companies and individuals in New England. I was pleased to be invited to Hardware Products Company 150th year breakfast buffet on Thursday, by Ted White, president of Hardware Product Company. Jay Ash, Secretary of Housing and Economic Development for the Commonwealth of Massachusetts also visited the company.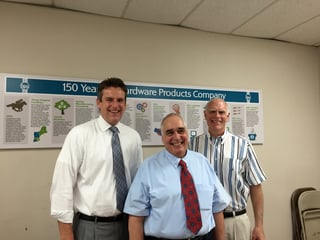 From right to left: Jay Ash, Secretary of Housing and Economic Development; Ted White, Hardware Product Company President; and Henry Porter, COO of SEI MetalTek.
The company's employees were treated to a full breakfast and were complimented by Ted White on the contributions they have all made in continuing the history of Hardware Products Company.
Ted introduced secretary Ash to the group who talked about growing up in Chelsea where he was also City Manager for 14 years. He spoke about the challenges of manufacturing in Massachusetts, especially in the area of workforce availability and training. He congratulated Hardware Products for its longevity and success.
Established in 1866, Hardware Products Company (HPC) is celebrating its 150th anniversary this year, making it one of the oldest continuous manufacturers of springs in the country. HPC started out as a supplier to the textile industry here in New England. HPC's founding location was in the historic North End of Boston, just a stone's throw away form Paul Revere's house.
Henry Porter became president of Hardware Products in 1991 and held that position until Ted White, who rose through the ranks from office manager to technical sales manager—spearheading many projects along the way—became president in 1998. He has been at the helm for 18 of his 42 years with HPC. Through White's tenure, Hardware Products has evolved into one of the most complete and creative spring and spring products producers in the industry, making use of the latest in high-tech operations and computerized support functions.
We at Grant Marketing celebrate America's birthday and we celebrate Hardware Products birthday!
Need help getting your company to 150 years? Contact us!