Do You Know What They Are and What to Do about Them?
It's called work for a reason. And you want to know that all your work actually, well, works. So do we. There are many B2B marketing tactics, tools, and technologies available today to help us all work smarter and more effectively. Some change with cultural shifts and others drive social groundswells—and we all need to be prepared to take advantage of the opportunities they provide.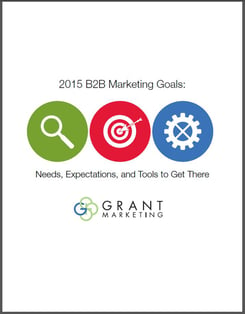 Consumer Purchasing Leverage Continues to Grow
The purchasing leverage of consumers continues to increase due to the many digital sources at their convenient disposal. They want to find information on their terms and timeline and count on the tireless omnipresence of inbound marketing, also known as content marketing, to deliver information to them around the clock. Many marketing strategies—industrial marketers included—are relying on at least some elements of digital or B2B inbound marketing to reach prospects and customers. They're also learning what effective sales enablement tools that a solid content marketing plan and with sales and marketing software platforms are in capturing new business.
Map Out Your Plan
In this age of empowered and educated customers, the ability of B2B manufacturing companies to truly map out their customers' buying process, understand what motivates them, anticipate their pain-points and needs, and then implement an insight-driven inbound marketing system is a multi-tiered challenge. Their overall marketing strategy must be designed to respond dynamically to their buyers' needs and offer solutions to their problems—at any time of the day, for every stage of the buying cycle. It is vital to engage prospects at the early stages of their buyers' journeys and guide them through the decision stage with relevant, timely, and engaging content. This philosophy extends to customers, as well.
Our Survey Report
We surveyed B2B industrial manufacturers and discovered some of their marketing needs and expectations. Our report will help you navigate the nuances of inbound marketing for the coming year with insights about trends, key challenges, and best practices of the current state of inbound marketing through the eyes and experiences of B2B industrial marketers.
Learn about:
Goals and objectives
Budget allocation
Reliable marketing channels
Download the report now to see how prepared you are to implement some of the key factors you need to bridge the disconnect between planning a solid marketing strategy that effectively uses inbound methodology and actually delivering results—from inbound marketing ROI to increased leads and closing sales.