Emphasize Employee Awareness of Your Brand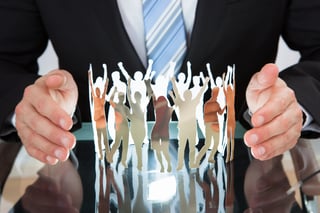 Brand Development encompasses a complex and multi-tiered approach to showing the world who you are. It defines what your business stands for and explains how your products get delivered to and are experienced by customers. It also involves the "why" behind your customers' purchasing decisions. More importantly, brand development backed by brand strategy helps you differentiate yourself from your competitors, which creates recognizable brand loyalty in customers' lives. In industrial branding, it is important to keep your customers in mind. But, it is also crucial to get your employees involved.
It makes sense: if part of your brand identity involves how your customers receive your product or services, the employees who deliver that—whether in real time or behind an assembly line—inherently impact the entire process. As seen on our Brand Report Card, one critical criterion of industrial brand development is that all employees in your company are aware of your brand distinction, and more essentially, buy into it and live it. Educate your employees on your brand strategy, and ensure they are as much a part of the company's brand promise as possible. Remember—you are trusting them to make good on that promise and deliver it to the customers.
A Meaningful Mission Statement
A mission statement is a must have for your brand strategy. According to Forbes, a mission statement accomplishes three things:
It refocuses attention on accomplishing future goals

It lets customers know the company's purpose

It serves as a guide for making decisions.
To create brand distinction, it is important that your mission statement is not only motivational to the customer, but also motivates your employees. Think of it as the "what we do and why" to the vision statement's aspirational "where these actions will take us" declaration. Employees who are aware of your brand distinction and company purpose can clearly convey what differentiates you from your competitors. And, with this clear understanding of your brand distinction, they are more prepared to interact with customers in an appropriate and effective manner, which in turn, positively affects how customers view, and most importantly experience, your brand.
Perception is Key
Employee perception of your brand is essential to your industrial brand strategy, as well. The way your employees view your brand is just as important as how your customers and vendors view it. Consider polling employees, customers, and vendors on their impressions of the brand, emphasizing the importance of these impressions aligning with your brand strategy. It is imperative to your brand distinction that your employees perceive your brand the same way you do so they can clearly understand the differentiation that sets your brand apart from others—and be prepared to deliver that.
Engage Your Employees as Brand Advocates
Your employees represent your company's brand, and they can help shape how your products and services are perceived. By encouraging your employees to be ambassadors for your brand, you can extend your company's reach. According to Grand Rapids Chamber, there are five easy steps to creating employee brand advocates:
Create a planned onboarding strategy.

When you hire new employees, teach them about your organization's mission, goals and communicates their value as a member of your team.

Clearly communicate your company culture.

Before employees can promote your business, they need to understand the company as a whole.

Encourage employees to be active on social media.

Establish a social media policy encouraging employees to tell a story about your organization through their perspective. Provide them with social media messaging and ideas for photo opportunities.

Give employees opportunities to be advocates. Encourage employees to volunteer in the community and attend events that can help boost exposure for your business.

Reward employees for their hard work.

When an employee lands a client due to their advocacy, recognize them for their hard work.
When your employees advocate for your company through social media or speak about the business to friends and family, they are helping boost your company's reputation. This creates opportunities for new customers and helps attract new hires to your company. Don't miss the chance to harness the power of your employee brand advocates.

Empower Employees through Your Brand Strategy
You trust the people you've hired, or they wouldn't be there in the first place. Arming them with this piece of your brand strategy sets you all up for success. You need to support them in the same way you would support your customers through any other process. Making them aware of your brand distinction and giving them the tools to execute it for your customers allows your brand to flourish and outshine the competition.
At our Boston-based B2B brand consulting firm, Grant Marketing, we understand the importance of a solid brand strategy. When we provide branding and rebranding services through our 2020 Brand Focus™ process, we interview employees, customers, and vendors alike to measure alignment of the expectations and reality—and possible deficits between the two. This gives us a more authentic platform from which to work.
With this information, we reassess and redirect your brand strategy, creating messaging that mirrors this discovery session. This allows us to then lay down a more effective foundation for you to deliver your brand promise from within. Conflicting messages and experiences confuse and alienate your prospects and customers. People want authenticity. When your brand promise does not jive with the actual experience, your customers will also respond—negatively. Help yourself and your customers, with a unified brand promise and consistent delivery of that promise. The experience will be a positive one for everyone.
If you are curious about whether your brand promise is on target, you might consider taking a look at our Brand Report Card.
This blog was updated on April 12, 2022. It was originally posted on July 1, 2015.