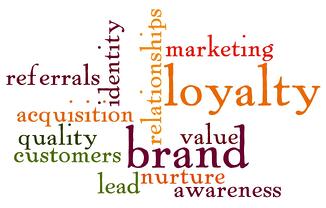 Retain Customers and Keep them Happy
Customer retention is one of the major concerns of manufacturing companies. Your brand has one job: deliver its brand promise. You want your customers to value your brand and be loyal to it. Recent studies demonstrate the importance of brand loyalty, and because of the value of brand loyalty, many consumer-based companies create brand loyalty programs for their valued customers. Makes sense. Why is it, then, that B2B companies don't generally have loyalty programs for their customers? It's an opportunity often overlooked by B2B companies.
Did You Know ... ?
71% of customers have ended a relationships because of poor customer service. (Kissmetrics)
80% of your company's future revenue will come from 20% of your current customers. (Gartner Group)
Up to 15% of a business's most loyal customers account for 55-70% of the company's total sales.
How Can You Get in the Game?
There are some steps that you can take to build a program that cultivates loyalty. Many of these may look and be familiar to you—they are the kind of activities you engage in or are party to as a customer on a regular basis. When you bring them together to create a program for your customers, you've created cohesive, deliverable experience for your customers that will keep them engaged … and loyal. Check out our page on the ultimate guide to customer service for manufacturing companies.
5 Steps to Increase Brand Loyalty for Industrial and B2B Companies
Listen
Survey your customers to learn how you can better service their business. Ask questions like:
How happy are you with the speed and efficiency at which we respond to your requests?
How happy are you with the quality of services we provide?
Ask the NPS (Net Prospector Score) question:
"Would you recommend our company to a friend or associate?"
First, see how you would score on this question based on a scale of 1-10. Percentage of promoters (9-10) less percentage of detractors (6 and below) will give you a Net Promoter Score. If you don't score between 1-100, you have problems. A positive score is anything above 1 and a score of 50 or more is actually excellent. (See The Ultimate Question by Fred Reichheld.)
Educate
Your customers need to understand the benefits your products and services offer them. You need to provide content in the form of downloadable white papers, case studies, FAQs, and chart and graphs if appropriate. Your customers do not always want to talk with you, but they do want to rely on information from you when they need it. Create videos, webinars, blogs, and workshops, or lunch-and-learn workshops.
Communicate
Keep your customers up to date on new products, new services, and even new events happening inside and outside your company. Become a resource for them in your marketplace. Communicate through email, e-newsletters, press releases, and blogs. Offer weekly or bi-weekly engineer's tip of the week through your blog and by email.
Engage
Provide opportunities for engagement—set up social media communities and forums that provide customers an opportunity to share ideas and suggestions. Use social media like LinkedIn, Facebook, Twitter, and Instagram. Social tools are becoming an integral part of how B2B companies run their businesses.
Value vs. Pricing
Can you offer special rates for your most loyal customers? Can you offer a loyalty value programs? Building a good B2B loyalty program starts with whether or not there is a need for special pricing for loyal customers. If part of your company brand is based on competitive pricing, maybe it is not so much about pricing, but more about added value services for your most loyal customers.
What might added-value services look like?
Special workshops that address unique manufacturing or performance issues that customers deal with on a regular basis.
Plant tours, followed by buffet lunch with a question-and-answer session.
Quarterly webinars on the most challenging engineering issue of the quarter.
Top 10 Customer Club—meets monthly to share business and product development challenges. It also gives your clients a networking venue with other, presumably non-competing companies
Constant and Conscious Nurturing
You have many touch point possibilities with your prospects and customers. But they don't just happen—you need to consciously create them. One fruitful opportunity is through your website. B2B websites should contain content that informs about industry concerns and connects prospects and customers to your brand, which drives retention, as well as inspires new sales through lead acquisition. By helping existing customers integrate your brand's offerings into their work life, B2B companies can build long-lasting relationships and generate referrals via their existing customer base. B2B organizations need to nurture their existing customer base to drive loyalty, advocacy, and referrals. Customer happiness is key to success, but such happiness should be consciously nurtured.
Are you clear on how your prospects perceive your brand? Are you consistently maintaining your brand promise to your customers—promoting their loyalty? You can test the perception of your company brand by downloading Grant Marketing's Brand Report Card.

Editors Note: This blog is updated from the original post 01/28/2015