Last Updated on April 9th, 2020
Bootstrap Your Inbound Marketing with HubSpot's Free Tools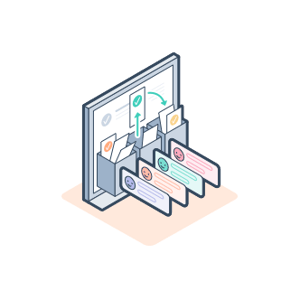 You've read a lot about inbound marketing and have determined that it's the best marketing strategy for your industrial manufacturing business. Having done the research on how to start an industrial inbound marketing plan and realizing the importance of marketing software to aid in the process, now you might be wondering what software will get you started in a most cost-effective way. While there are many marketing software platforms out there, as a marketing agency working with marketing automation on a day-to-day basis, we believe that HubSpot has proven to be the best tool for maximizing and simplifying your inbound marketing efforts. The best part? You can get a taste of basic marketing automation tools for no cost at all and upgrade over time as you grow.
Which marketing tools are available in HubSpot for free?
HubSpot CRM
This one is by far our favorite! A free CRM (customer relationship management) platform stores all of the contact information in one place. When a conversion happens, the HubSpot CRM captures the lead information and identifies the path that led to the conversion. You can see which pages the contact viewed prior to the conversion, keep a record of any interaction with the contact afterwards, add notes, create tasks, and record calls. Additionally, contact info from across the web is pulled in automatically, including job title and social profiles. The built-in analysis also allows you to see how many times leads visit before they become customers, spot trends in how visitors navigate your site, and use those insights to drive more conversions.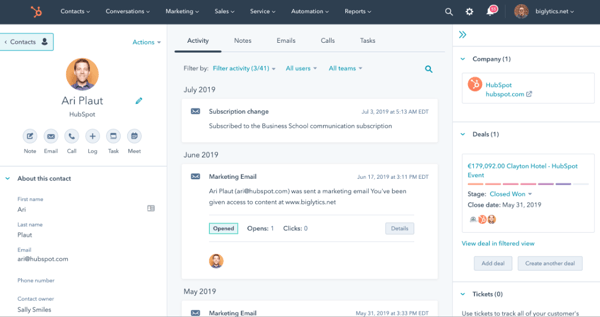 Email
In addition to its robust CRM, HubSpot has recently added the email tool to its free tools suite. Powered by a drag and drop editor, HubSpot CRM users are now able to create contact lists and send up to 2,000 emails per month, all with an email editor. You can choose from dozens of templates, customize your layout, add calls-to-action and images, and modify content and colors to match your brand without a need for a designer or IT person to design each email for you. By using an email subscriber's lifecycle stage, list membership, or any information in their contact records to automatically serve up the most relevant subject lines, content, links, attachments, and calls-to-action, you also have the ability to improve open rates and click-throughs all within the same platform.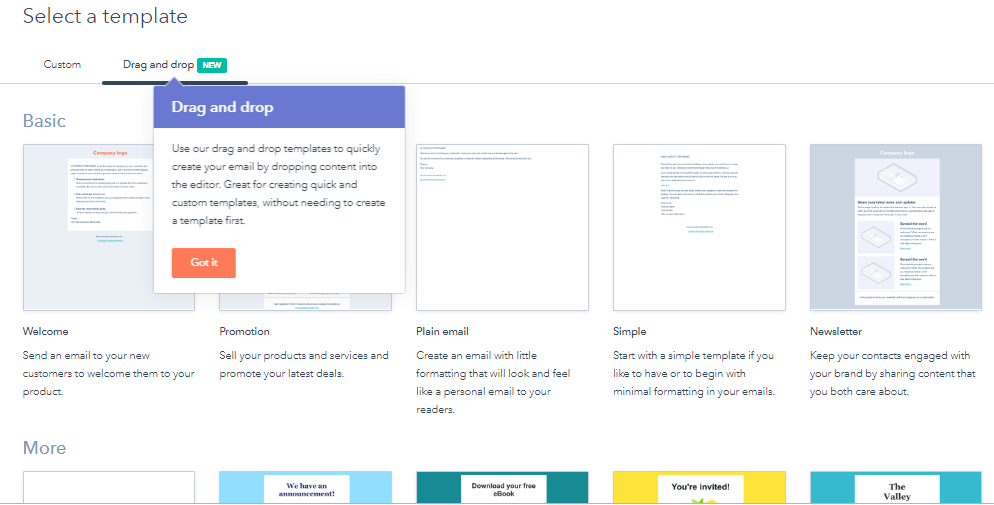 Ads
With one of the most recent additions to HubSpot's free marketing tools, ads tools, you can now manage and track up to $1,000 per month of ad spend across Facebook, Google, and LinkedIn ads. The tool also includes conversion-level reporting and up to two account connections. Both features feed insights back into the CRM, giving advertisers a view of how prospects and customers are interacting with their business.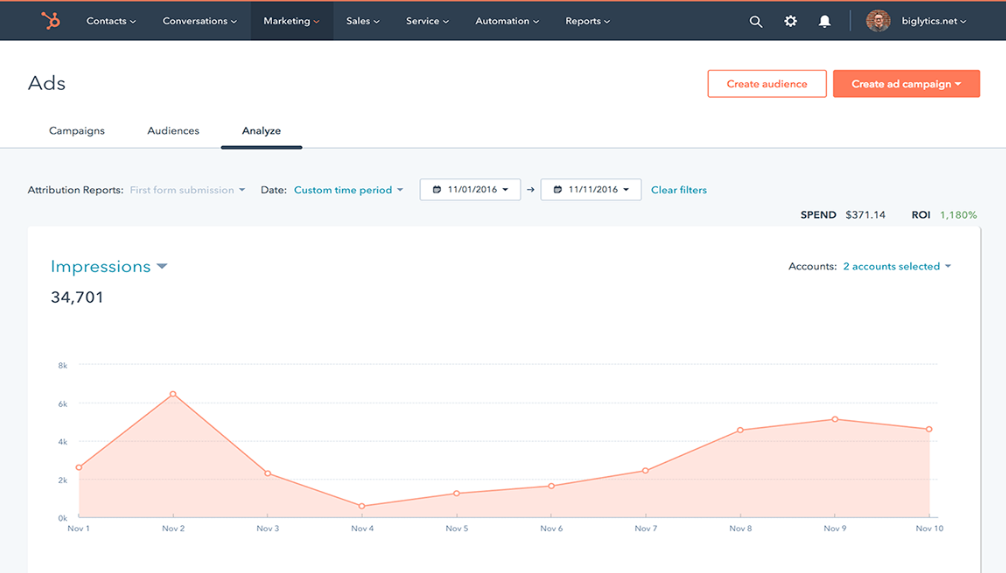 Online Form Builder
The free form builder enables HubSpot users to quickly create online forms for your website using the drag-and-drop form builder. You can customize the information you collect with up to 1,000 form fields and a dozen different field types. Thanks to the all-in-one platform, everyone who fills out your form will be automatically routed into HubSpot's CRM where you can further manage the relationship with the contact.
HubSpot's robust smart forms are available with the upgrade to a premium version of HubSpot Marketing Hub. These forms enable progressive profiling where questions are adapted to each website visitor, and only new questions are shown to returning visitors. This also helps reduce the "friction" that filling out forms can create for website visitors and increase conversion rates. By upgrading, you can also set automatic follow-up email after a visitor completes your form. When your forms are integrated with your contacts database and your marketing automation tools, you can easily automate simple follow-ups, saving yourself time and creating a seamless experience for your contacts.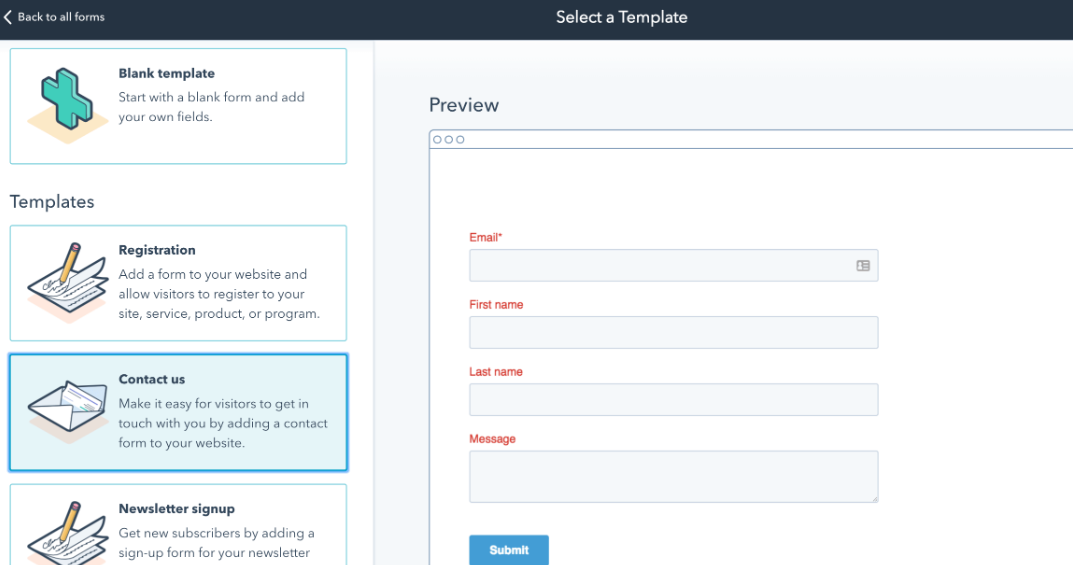 Live Chat & Bots
Live chats and bot conversations are no longer optional in the age of growing buyer needs—they are a must. Luckily, HubSpot's live chat tool is comes fully integrated with a chatbot builder that you can start using for free—no coding required. This allows you to qualify leads, book meetings, and provide answers to common customer support questions in your knowledge base (we strongly recommend setting up one!).
All your chat conversations are automatically stored in a universal inbox enriched with data from HubSpot's free CRM. Not to worry, you can also designate office hours so site visitors know when you're available to chat and set up email capture so you can follow up on any chat requests you missed.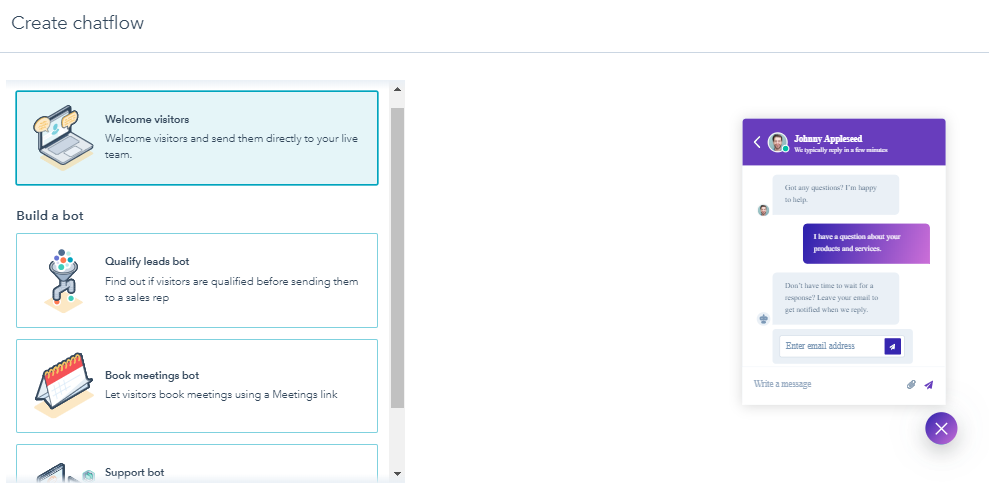 6. As part of HubSpot's efforts to support customers and prospects during the COVID-19 crisis, paid Meetings functionality, Quotes, E-Sign, and 1:1 video creation tools are temporarily free for 90 days from when they're activated by the user.
Meetings: Share a link with prospects or customers that lets them see when you're free and book virtual meetings with you.
Quotes & E-sign: Create and share proposals online in just a few clicks. Then get digital signatures for quotes and other documents. All users will have access to unlimited quotes and 10 signatures per user per month.
1:1 Video Creation: Create and share personalized videos with prospects directly from the HubSpot CRM, and track their performance. Videos can be up to one hour in length. This is separate from the Vidyard for HubSpot integration.
Inbound Marketing and Free Tools
Getting started with inbound marketing requires diligence, but with HubSpot's free tools you can save yourself much needed time and become more efficient at zero cost. The free tools give you the ability to see how valuable a marketing software is to a business. Once you've built up some momentum, you can upgrade and get the full potential of HubSpot to maximize your marketing efforts. As a leader in inbound marketing, HubSpot does a fantastic job of consistently offering new, easy-to-use tools that are evolving to meet new demands within the marketing industry—easily applicable for all markets—all while being mindful of keeping your life simple.
Here at Grant Marketing we believe in empowering our clients with tools and knowledge that will help them grow better. As a full-service marketing agency—with capabilities including content creation, account-based and inbound marketing for manufacturers, brand development, website design, and more—we can help guide you through the process of setting up your company on a new marketing automation platform. And don't worry, we can continue to help you manage it well after the initial onboarding, if that's what you need. Contact us today to get started on your new initiative.