Grant Marketing Workshops and Webinars Provide Demonstrable Marketing Strategies
We're in the business, and even we know that the amount of information (about everything, everywhere) available to you is overwhelming. Yup, we've been known to close our laptops at the end of the day and swear off any more incoming anything—no more blogs, eBooks, case studies, emails, LinkedIn posts, well-manicured marketing messaging—nothing.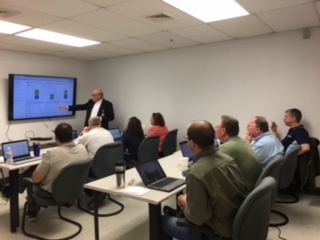 Here's the salient point in all of this: precisely because there is so much content out there is why you need to build inbound marketing strategies that encompass inbound methodology, create targeted content, integrate all this fantastic intel with your CRM so you can close sales, and maintain congruent branding throughout. The basics of inbound marketing create a "system" that lets the prospects or customers find the content they need when they want to. You've searched for answers, products, service before, right? Maybe even right now?
Let the Learning Come to You!
We have a plan that helps you find out more about all of these concepts and methods. Let the learning come to you. Grant Marketing provides the following workshops and webinars—that can be customized to your unique needs.
We take you through many demonstrable strategies that explain all the elements that comprise successful B2B inbound marketing programs.
Customized Workshops
Below is a rundown of the workshops we offer, which we can customize to your needs.
Inbound Marketing Methodology: What's all the fuss about inbound marketing? Increased visibility, brand share, customer satisfaction, and more sales—that's all. Discover how B2B business is now being done—through inbound methodologies. Helping prospects self-identify as a customer through targeted content creates qualified leads, enables sales, and helps prospects as they journey down the sales funnel.
Content Creation Program: Find out how prospects and customers self-identify with your company through content marketing; target prospects (personas); translate your industry knowledge into powerful sales enablement content offers; and turn your website into your hardest working sales team member! Learn the strategies you need to implement a content marketing plan and library so your answers are the ones prospects and customers find when they search for them online. You have the answers. Be their answer.
CRM Strategies to Close Sales: Targeted content helps convert website visitors into leads, and leads into sales. When prospects start their journey down the funnel, it's because they've begun to identify your company as a potential solution to their problems. Learn how to turn prospects into customers and how to optimize CRM tactics to close sales. Learn how to identify quality leads and how to hand off those leads to your sales team to close the deal.
Branding: Explore what constitutes a successful brand; brand sustainability; and creating brand evangelists inside and outside your company. Do your customers and prospects know what differentiates your company from your competitors? Unless you want it all to be done in vain, the excellent work you do, products and services you deliver, should be communicated to your prospects and customers through every touch point you have with them—from your online content (all of it, including social media) and advertising, to how your customer service representatives interacts with them. Do your employees and management know the company's brand? All your messaging should reflect your company's "soul and personality"—its brand. And can your sales and service representative deliver this message to prospects and customers congruently and with consistency.
It's How Business Is Done Today
Today's consumer is resourceful and well-informed. People want to find products and services on their terms and do their own research to find solutions to their problems. And they like to do it prior to contacting you. The stats support this: people complete about 60 percent of their research before contacting a sales person. They are about 70 percent down the sales funnel by the time you get them. That leaves only 30 percent of the buyer's journey within which you can influence them. If your content hasn't done a good job of that already—or worse, your competitor has done a better job providing valuable content offers—that can leave you with lots of 'splainin' to do! Part of your job, like it or not, is to provide prospects and customers with all the information they need to learn about your company, your offerings, your brand. This builds trust; trust builds relationships, which lead to sales. It's simply how business is being done today.
The good news is that keeping up with your contemporaries just got easier. Sign up for one (or all!) of our workshops and get these demonstrable B2B inbound marketing strategies working for you. Now.