What Is ABM and Is It Right for You?
Account-based marketing (ABM) has vastly grown in popularity among B2B sales and marketing teams over the years. According to a 2019 ABM Market Research Report by Engagio, 93% of respondents are either using ABM today, or are planning to soon. If you have not yet implemented ABM at your organization, learn about the six indicators that ABM is right for your manufacturing company.
What Is ABM and How Does It Relate to Inbound Marketing?
When done right, inbound marketing significantly increases website traffic, converts more visitors into leads, and nurtures them into sale opportunities. Marketing teams focus on building relevant, high-quality content that your prospects would look for, and build a net of conversion points around that content to capture qualified leads for your sales team. The manufacturing marketing's landscape has changed, and more companies than before are adopting the inbound marketing strategy to replace the old "spray and pray" tactics.
If you are already implementing an inbound marketing strategy at your organization—first, congratulations—you're heading in the right direction! Now what? Unless you've been so busy with your head down, focused solely on production for the for the past few years, you must have already heard about account-based marketing (ABM). This old-school sales tactic has made a comeback in a new and more advanced form.
Today, ABM is a proven B2B marketing strategy that gets your sales and marketing teams aligned to identify, attract, engage, and delight a few hand-picked accounts that will bring the most revenue to your business. Instead of targeting individual leads, ABM markets to hyper-targeted accounts and aims to engage multiple key decision makers in a single account with highly personalized marketing offers.
In an overall marketing perspective, inbound is about building the framework to attract qualified leads, while ABM is about identifying a few key accounts within that pool of leads and actively nurturing them.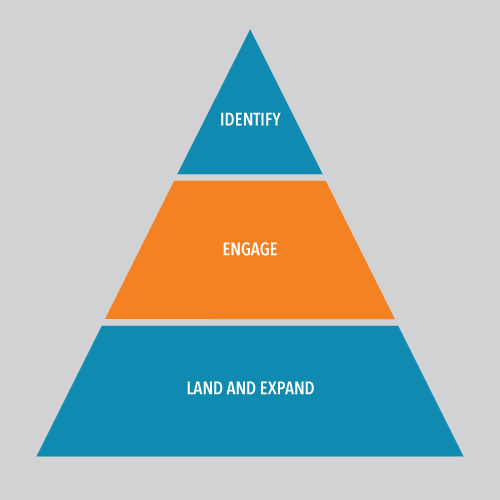 How ABM Can Help Industrial Manufacturers
ABM is an efficient way to market focused on a group of highly-valued customers and prospects. Although it isn't a new concept, it's not yet pervasive in the manufacturing industry. However, that is most likely to change soon, as the adoption of the strategy continues to rise across all verticals. According to 2018 ABM Benchmark Study, 77% of B2B marketers believe ABM has driven greater success for their target accounts. Another ABM research by Forrester reveals that 62% say they can measure a positive impact since adopting ABM.
For B2B manufacturers, in particular—with long sales cycles and high-value niche products and services—ABM presents a unique opportunity to speed up pipeline velocity and generate a few high-quality accounts with a significant revenue potential. ABM encourages marketing and sales to work in alignment: marketing team reinforces the messages sent by sales, and sales delivers marketing's promises to achieve deeper account penetration, and progress opportunities through the sales cycle faster.
ABM strategy also works great for companies looking to deepen the relationships and expand business with existing customers, especially those with large, ever-changing buying committees. Marketing can research into your current customer base and identify accounts that are a good fit for up-selling and are in-market for those products, and then run targeted ad campaigns to help drive awareness. In the meantime, your sales team can start initiating conversations within the chosen customer accounts through people they already have relationships with.
Is ABM Marketing Right for Your Manufacturing Company? There Are 6 Indicators
As research shows, ABM can yield many positive results, but it is certainly a high-investment, long-term marketing strategy. Therefore, before you decide to step into the ABM game, it's important to determine whether ABM is right for your business.
Here are six indicators that ABM is the right marketing strategy for your organization:
Your sales are driven by complex buying decisions
When decisions are made by larger buying groups and involve multiple decision makers, focusing on one person will lead to a notoriously long cycle of handoffs and signoffs. Account-based marketing focuses on getting the message to everyone in the decision-making group and inspiring consensus within diverse buying committees.
High potential value of bringing on a new customer
If landing a new account means acquiring a high lifetime value customer and a decent return-on-investment (ROI) over time, you might be a good candidate for ABM. Better yet, if you already have a list of companies in mind when you think of who you'd want to do business with—as opposed to a general focus on an industry and/or company size segments—ABM is the way to go. With that in mind, the higher the value a customer is to your business, the more benefit ABM can bring to your organization.
Longer Sales Cycles
If the sales cycle is longer, beyond several months or even a year, it will work well with account-based marketing. As mentioned before, ABM is not a quick-win strategy. By delivering highly-targeted content to groups of decision influencers at your chosen companies, you skip through the tedious process of discovery and capture, significantly shortening the sales cycle.
ABM also goes beyond just landing a deal. It's about turning key accounts into advocates to being up-sell opportunities, so short turnaround sales cycles do not give a chance to utilize ABM to its full potential.
Your Current Marketing Strategy Is on a Par With ABM
ABM is all about high-quality content, just like inbound. Before diving into ABM, your organization should have a meaningful content marketing strategy, or at least plan to invest in one.
Hyper-targeting is another important piece when it comes to ABM. Smart content with adjusting call-to-actions, forms, and rich text modules on landing pages, website pages, and personalized emails, is what many companies are using when executing ABM. Needless to say, these features are hard to implement without a great technological stack, which brings us to the next point.
You Have—Or Plan to Build—the Right Technological Stack
Just like with inbound, technology is crucial for ABM success. A big part of what made the ABM comeback so successful is the advanced technology that makes personalization possible through software tracking. At the very least, your technology infrastructure should include:
CRM
Marketing Automation System
Targeted ABM Advertising Tools
Contact Data ID and Augmentation Tool(s)
There are many software solutions that provide one or a combination of two of the above tools. However, it's best to use an all-in-one software solution for a seamless integration and collaboration between teams. That way everyone in touch with the account has access to the same level of detail and can communicate more effectively over time—and in real time, using real-time results that an integrated system provides. A growth-platform such as HubSpot is designed to integrate with all the above tools, customizable with an entire ecosystem of education, apps, and service providers.
Your Customer-Facing Teams Are Well-Aligned
Team-alignment across marketing, sales, and customer service teams is crucial for a successful ABM strategy. A seamless experience across all the stages of a customer's lifecycle is essential to building long-term relationships, which easily translate to new profits when happy customers refer more business to you. If you need help aligning marketing, sales, and service before implementing ABM, here is an article that explains the steps you can take to facilitate collaboration between the teams and achieve long-term revenue growth. As you start to implement an ABM strategy at your organization, tighter team alignment will also come naturally, but it's important to lay the cornerstone for it beforehand.
As you evaluate account-based marketing as a potential marketing strategy for your organization, keep in mind these guidelines and start working on building the right foundation for implementing ABM. In general, account-based marketing works well for B2B companies who sell to fewer, but larger accounts. If you sell a niche product to a finite number of customers, and every single account carries significant revenue potential for your business, ABM would be a perfect strategy for you. On the other hand, if you sell to a high volume of accounts and/or at a lower price point, account-based marketing may be unnecessary, as it won't work as effectively in such settings.
If you're ready to have a conversation about how ABM fits into your lead generation strategy, we can help. As a full-service marketing agency—with capabilities including content creation, account-based and inbound marketing for manufacturers, brand development, website design, HubSpot integrated software management, and more—Grant Marketing can help guide you through the process of creating an industrial marketing strategy for your company that aligns with your goals. By collaborating with your sales and customer service teams, we apply our marketing efforts in the most efficient manner, generating high-quality leads, targeting your most valuable accounts, and satisfying the needs of your existing customers. Contact us today to get the ball rolling on your new strategies.